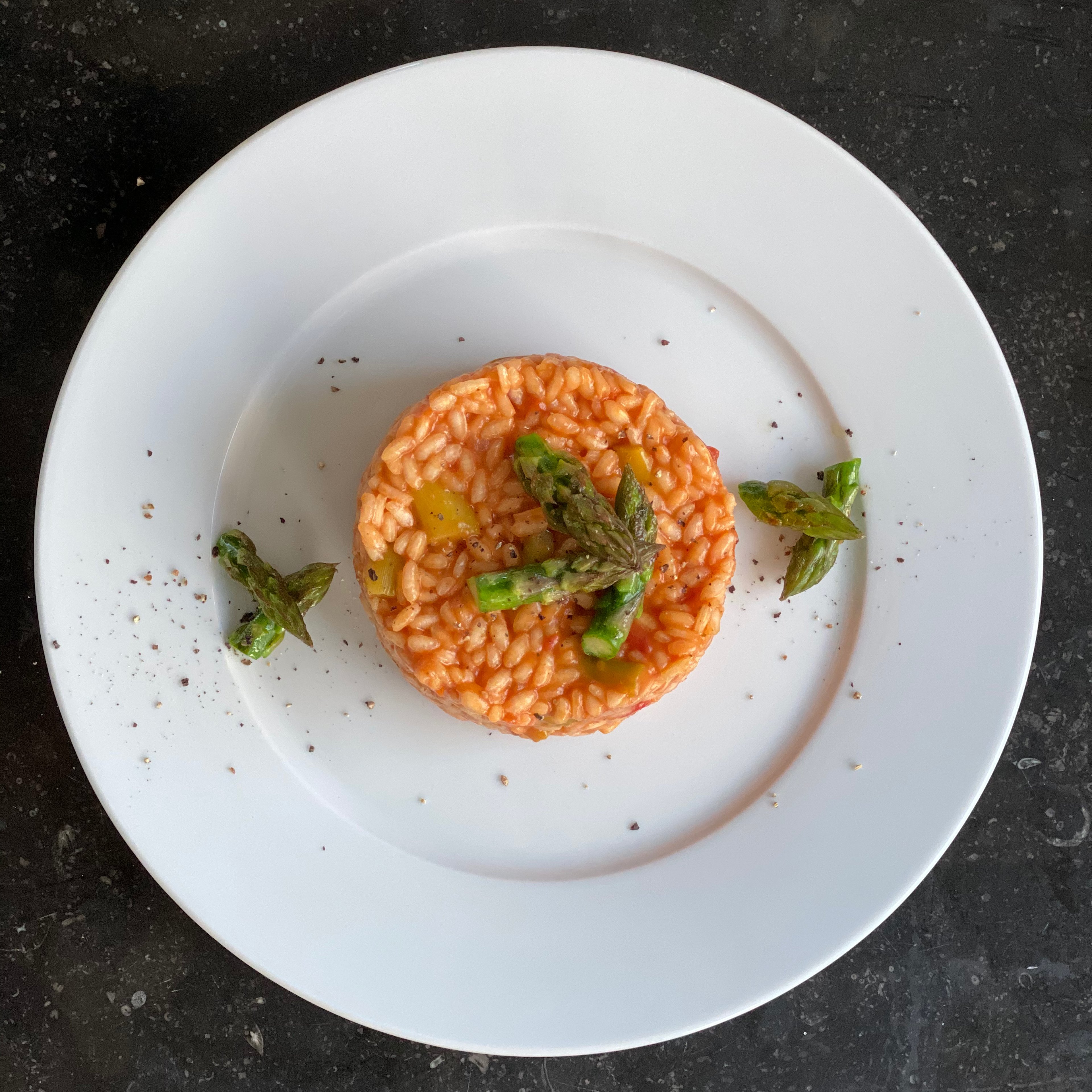 Risotto di asparagi
"This dish is great with and without tomato sauce and any type of asparagus!"
Ingredients
green asparagus (for garnish)
Utensils
knife, peeler, pot, wooden spoon, frying pan
Step 1/ 9

150 g

white asparagus

¼

onion

Peel the asparagus and cut of the ends. Slice into bitesize pieces. Peel the onion and dice very fine.

Step 2/ 9

Use 40g of butter to slightly roast the white asparagus and onions until glassy on medium heat with a wooden spoon.

Step 3/ 9

Add the rice and toast until slightly glossy

Step 4/ 9

½ l

vegetable broth

200 g

tomato purée (passata)

Mix the tomato purée with about 500ml of broth

Step 5/ 9

Crank up the heat and add the white whine. Cook until nearly evaporated. Lower the heat to medium and start adding the tomato-broth mixture until the rice is slightly covered.

Step 6/ 9

Cook the rice until it's al dente, adding tomato-broth mix one cup at a time when the rice has absorbed most the liquid. (15-20 min.)

Step 7/ 9

50 g

green asparagus (for garnish)

5 ml

olive oil

Wash the green asparagus cut of the ends and fry it with a bit of olive oil in a hot pan.

Step 8/ 9

1 pinches

salt

pepper

35 g

grated Parmesan cheese

When the rice is al dente add the rest of the butter and the parmigano stirring heavily until its creamy. Season to taste with salt and pepper. Cover the pot and let it rest for about two minutes

Step 9/ 9

Add the risotto to the plate and garnish with the green asparagus.

Enjoy your meal!
More delicious ideas for you