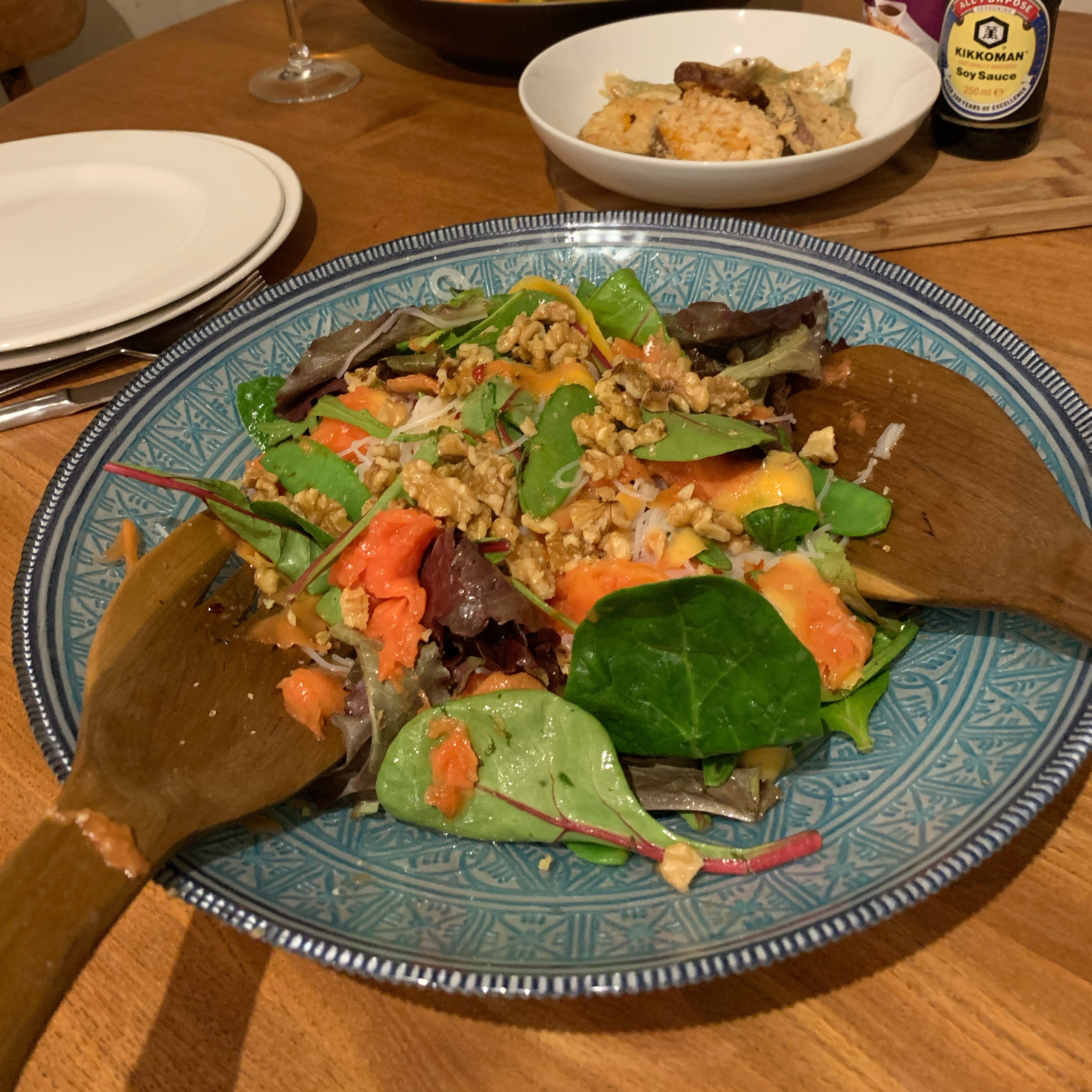 Papaya salad
"This is a traditionally Thai/Vietnamese/ south-east Asian dish, but I have made it with a ripe papaya and no grinder. This is a little sour, but also a little sweet (and can be made spicy) and very flavoursome! A savoury dish!! My family really liked this, I hope you enjoy :)"
Utensils
peeler, Teaspoon , saucepan, frying pan, wooden spoon
Step 1/ 6

Using a peeler, peel the papaya skin off of the papaya and throw away. (I couldn't find a green papaya so used a ripe one) and then peel the papaya until you get about 3/4 of the way to the centre (the papaya should start to form cuts/holes and that's when you know when to stop). Put the papaya strips into a bowl and cover with cling film for later use. Store in the fridge. The strips will be quite slippery but don't worry!

Step 2/ 6

1½ tsp

lemon juice

½

lime

⅞ tsp

black peppercorns

1 tsp

white wine vinegar

1¼ tbsp

sweet chili sauce

½ tsp

garlic

¾ tsp

ginger

½ tsp

sesame oil

1¼ tsp

honey

Now is time for the sauce. Squeeze the lime and add the juice to a cup, along with the lemon juice and white wine vinegar. Add the ground peppercorns and stir for about 30 seconds. I used ginger paste and garlic paste, but you can chop up your garlic and ginger instead. Add them to the cup and stir for 45 seconds. Add the sweet chilli sauce and honey. Stir until it becomes a sauce with no clumps. (It should be quite watery). I added some chilli flakes (1 tsp) to mine but this is optional.

Step 3/ 6

Finalising the sauce: these are the rough measurements I used to make the sauce (I did this by eye so can't be too sure). The sauce will really be to your taste so make sure you taste it and adjust as you go. If you would like it a bit sweeter, add more honey and sweet chilli sauce. I was cooking for my family, who can't take that much spice, so if you like spice I would suggest adding more chilli flakes.

Step 4/ 6

In a saucepan, boil about 350ml of water (you don't need salt) and put your glass noodles (or rice noodles) in the boiling water for about 3-4 minutes. Make sure that the water covers the noodles when you put them in. Drain the noodles and put them in the dish you will serve the salad in. Wait for the noodles to cool down a little (only about 1-2 minutes)

Step 5/ 6

In a frying pan, heat up some oil (I used olive oil) and add your mangetout (a bit like edamame). Fry them on a high heat for about 3-5 minutes. Once cooked, add to the noodles and wait for it to cool (about 2 minutes)

Step 6/ 6

12½ g

walnuts

50 g

Salad leaves

Take out your papaya strips and little by little add it to the noodles making sure that the papaya strips aren't too clumped. And your salad leaves (you can use as little or as much as you want) and teaspoon by teaspoon add in your sauce, making sure that you are mixing the salad as you add the sauce. Finally, add the walnuts (these are great for texture, add as little or as many as you want!) Taste it, and if it tastes good you are done!! I hope you enjoy :)

Enjoy your meal!
More delicious ideas for you