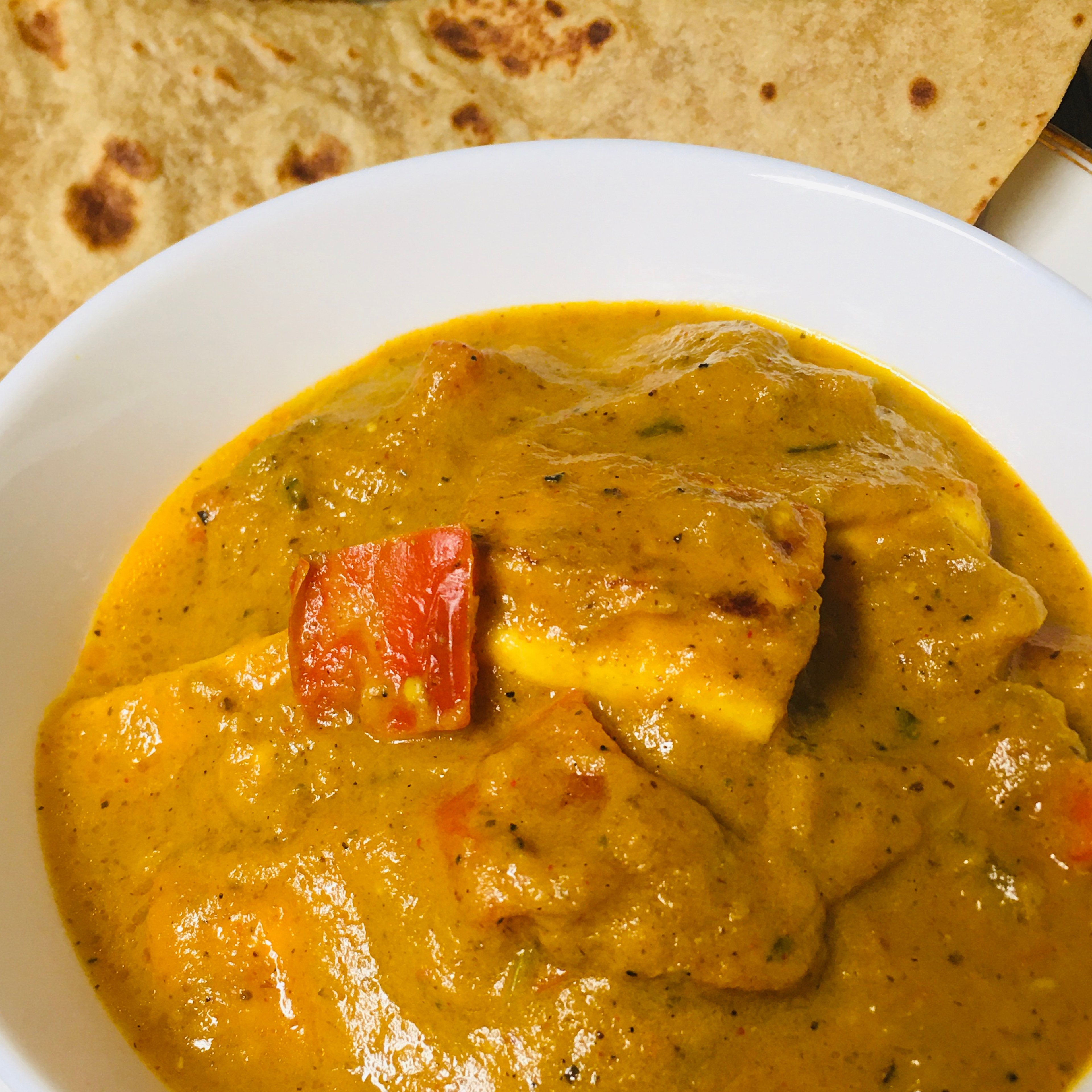 Paneer Do Pyaza
"Paneer is also known as indian cottage cheese. This is an Indian delicacy. It can be enjoyed with hot jeera rice, ghee rice, or freshly made chappathi (indian wraps). Feel free to add some fresh cream for a richer taste. The ingredients used for this dish can be obtained from any Asian/Indian stores. Hope you like it."
Ingredients
cooking oil (if required)
Indian cottage cheese (paneer)
Dried fenugreek leaves (aka Kasuri methi)
Utensils
1 cutting board, 1 knife, 1 mortar and pestle, 2 frying pans, 1 spatula, immersion blender
Step 1/ 11

1 cutting board
1 knife
1 mortar and pestle
2 frying pans
1 spatula

Roughly slice the onions and tomatoes. Crush/chop ginger and garlic. I usually prefer freshly ground ginger garlic paste for which I use my all-time favourite mortar and pestle.

Step 2/ 11

Also, go ahead and cube the indian cottage cheese (aka paneer), onion, and bell pepper (any colour). Set it aside.

Step 3/ 11

1 leaves

bay leaves

1

cinnamon stick (inches)

2

cloves

1½

green chili (whole)

1½

Green cardamom

½

star anise

¾ tsp

cumin seeds

½ tbsp

cooking oil (for frying)

Heat oil in one of the pans. Add the whole spices as listed. Sauté until the spices turn aromatic. Be cautious some of these spices tend to splutter. Also maintain a medium heat as some of it tend to burn easily.

Step 4/ 11

2

onion (medium size)

2

tomatoes

½ tbsp

ginger garlic paste

½ tsp

Poppy seeds (optional)

Once the spices turn aromatic and slightly brown, add the roughly sliced onions. Sauté a bit, and then add in ginger garlic paste. Cook the both for around 4-5 minutes. Once the onions are translucent, add the tomatoes. Add a pinch of salt at this stage as the ingredients cooks faster by releasing the moisture. If you prefer, this is the right time to add poppy seeds. It thickens the gravy and gives a creamy texture. You can splash a bit of water to prevent the ingredients sticking to the pan.

Step 5/ 11

Once the tomatoes turn mushy, take the pan of the flame and blend it into a fine paste. After blending, pour the blended mixture back into the same pan and cook it further for another 5-7 minutes on a medium flame. Add milk to dilute the gravy (you can also use water) and continue cooking. This is the base gravy for the dish.

Step 6/ 11

½ tbsp

cooking oil (if required)

250 g

Indian cottage cheese (paneer)

While the gravy is getting ready, go ahead and fry the indian cottage cheese (paneer) cubes. Start with by heating the second pan with a bit of oil in it. Once the oil is hot, place the paneer cubes and let it turn golden brown on one side before flipping it. It is necessary to use a non-stick pan as paneer tends to stick to the bottom. Be gentle while flipping them as they are soft and tender at this stage.

Step 7/ 11

¾ tbsp

ground coriander

½ tsp

Kashmiri Chilli powder

½ tsp

ground turmeric

Meanwhile it's time to spice up the blended onion tomato mixture. Add the listed spice powders to the gravy. Continue cooking the mixture for another 5 minutes.

Step 8/ 11

½

bell pepper (paprika)

½

Onion (large)

While the gravy is being cooked, set aside the fried paneer cubes. In the same pan, add some oil if needed. Go ahead and sauté the cubed onion and bell pepper one after the other. Once done, set these aside as well.

Step 9/ 11

15 ml

milk

⅞ tsp

garam masala

¾ tsp

Dried fenugreek leaves (aka Kasuri methi)

Now it's time to add in our two special and magic spices powders. Here you go add in garam masala powder and kasuri methi (these are dried and crushed fenugreek leaves) to the gravy. Mix it well and bring it to a boil.

Step 10/ 11

It's time time to add in all the three Fried items - paneer, onion & bell pepper.

Step 11/ 11

½ stalk

cilantro (for garnish)

Once the curry starts boiling, take it of the flame. Garnish with coriander and it's ready to be served. You can also drizzle some fresh home-made ghee on top but it's completely optional.

Enjoy your meal!
More delicious ideas for you