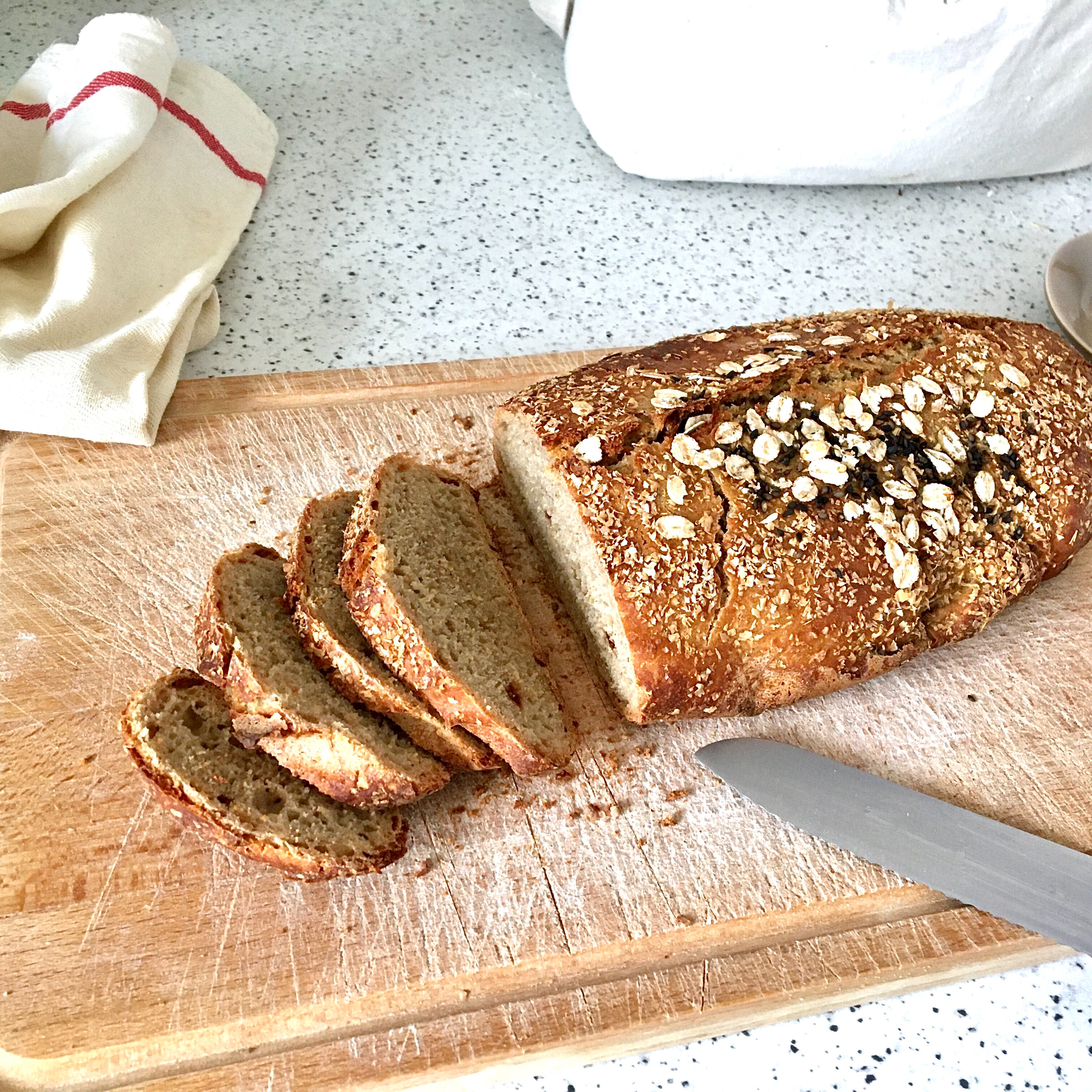 No Knead Oat & Date Bread
"A simple yet delicious bread that easily and healthily fills you up in the morning with a thick layer of nut butter and some seasonal fruits. Don't forget a freshly brewed coffee to double this guilt free morning pleasure..."
Ingredients
rolled oat (for sprinkling)
black sesame seeds (for sprinkling)
Utensils
mixing bowl, wooden spoon, kitchen towel, baking parchment , oven-proof dish with lid, sharp knife
Step 1/ 6

600 g

flour

50 g

wheat bran

150 g

oat flour

½ tsp

instant yeast

2½ tsp

salt

20 g

date juice/syrup

600 ml

water

This bread is an overnight risen one, so the dough is being made the night before. In a large bowl, briefly whisk together the flour, wheat bran and oat flour. Add the yeast, date juice, water and salt incorporating all together with a wooden spoon until an even sticky yet smooth dough comes together.

Step 2/ 6

Grease another large bowl and carefully transfer the dough into the later. Alternatively, you can grease the same bowl all around and try to move around the dough so all parts are get coated. Cover with a damp kitchen towel and let rest for 3-4 hours at room temperature. Just before sleeping time, transfer the dough to the fridge until morning.

Step 3/ 6

80 g

chopped dates

flour (for dusting)

The next day, remove the dough from the fridge and let rest at room temperature until fully risen and at least doubled in volume. Carefully transfer the risen dough onto a clean, floured work surface. The wet and sticky dough would flatten quickly, so you should work faster than your dough. Add half of the chopped dates and fold the dough over itself from left and right sides. Add remaining dates and fold again, this time from upside and downside of the dough.

Step 4/ 6

rolled oat (for sprinkling)

black sesame seeds (for sprinkling)

baking parchment
oven-proof dish with lid

Transfer the dough onto a baking parchment, or a fully floured kitchen cloth. Add rolled oats and sesame seeds on top. Wrap the dough with baking parchment and secure the edges with some clippers. While the dough takes its time for second rise, around 45-60 min, preheat the oven to 250 C and place a lidded baking dish inside.

Step 5/ 6

Using a sharp knife, make a large score over the dough and transfer it to the hot baking dish. Place in the oven with the lid on, reducing the temperature to 235 C. Bake for about 35-45 min. You should better check the doneness by tapping at its bottom after about 40 min. If it sounds hollow, the bread is done! Be aware that it might need more baking time, even up to above an hour.

Step 6/ 6

Remove from the oven, cool completely on a rack. Slice and enjoy!

Enjoy your meal!
More delicious ideas for you