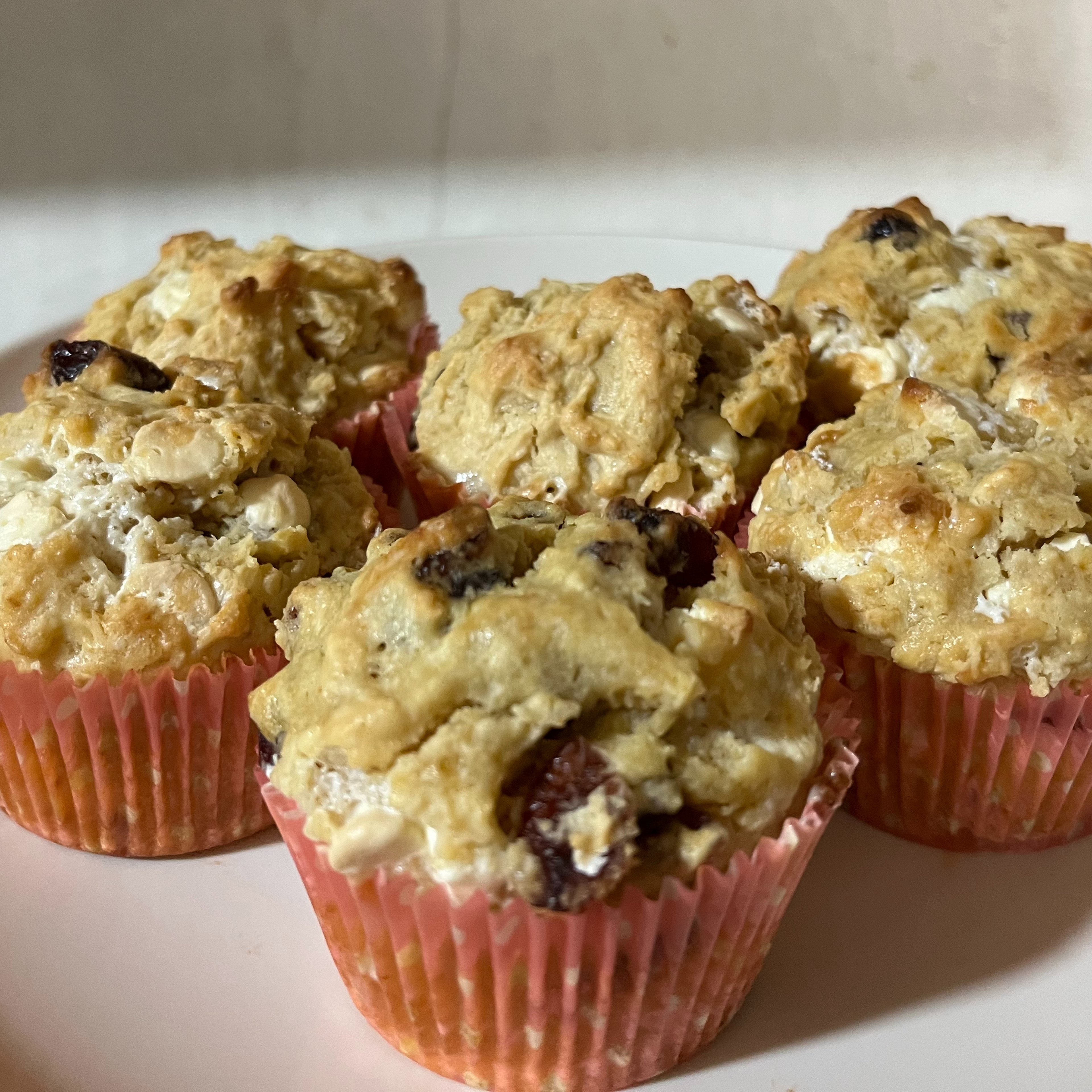 Muffins with Dried Cranberries and White Chocolate
"I based this on a recipe in the New York Times that they, in turn, based on another recipe. It's customizable - you can substitute other ingredients for the berries and white chocolate, or substitute almond flour for a portion of the flour. You can also sweetness as you like, or use honey instead of sugar. Just make sure the resulting batter will not be too dry or tough."
Utensils
heatproof bowl, muffin tin, muffin liner, oven, 2 bowls, spatula, whisk
Step 1/ 11

Melt butter, and allow to cool.

Step 2/ 11

Grease a muffin pan or use muffin liners if you like. Set aside.

Step 3/ 11

Pre-heat oven to 220 °C.

Step 4/ 11

⅝ cups

flour

⅓ tbsp

baking powder

⅛ cup

light brown sugar

⅓ pinch

salt

Mix together the dry ingredients.

Step 5/ 11

⅔

eggs

⅛ cup

milk

⅞ tbsp

unsalted butter

In a separate bowl, whisk together the melted butter, eggs and milk.

Step 6/ 11

Make a well in the dry ingredients and pour in the liquids. Using a spatula, fold or mix carefully using a slicing motion for a couple of times.

Step 7/ 11

⅓ cup

dried cranberry

⅛ cup

white chocolate chip

Add the cranberries and white chocolate. Mix carefully, best with a slicing or folding motion. Do not overmix.

Step 8/ 11

Spoon batter into the prepared muffin pan.

Step 9/ 11

Reduce oven heat to 200 or 180 degrees C, and place muffin pan in the middle rack.

Step 10/ 11

Bake for 20-30 minutes or until the muffins are a light golden brown, or until a toothpick or cake tester inserted in the muffins comes out more or less clean. It's best not to dry out the muffins too much, and baking time depends on your oven.

Step 11/ 11

Once done, remove from pan, and cool.

Enjoy your meal!
More delicious ideas for you