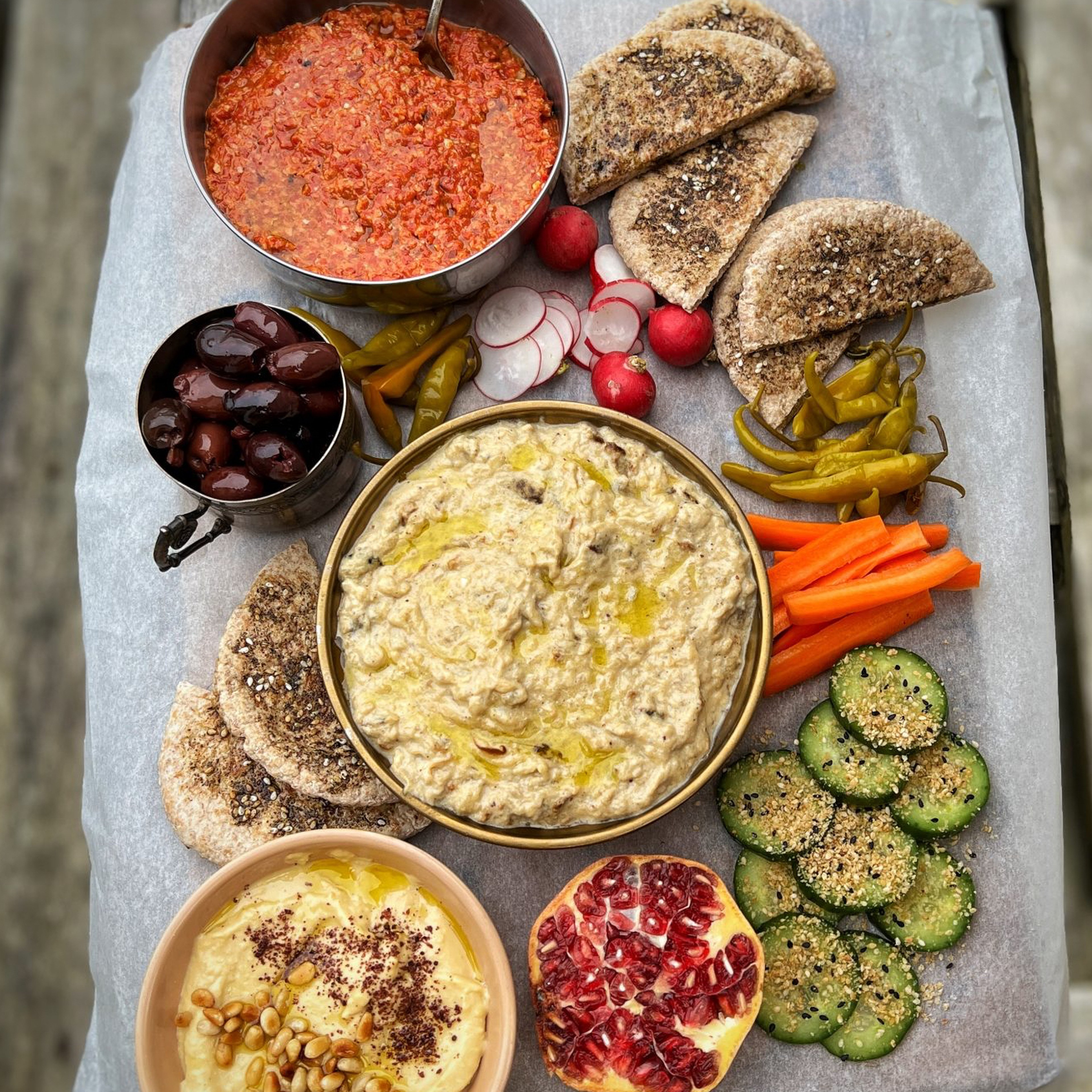 Mezze Platter w/ Babaganoush, Muhammara & Gomasio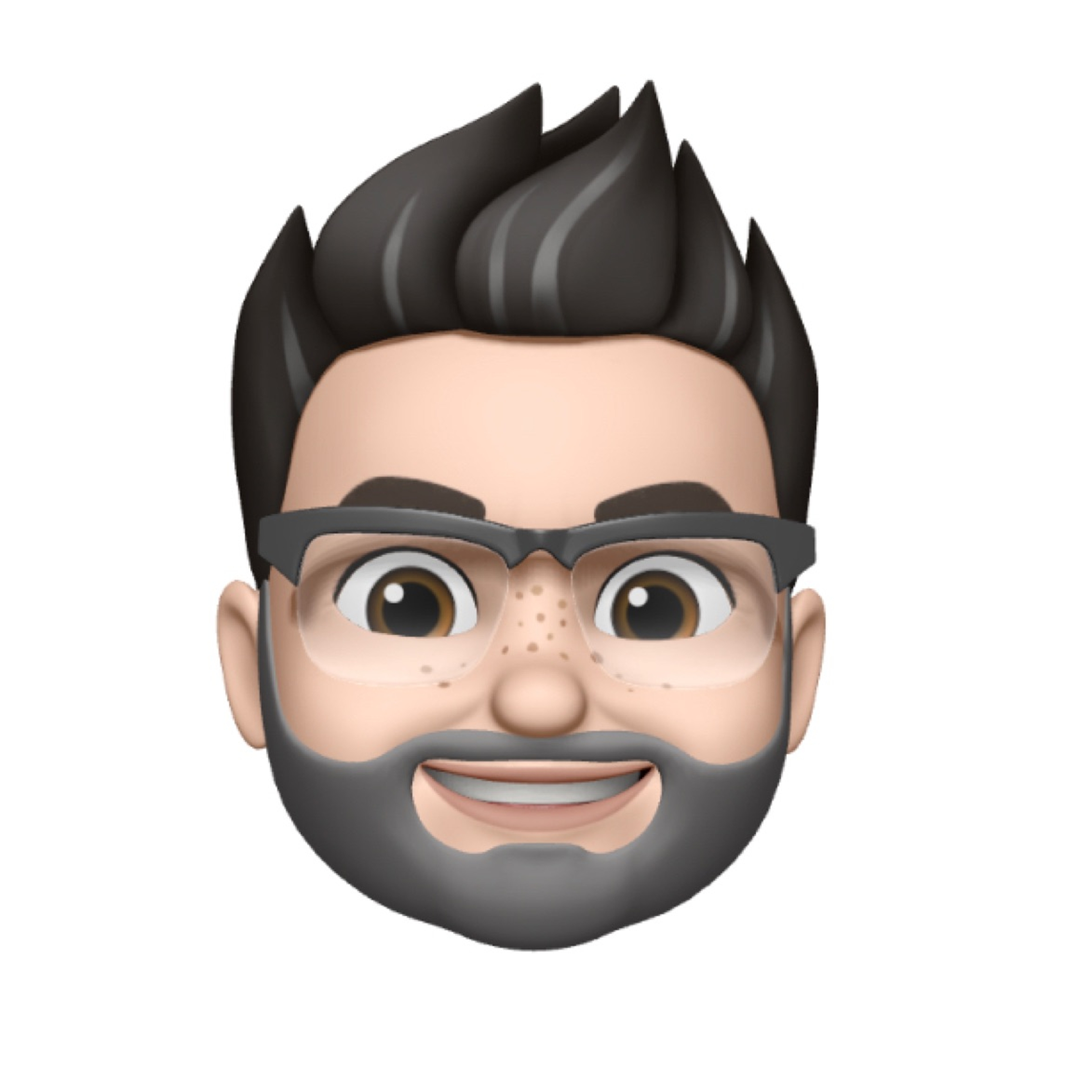 "Middle Eastern food is always some of our favourite food. This mezze board is so delicious and quick to make with just 2 (well 3 ish) you need to assemble. You can make the dips ahead of time too and add any different nibbles you fancy."
Utensils
baking dish, 2 frying pans, food processor, mortar and pestle
Step 1/ 14

To make the babaganoush; preheat the oven to 220 C (Fan).

Step 2/ 14

Cut the aubergine (aka eggplant) in half lengthways. Rub a little oil on the inside of the aubergine and place on a baking tray flesh side down, sprinkle with salt and cook for around 40 minutes until the aubergine is charred and collapsed and is super soft. Alternatively, if you have a gas stove, you can cook them directly on the flame turning occasionally for approximately 15 minutes or until charred and super soft.

Step 3/ 14

Once cooked allow them to cool enough so you can handle them. When ready, scrape the soft flesh from the insides of the aubergine into a medium mixing bowl (it should come away easily from the skin). Discard the skin once done.

Step 4/ 14

35 g

tahini

1¼

lemons

1 cloves

garlic

1½ tbsp

olive oil

1 tbsp

natural yogurt

½ tsp

salt

⅛ tsp

sumac

Add the tahini, juice of 2 (leave the remaining half for later) lemons, crushed garlic clove, olive oil, yoghurt and sumac into the bowl and mix thoroughly. Salt to taste.

Step 5/ 14

To make the muhammara, toast the walnuts in a dry pan over a medium heat for 2-3 minutes, tossing occasionally.

Step 6/ 14

½ tsp

chili flakes

½ tsp

ground cumin

½ tbsp

pomegranate molasses

½

jar of roasted peppers

While the nuts are toasting, blend the roasted red peppers (drained), 1 garlic clove, juice of the remaining half lemon, 2 tbsp of oil, chilli flakes, pomegranate molasses in a food processor. Once blended, remove to a bowl.

Step 7/ 14

Roughly chop the walnuts and add to the bowl with the breadcrumbs and mix well. Taste and add any extra lemon, salt or chilli flakes if needed (to suit your taste).

Step 8/ 14

Time to assemble!

Step 9/ 14

Toast the sesame seeds on a dry pan over a medium heat until golden and they're start to pop. A mixture of black and white is ideal but not essential.

Step 10/ 14

In a pestle and mortar, add the sesame seeds with a generous pinch of salt and pepper and grind until they form a powder. This is your gomasio. Alternatively, put them in a ziplock bag and bash with the back of a mug or rolling pin.

Step 11/ 14

Slice the cucumber into 1cm rounds and sprinkle over the gomasio (sesame seeds / salt & pepper). It's best to do this last as left too long the salt will start turn the cucumber mushy.

Step 12/ 14

90 g

hummus (for serving)

7½ g

pine nuts (for serving)

Toast the pine nuts in a dry pan until nicely browned and decorate the top of the hummus.

Step 13/ 14

2

pita breads

½ tbsp

Za'atar

For the pittas, mix 1 tsp of za'atar with 1 tbsp of oil and a pinch of salt. Toast the pittas and brush with the za'atar oil while still warm. Allow the oil to soak into the pittas and cut into halves.

Step 14/ 14

75 g

olives (for serving)

1

carrots (for serving)

4

radishes (for serving)

Assemble your platter with the hummus, muhammara and baba ganoush in 3 separate bowls. Pop them on a large wooden chopping board or nice large platter. Add the toasted za'atar pittas, a nice pile olives and any other little nibbles (carrot sticks, radishes) you fancy.

Enjoy your meal!
More delicious ideas for you