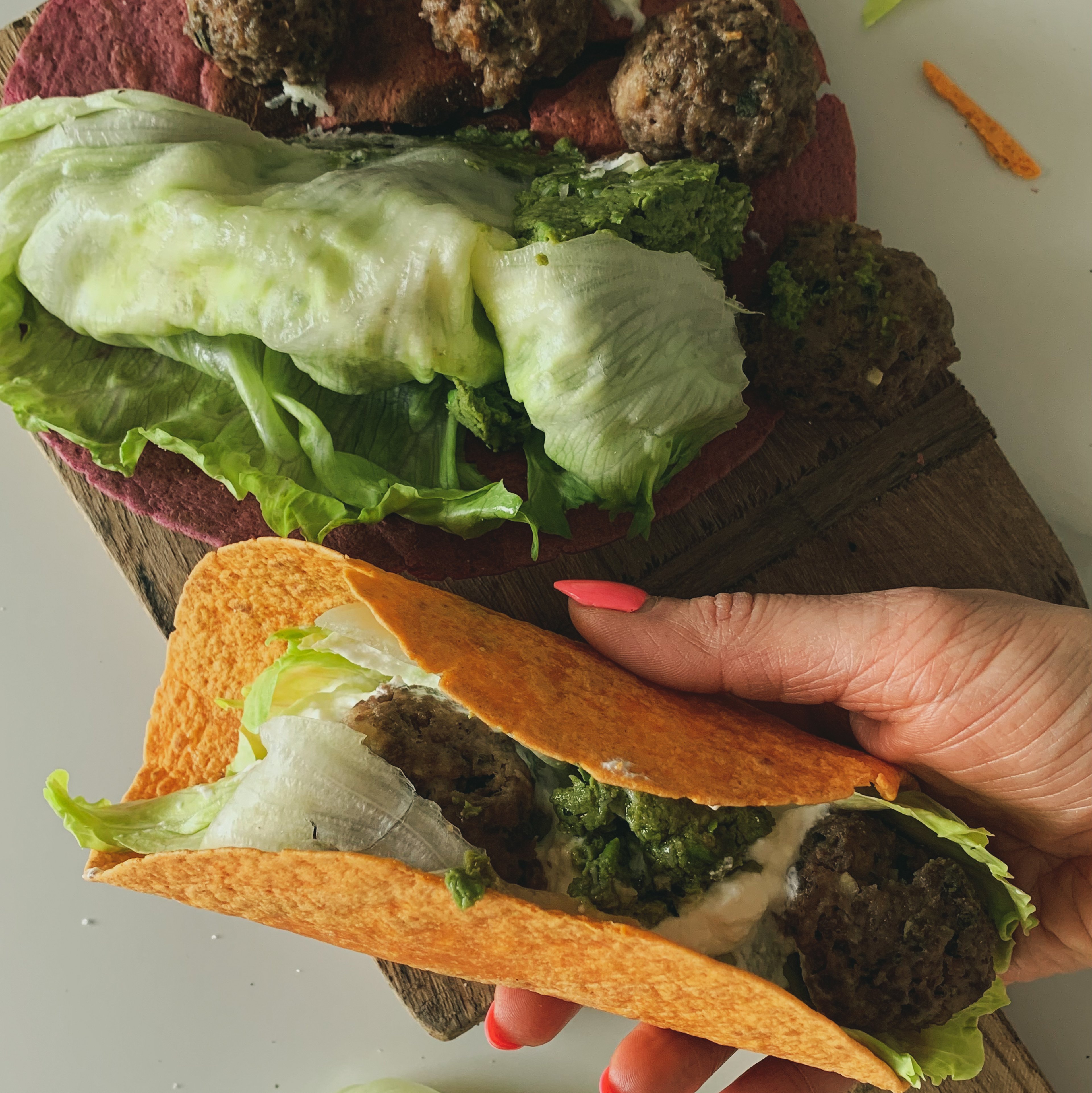 Herby Greek meatballs with pea pistachio pesto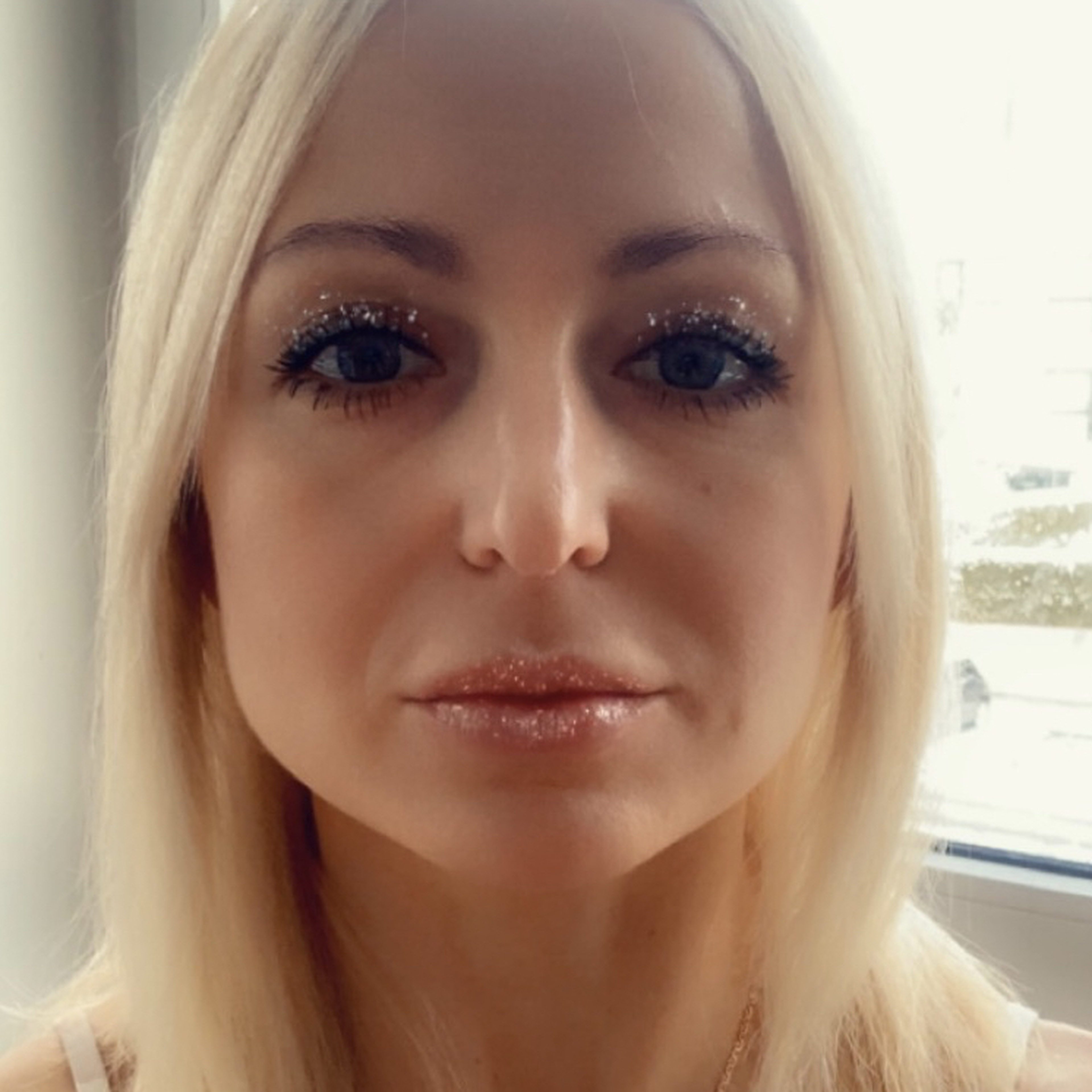 "These extra herby and soft melting-in-mouth meatballs (no eggs included!) are complimented with pea pesto that includes a special secret ingredient: pistachio paste instead of any other seed or nut paste. All the goodness is wrapped into colorful carrot and beetroot wraps (store-bought, but I'm very satisfied with them). SPECIAL TIP: Make the wraps ahead and put them into your lunch box - that way they have even more time to gather the flavors and bind everything together for a balanced bite."
Ingredients
freshly ground salt and pepper
iceberg lettuce (for garnish)
full-fat Greek yogurt (for serving)
extra-virgin olive oil (for serving)
freshly ground salt and pepper
Step 1/ 8

The most time-saving way is to make the meatball dough first, even though it's the opposite sequence on my video tutorial. The reason is that the balls want some time for resting before the oven. But it's not totally crucial, so if you happen to make these balls just by themselves, without any additions and you are in a big hurry (hungry kids for example :)), then you can skip the resting part.

Step 2/ 8

For the balls first soak your bread in milk and then wash thouroughly your lemon and grate the zest. After that you basically just mix everything together, preferrably by hands, because touching your food directly is always the best way to create a special connection with it. And for the ones that are not that familiar with everyday cooking yet and are maybe a bit afraid of it, it's really nice to get to know raw food and develop love for it.

Step 3/ 8

Add all the meatball ingredients to the bowl, add softened bread (you can squeeze them a bit separately first if the bread is rather hard) and then kneed and squeeze everything together. If you've got children to feed as well with the meatballs, then there might be a chance that they prefer them without the herbs (like mine) - in that case, separate a mixed part without herbs and add the herbs to the rest of the mix.

Step 4/ 8

Roll the balls and place them onto an oven sheet, covered with baking paper. To get balls that are pretty much the same in size, use tablespoon for measuring. But of course as this dish is a nice rustic street food style, don't overthink it - they don't have to be absolutely equal! Meanwhile, when the balls are resting, make the pesto (instruction below) and turn the oven to 225 degrees C or 435 - 440 F. After resting 15 minutes, put the meatballs into the oven for another 15 minutes.

Step 5/ 8

Now make the pesto. Boil a decent amount of water (at least 1 litre) in a kettle, then pour it to your pot and turn the stove to the highest heat. Add 1 tsp of salt to water and boil the peas just for a minute on a high heat, so that the water is bubbling, then drain them and startle with a sudden quick shower of some cold water. That way they remain nice and vibrant green. Again just mix everything together, but with the pesto use immersion blender. Try not to make totally smooth paste.

Step 6/ 8

After you have turned your pesto into your serving bowl, add some extra virgin olive oil, a bit of grated cheese and grind pepper. Why not to garnish with a few basil leaves as well.

Step 7/ 8

For assembling the wraps wash your greens, separate the leaves and get your greek yoghurt ready (if you wish, then very lightly season it with salt and pepper), grate some extra cheese and have your olive oil available for some who want to add it. Put a skillet on high heat, lower the heat soon to high-medium, don't add any oil and heat and brown your tortillas from each side a bit - they should look like grilled. You should give them heat just for a few seconds from each side.

Step 8/ 8

Now all the eaters should be gathered to the table to make their own wraps exactly the way they like it or do it yourself for them. There are different ways to build the wrap and as I've noticed, it varys a lot, how much filling people want for example and in which order they pile their fillings. Be easy and creative - it doesn't matter, how you prefer to roll your wrap! I made one wrap even so that I used just a big green leave to hide the good stuff in it :) - that was the low-carb version.

Enjoy your meal!
More delicious ideas for you