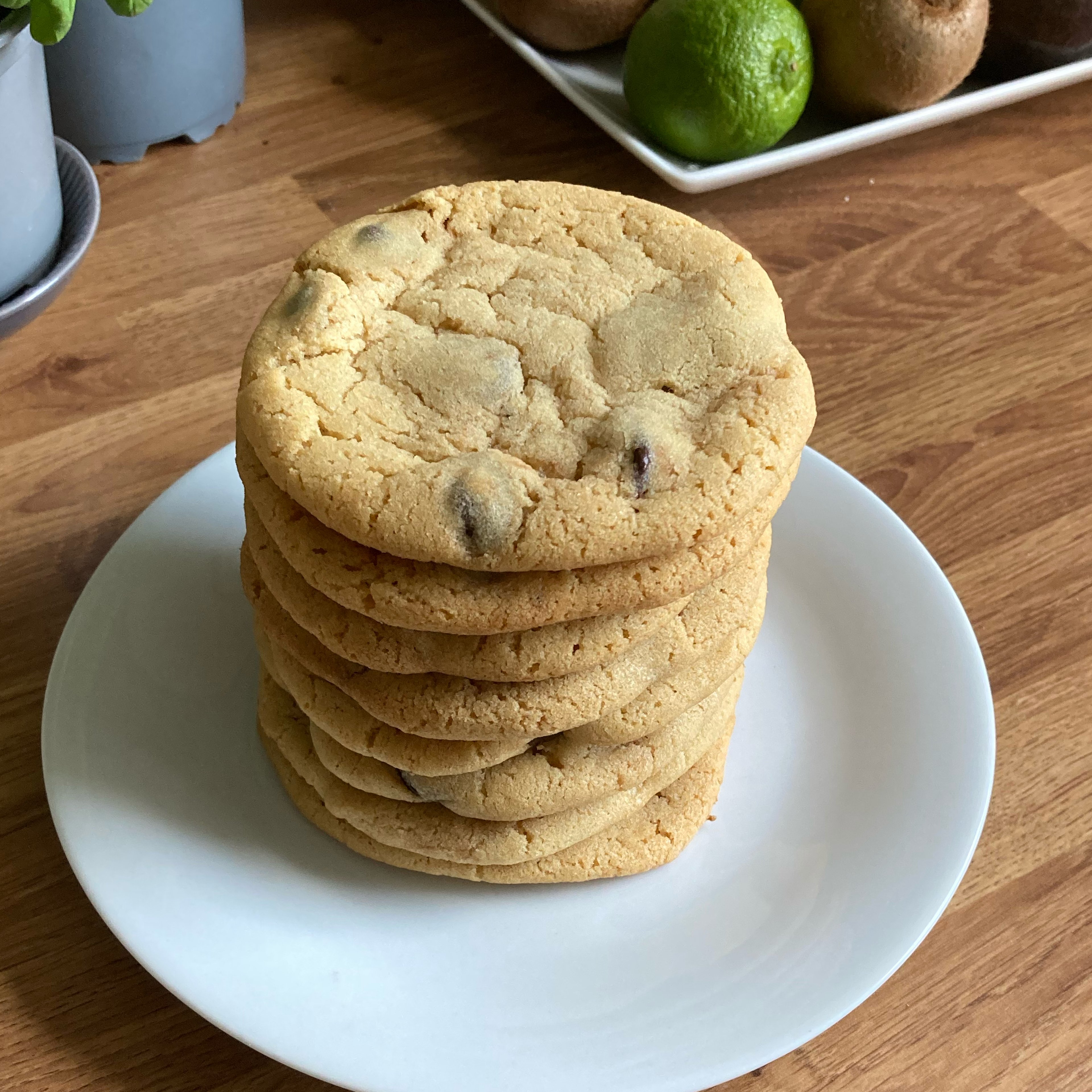 Gooey Chocolate Chip Cookies
Utensils
whisk, bowl, sieve, wooden spoon, baking sheet, baking tin, spatula, wire rack
Step 1/ 8

Preheat the oven to 180C, gas mark 4

Step 2/ 8

20⅞ g

butter (soft)

16⅔ g

light brown sugar

20⅞ g

caster sugar

Cream the softened butter and combined sugars with an electric whisk.

Step 3/ 8

37½ g

self-raising flour

⅛ tsp

salt

Mix the salt into the flour and sift into the creamed butter. Whisk until the mixture is consistent.

Step 4/ 8

Add the chocolate chips and mix until evenly distributed. Put the whisk aside and use your hands.

Step 5/ 8

⅛

egg

⅛ tsp

vanilla extract

Beat the egg in a separate bowl and stir in the vanilla extract. Add to the dry ingredients and stir through with a wooden spoon to form a single cookie dough ball.

Step 6/ 8

Tear off a chunk of dough, roll into a ball about 2 inches in diameter and flatten between your hands. Place a few on a baking tin covered with ungreased baking paper, spaced enough to allow each to double in size.

Step 7/ 8

Pop in the oven for ten minutes. When they come out, give one a very light poke - the outside will feel baked enough to be crunchy but the gooey inside will collapse as if molten. Leave them to harden for a five minutes then use a spatula to move them to a cooling rack.

Step 8/ 8

Try a cookie. Put a few more chunks of dough on the baking sheet which should have cooled by now and adjust the time to get the cookies just how you want them.

Enjoy your meal!
More delicious ideas for you