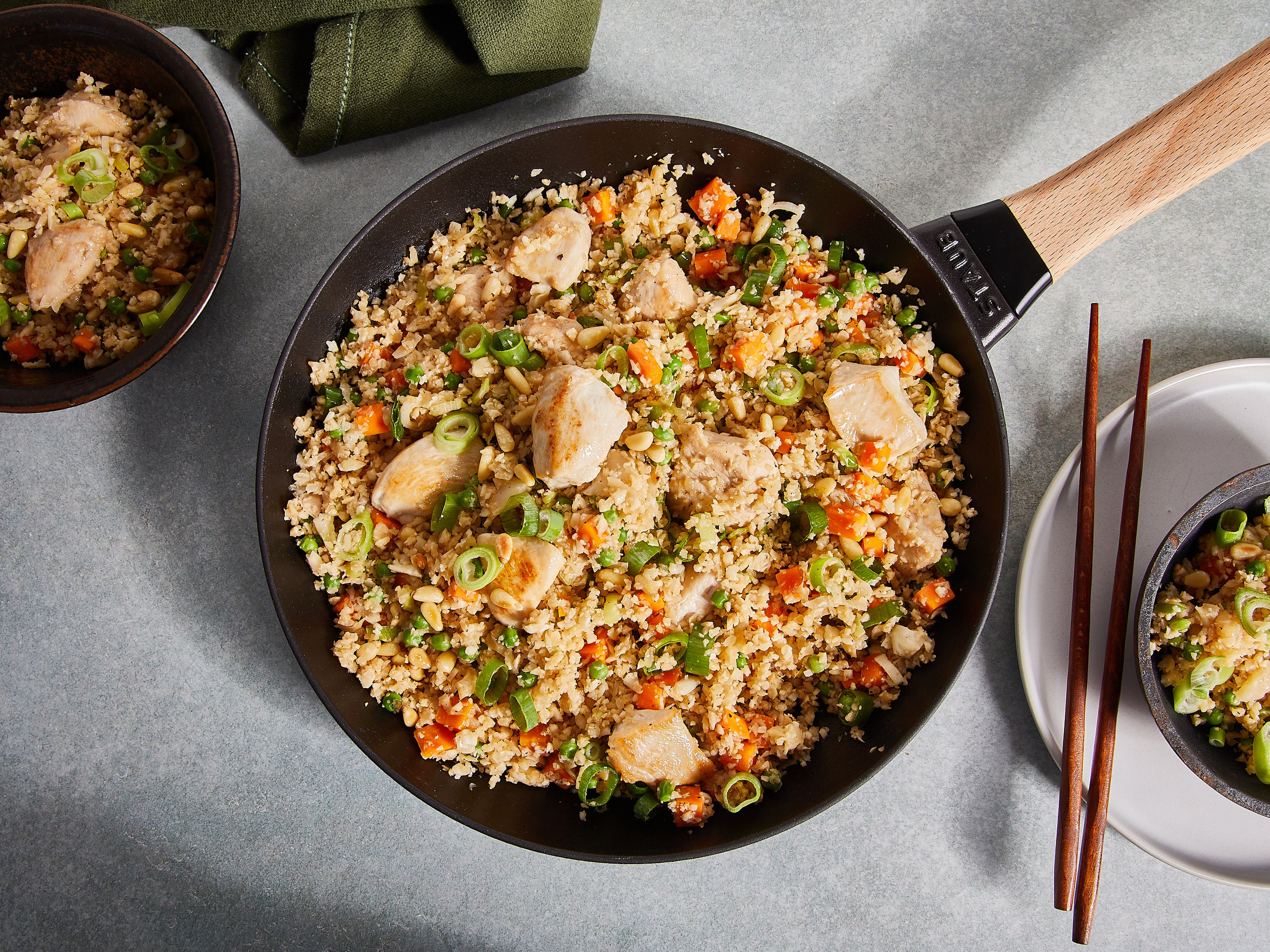 Fried cauliflower rice with chicken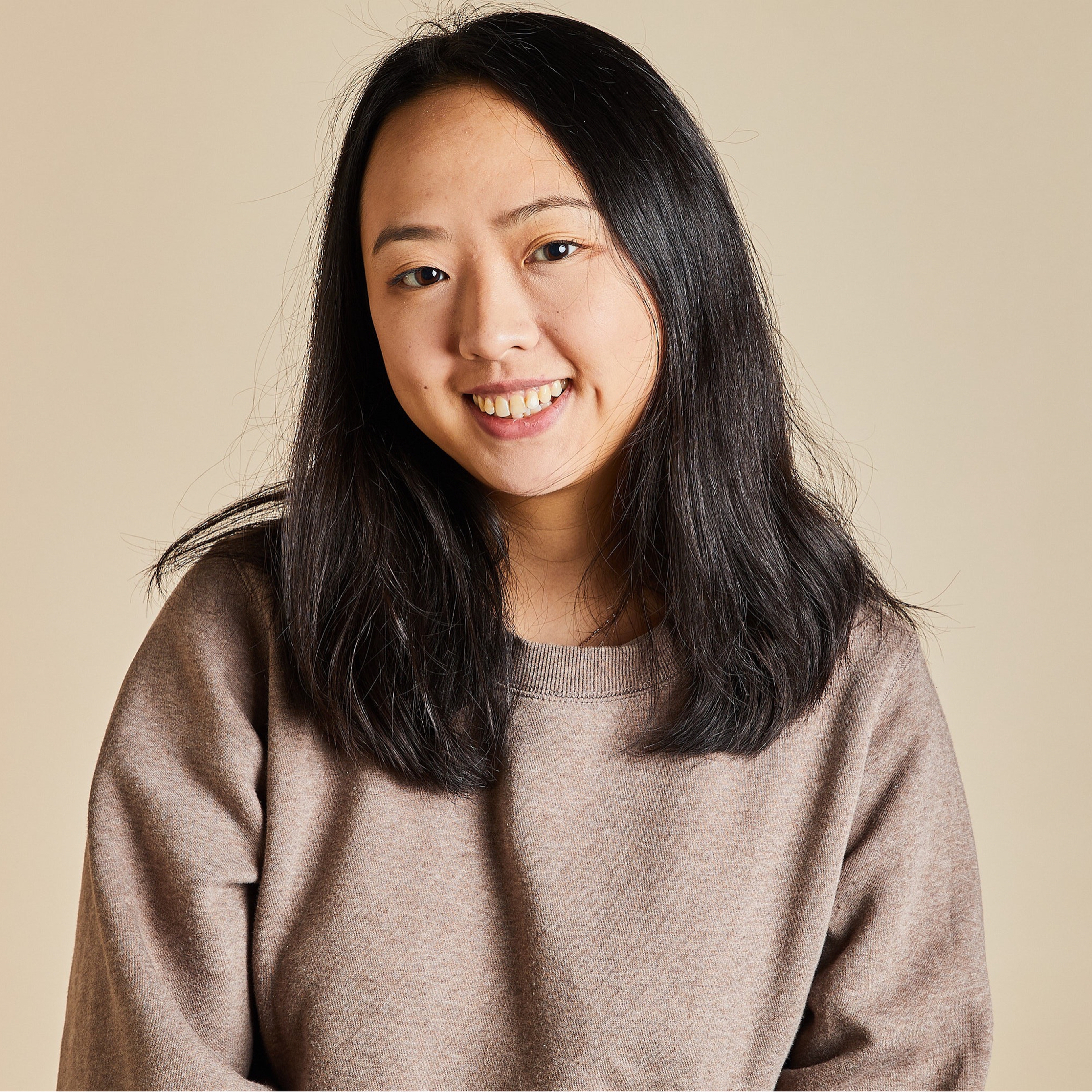 "Cauliflower rice is a low-carb variation of white rice and has been popular for a while. I was hesitant to try (because rice is life), but the result surprised me. This cauliflower fried rice is full of nutrients and flavors, and lighter on the stomach. It's a perfect weekday lunch if you don't want to have a food coma at 2 pm. Adding pine nuts to the fried rice is a tip I learned from the egg fried rice recipe from youtube channel "Magical Ingredients", which adds aroma and depth to this dish."
Ingredients
vegetable oil (for frying)
Utensils
food processor, cutting board, knife, bowl (small), peeler, frying pan, spatula
How-To Videos
How to cut cauliflower
How to prepare garlic
How to cut an onion
Step 1/ 5

500 g

cauliflower

300 g

chicken breasts

1 tsp

soy sauce

1 tsp

starch

salt

food processor
cutting board
knife
bowl (small)

For the cauliflower rice, first divide the cauliflower into larger florets. Then grind the florets together with stems in a food processor until about rice-sized pieces are formed. Set aside. Cut chicken breasts into small bite-sized pieces. Combine chicken pieces in a small bowl with salt, a little soy sauce and cornstarch and let it marinate briefly.

Step 2/ 5

1

carrot

1 clove

garlic

1

onion

2

scallions

In the meantime, peel the carrot and cut into small cubes. Peel and finely chop the onion and garlic. Cut scallions into fine rings, and separate the white and green parts.

Step 3/ 5

20 g

pine nuts

vegetable oil (for frying)

In a large frying pan, toast pine nuts over medium heat until light brown. Remove and set aside. Add vegetable oil to the pan and heat over medium heat. Add chicken fillet pieces and sear over medium-high heat for approx. 3–4 min. on all sides, then remove from pan and set aside.

Step 4/ 5

100 g

frozen peas

vegetable oil (for frying)

salt

In the same pan, heat more oil if needed. Add carrots, onions, garlic, and white of scallions and sauté for approx. 1 min. until fragrant. Add cauliflower rice, season heavily with salt, and sauté for approx. 5–8 min. until any water that may have escaped from the cauliflower evaporates and it is lightly toasted. Add peas and sauté for another 3–4 min. until peas are cooked.

Step 5/ 5

1 tbsp

soy sauce

sesame oil (for serving)

salt

pepper

Then add the chicken back to the pan, reheat and season everything with the remaining soy sauce and salt and a little pepper to taste. Finally, drizzle with a little sesame oil and garnish with spring onion greens. Serve immediately.

Enjoy your meal!
More delicious ideas for you