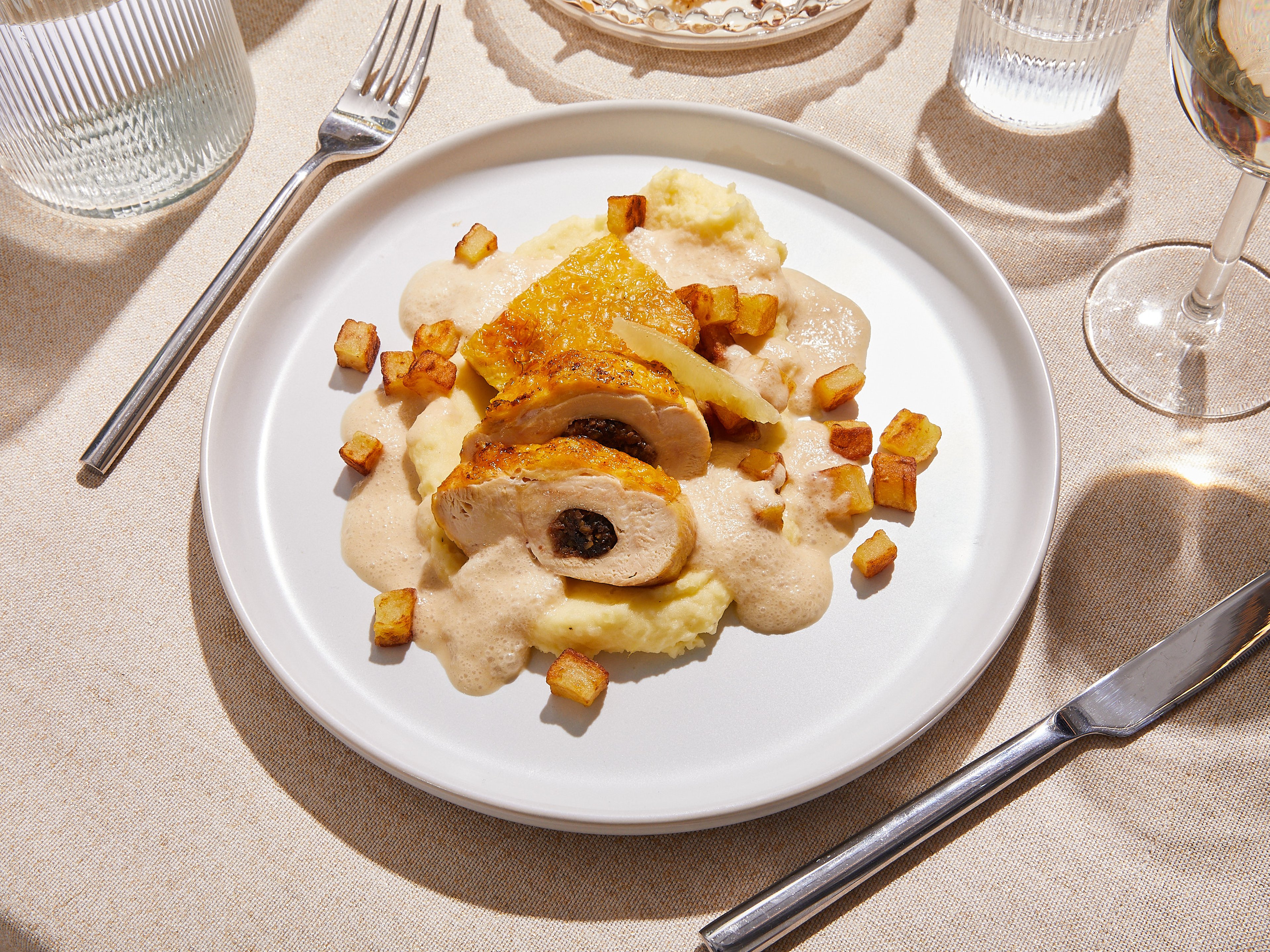 Crispiest chicken with potato puree and miso gravy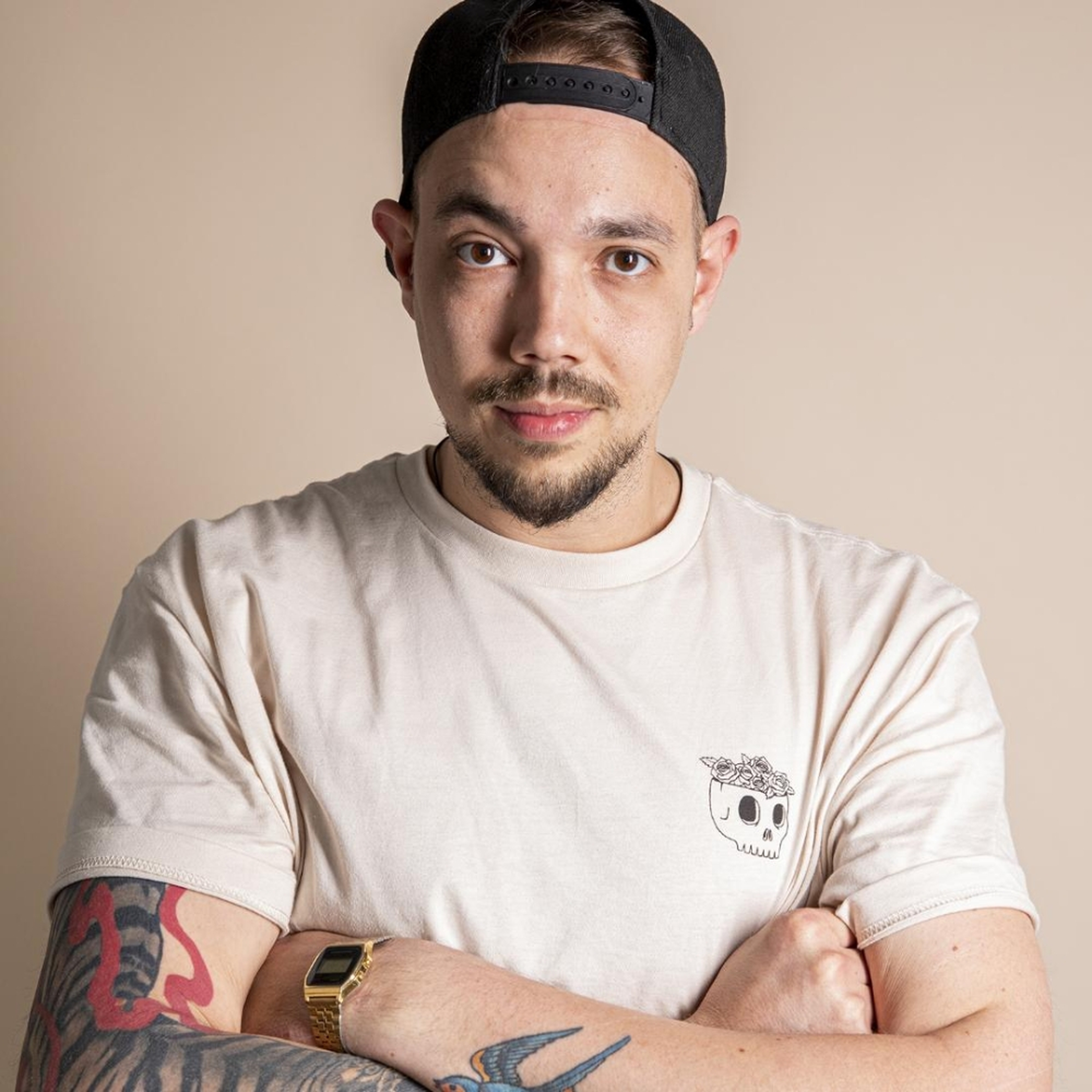 "This fancy chicken, 2 ways recipe was 'invented' by me and Hanna during a video challenge to create an impromptu 3-course-dinner, taking inspiration from ingredients given to us. Head to our Youtube channel to watch the video! In this recipe, we break down a whole chicken and cook it two ways: A stuffed fried chicken breast and crispy chicken thighs bathed in a delicious chicken-miso jus made from the chicken). It's a restaurant-worthy dish that you can cook at home by following the recipe!"
Ingredients
vegetable oil (for frying)
Utensils
peeler, 2 cutting boards, 3 knives, 3 pots (large), bowl (large), 2 spatulas, slotted spoon, sieve, 2 pots (small), potato ricer, fine grater, bowl (small), paring knife, 3 frying pans, immersion blender, fillet knife
How to debone chicken legs and thighs
How to prepare celery root
How to cut up a whole chicken
Creamy mashed potatoes
Step 1/ 6

½

carrot

25 g

celery roots

½

onion

½

whole chicken

½ kg

floury potato

250 g

waxy potatoes

salt

peeler
cutting board
2 knives
pot (large)
bowl (large)

Peel carrot, celery root and onion and chop roughly. Break down the chicken. Setting the breasts, which will be stuffed, and debone the legs. Reserve the remaining chicken carcass, wings, and skin to make the jus. Peel both kinds of potatoes. Transfer the floury potatoes to a large pot and cover well with water. Salt the water, bring to a boil, lower the heat to medium and cook approx. 20 min., or until soft. Dice the remaining waxy potatoes into bite sized pieces. Transfer them to a large bowl and cover with cold water.

Step 2/ 6

vegetable oil (for frying)

100 ml

white wine

¾ l

water

pot (large)
spatula
slotted spoon
sieve
pot (small)

To make the jus, add a little oil to a large pot over high heat, then add the chicken carcass and fry until browned, approx. 8 min. Add onions, carrot, and celery root, lower heat to medium and continue to fry approx. 5 min. Deglaze with white wine. Then cover with water and set on medium to low heat, let simmer for approx. 30 min. to reduce. Use a slotted spoon to skim off any impurities. Once the stock has reduced by over a half, pour it through a sieve into a smaller pot. Set the small pot over medium-high heat and reduce until thickened and intense tasting.

Step 3/ 6

75 ml

cream

30 g

butter

nutmeg

salt

pepper

potato ricer
pot (small)
fine grater
pot (large)

To make the potato purée, drain the cooked potatoes and press them through a potato ricer. Heat up cream and some of the butter in a small pot. Season well with salt, pepper and freshly-grated nutmeg, to taste. Add part of the cream mixture to the mashed potatoes and stir well until incorporated. Gradually add the cream mixture and stir until it is used up and the purée is smooth. For the crispy potato bites, drain the diced potatoes and add to a large pot of boiling, salted water. Cook for approx. 6 min., then drain and allow to steam off.

Step 4/ 6

10 g

walnuts

15 g

prunes

¼ tsp

miso paste

1 tsp

butter

vegetable oil (for frying)

salt

pepper

knife
cutting board
bowl (small)
paring knife
frying pan

To make the filling for the chicken breast, finely chop walnuts and dried plums, and add to a small bowl. Add half of the miso and a little softened butter. Season with pepper and mix well into a paste. Use a paring knife to slice a small pocket into the chicken breast. Stuff with the filling mixture. Salt the chicken breast meat well, leaving the skin unsalted. Heat a frying pan over high heat and add a little bit of vegetable oil. Add the chicken with the skin side facing down and fry until the skin is crispy, approx. 3 – 4 min. Then turn over, reduce the heat to medium and cook for approx. 3 min. more.

Step 5/ 6

1 cloves

garlic

¾ tbsp

butter

½ tsp

lemon juice

vegetable oil (for frying)

Salt the chicken thigh meat well, leaving the skin side unsalted. Add vegetable oil to a frying pan, set over high medium-heat, then add the deboned chicken legs. Flip the chicken once it has cooked approx. 7 min. and is browned and crispy. Add garlic cloves, together with a little butter, and let the melt. Then add a squeeze of lemon juice. Once saucy, tilt the frying pan and use a spoon to baste the chicken in the sauce. Add vegetable oil to another frying pan over medium high heat, add cooked diced potatoes and fry until golden brown, approx. 10 min.

Step 6/ 6

¼

lemon (for serving)

25 g

butter

¼ tsp

miso paste

immersion blender
fillet knife

Peel half a lemon and cut into segments. Add the remaining miso and remaining butter to the chicken jus. Use an immersion blender to puree the sauce until foamy. Slice the crispy chicken thighs into thick strips. Slice the chicken breast into thick medallions. To plate, add some potato puree to a plate and use a spoon to spread it out, top with chicken and fried potatoes. Drizzle with the foamy jus and add some broken up lemon segments all over for pops of flavor. Enjoy!

Enjoy your meal!
More delicious ideas for you