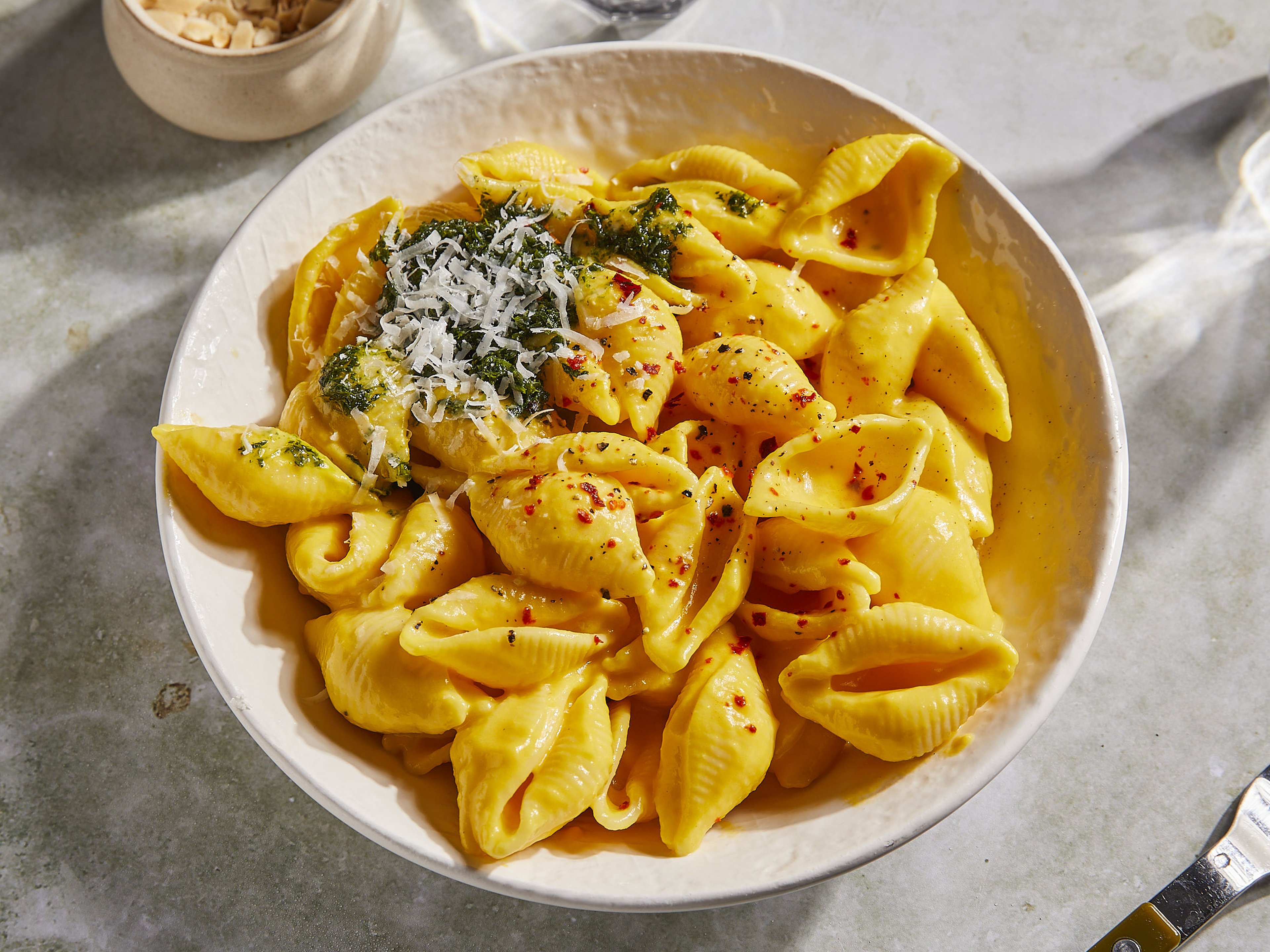 Creamy pasta with carrot sauce and carrot top pesto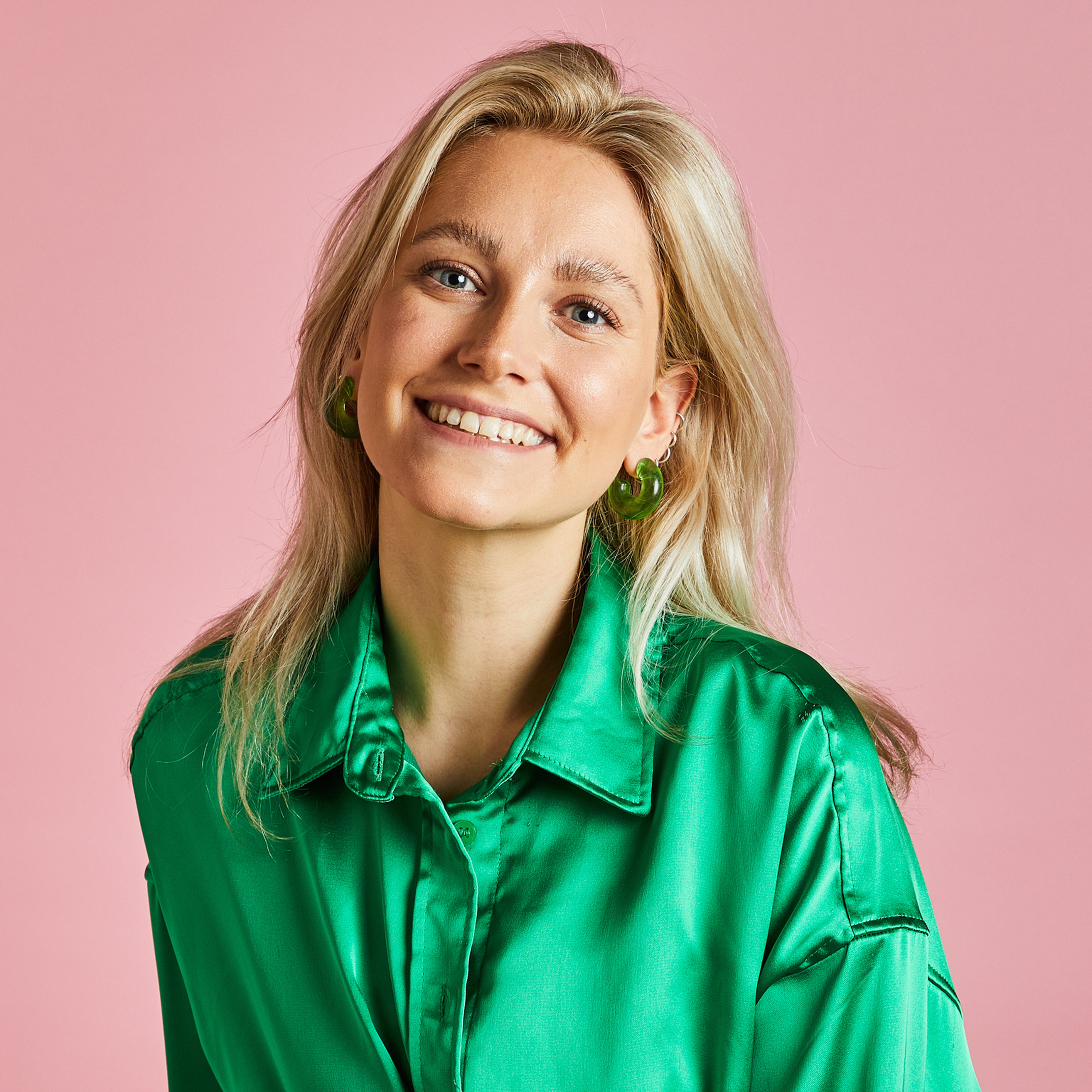 Food Editor at Kitchen Stories
"Carrots can be more than just a side dish, salad, or soup; They can also be a wonderfully creamy, colorful pasta accompaniment. Like ripe tomatoes, carrots have a subtle sweetness that pairs well with tangy Parmesan, lemon juice, and a bit of crème fraîche to make an incredible pasta sauce. Don't discard your carrot greens! They make a great pesto or gremolata, as in this recipe, which adds a mildly spicy and grassy-fresh note to the dish and cuts through the creamy carrot sauce. If you can't find carrots with greens, just use parsley instead. What's missing for perfect pasta? For me, a little crunch! Toasted almonds, or other nuts of your choice. Not sure which pasta to use? I'm a huge fan of conchiglie: The shell shape is just adorable, and the pasta collects a little sea of sauce inside. Of course, you can use other pasta shapes, like orecchiette or even pappardelle."
Ingredients
sliced almonds (toasted, optional)
chili flakes (for decorating)
Utensils
knife, cutting board, peeler, grater, large pot, pot, spatula, liquid measuring cup, immersion blender
How-To Videos
How to chop green herbs
How to prepare garlic
How to zest citrus fruits
Step 1/ 4

1½ cloves

garlic

1½

shallots

2½

carrots with top greens

¼

lemon

30 g

Parmesan cheese

salt

knife
cutting board
peeler
grater
large pot

Cut off the carrot greens approx. 15 cm/6 in. above the stalk and set the greens aside for use later, discard the stems and stalk. Peel and coarsely chop the garlic, shallots, and carrots. Grate the Parmesan cheese. Zest and juice the lemon. In a large pot, bring water to a boil for pasta and salt well.

Step 2/ 4

1 tbsp

butter

150 ml

vegetable broth

250 g

conchiglie

In a medium pot, melt butter over medium heat. Sauté shallots and ⅔ of the garlic in it until golden, for approx. 3 min, stirring often. Add carrots, sauté briefly, then deglaze with vegetable broth. Bring to a boil, then cover the pot, reduce heat, and simmer until carrots are fork-tender, for approx. 10 min. Meanwhile, add pasta to the boiling water and cook until al dente according to package directions. Reserve about 250 ml/1 cup of the pasta water before draining the pasta, then return the pasta to the large pot.

Step 3/ 4

1 sprigs

parsley

2½ tbsp

olive oil

salt

pot
spatula
liquid measuring cup
immersion blender

While the carrots and pasta are cooking, prepare the pesto. Purée the carrot greens, parsley, lemon zest, remaining garlic, and olive oil in a measuring cup with an immersion blender or in a stand mixer. Add more olive oil if needed, season with salt, and blend well. Set the pesto aside.

Step 4/ 4

1½ tbsp

crème fraîche

salt

pepper

15 g

sliced almonds (toasted, optional)

chili flakes (for decorating)

Once the carrots are cooked until soft, add the contents of the pot to the stand mixer along with the crème fraîche, lemon juice, and Parmesan cheese, or purée in the pot using an immersion blender until the sauce is very fine and creamy. Pour the sauce over the pasta in the pot, add pasta water, mix well, and season again with salt and pepper. Serve with the pesto and almonds to taste and chili flakes.

Enjoy your meal!
More delicious ideas for you