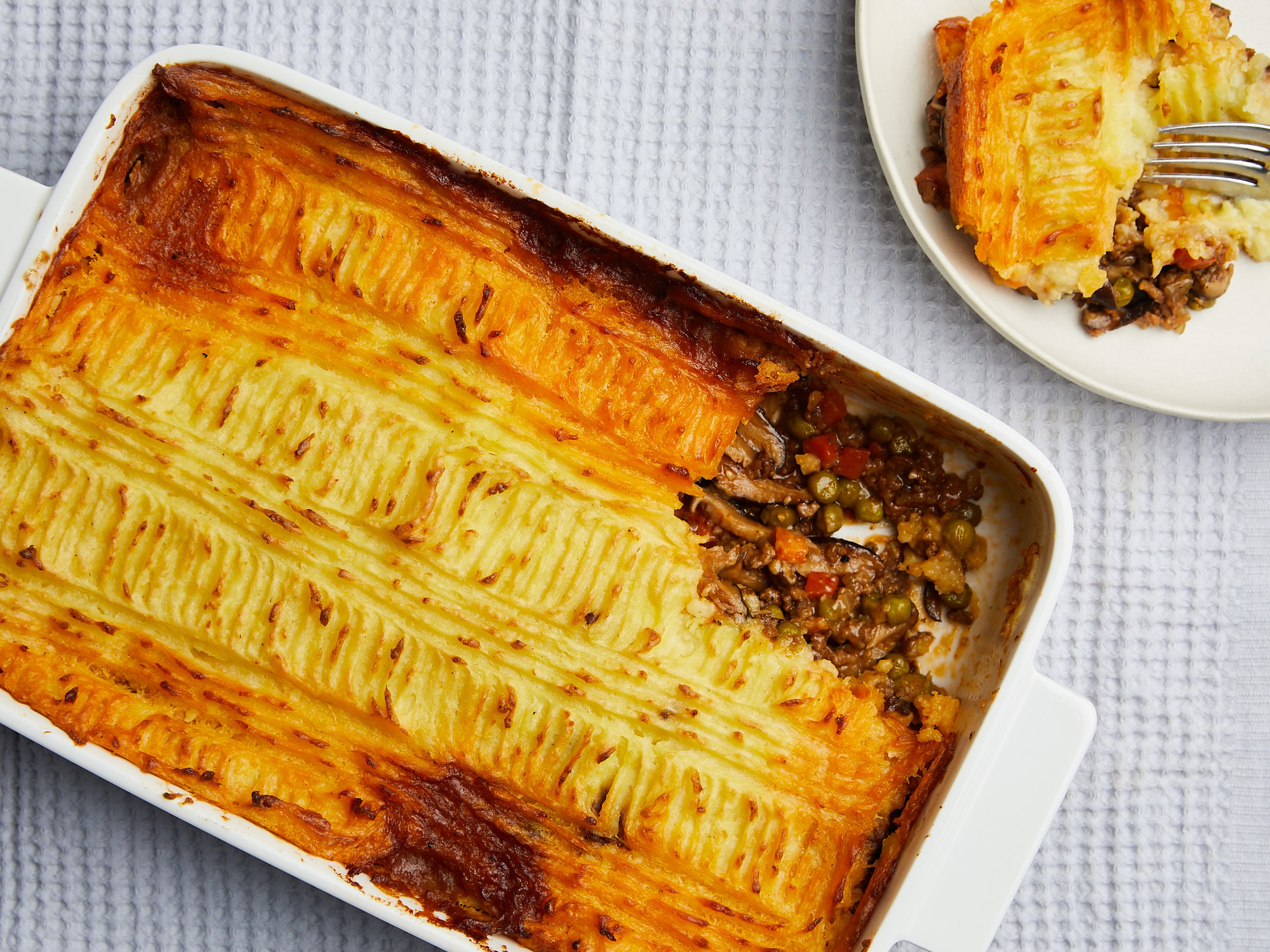 Cottage pie with shiitake mushrooms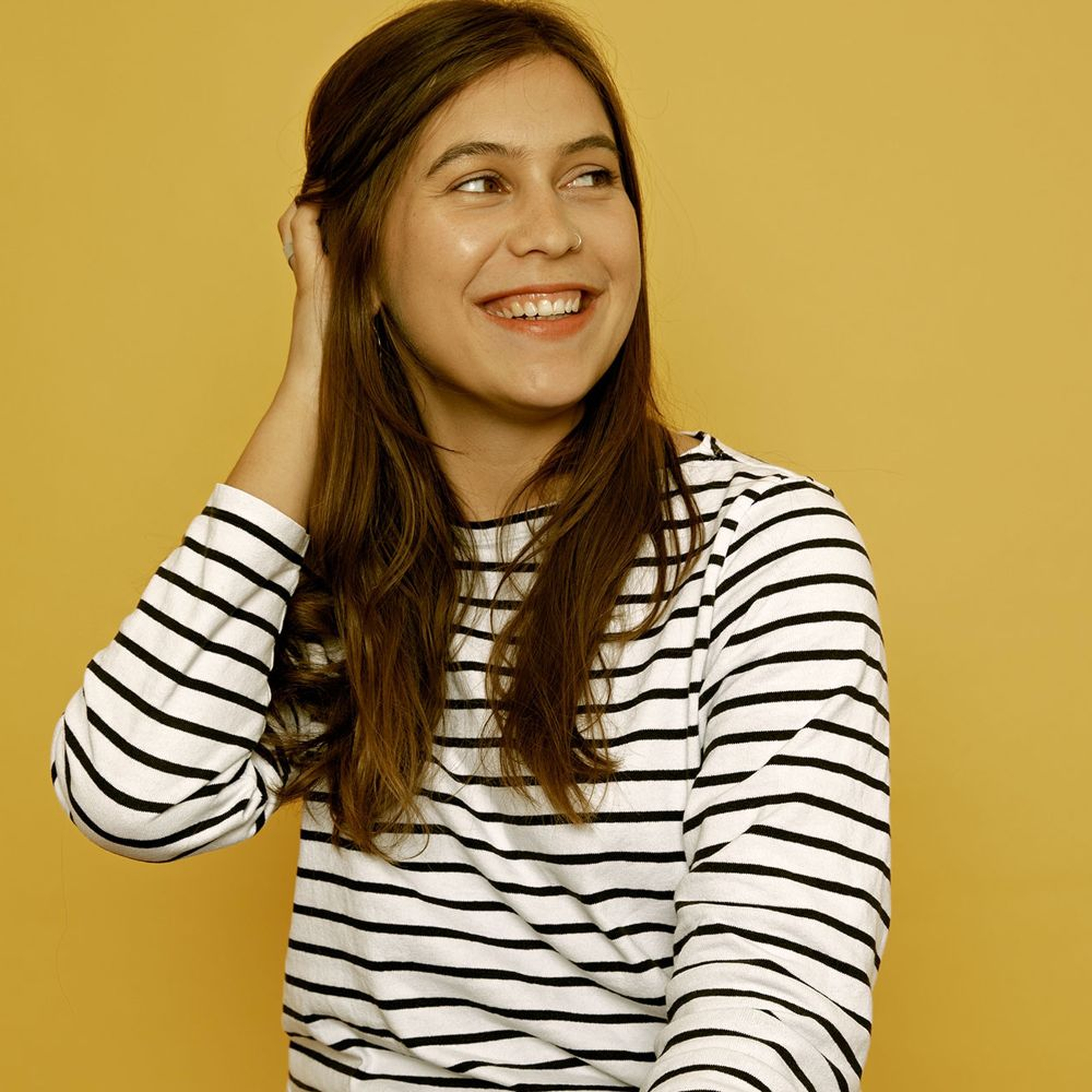 "This is a Eurasian-take on classic cottage pie (ie. shepherd's pie, with beef instead of lamb) that adds a huge umami boost through the use of shiitake mushrooms, soy sauce, and oyster sauce. It's cooked by Eurasian communities in Malaysia and Singapore, and for me, beats the original, but that's also the bias of having grown up with it: I remember as a kid being delighted by the nuggets of pungent dried shiitake mushroom within that tasted like nothing else I knew. Like my mum did, I use dried shiitake mushrooms which you can find at Asian supermarkets or any other well-stocked grocer. Once you've soaked them in hot water, you have rich, instant stock that you add to the browned meat, too. You could, alternatively, use fresh shiitake that you brown after the meat, but though delicious in their own right, they do lack the full boldness of their aged counterparts."
Utensils
bowl (small), plate, cutting board, knife, peeler, pot (large, with lid), colander, potato masher, whisk, fine grater, frying pan (large), cooking spoon, oven, baking dish
How to brown ground meat
How to prepare garlic
How to cook potatoes
How to cut an onion
Step 1/ 4

3

dried shiitake mushrooms

250 ml

water

½

onion

1½ cloves

garlic

½

carrot

½ kg

potato

bowl (small)
plate
cutting board
knife
peeler

Place dried shiitake mushrooms in a bowl, cover with boiling water, and place a plate on top of the bowl to trap in the heat. Let sit. Finely dice onion and garlic. Dice carrot into approx. 1 cm/ ⅓-in. cubes. Peel potatoes.

Step 2/ 4

25 g

butter

100 ml

milk

1 tsp

starch

ground nutmeg

salt

pepper

pot (large, with lid)
colander
potato masher
whisk
fine grater

Add potatoes to a pot, cover with water, and season generously with salt. Bring to a boil, then lower heat and let simmer until soft and cooked through, approx. 12 min. Remove from heat and drain. Add butter to the pot with the drained potatoes, followed by milk, and salt and pepper. Gently season with freshly-grated nutmeg. Mash well. Remove soaked shiitake from the water and slice into strips. Add starch to the mushroom liquid and whisk well.

Step 3/ 4

1 tbsp

vegetable oil

75 g

peas (frozen)

1 tbsp

oyster sauce

1 tbsp

light soy sauce

½ tbsp

tomato paste

frying pan (large)
cooking spoon

Add vegetable oil to a large frying pan over medium heat. Once heated, add ground beef, increase heat to high and let cook until it releases liquid and turns golden-brown and dry-looking, approx. 5 – 7 min. Add onion and saute until soft and translucent, approx 6 min. Add garlic and sauté until fragrant, approx 2 min. Add sliced shiitake mushrooms, carrots, and peas, and sauté 5 min. more. Add oyster sauce, soy sauce, and tomato paste and fry until the tomato paste starts to stick to the pan. Add mushroom soaking liquid, bring to a boil, then reduce heat and let simmer for approx. 5 min.

Step 4/ 4

Preheat the oven to 180°C/350°F. To assemble, add meat mixture to a baking dish. Cover with mashed potato and use a fork to create a pattern on top. Transfer to the oven and cook for approx. 25 min., or until browned on top. Remove from oven and let sit for approx. 10 min. before slicing and servning. Enjoy!

Enjoy your meal!
More delicious ideas for you