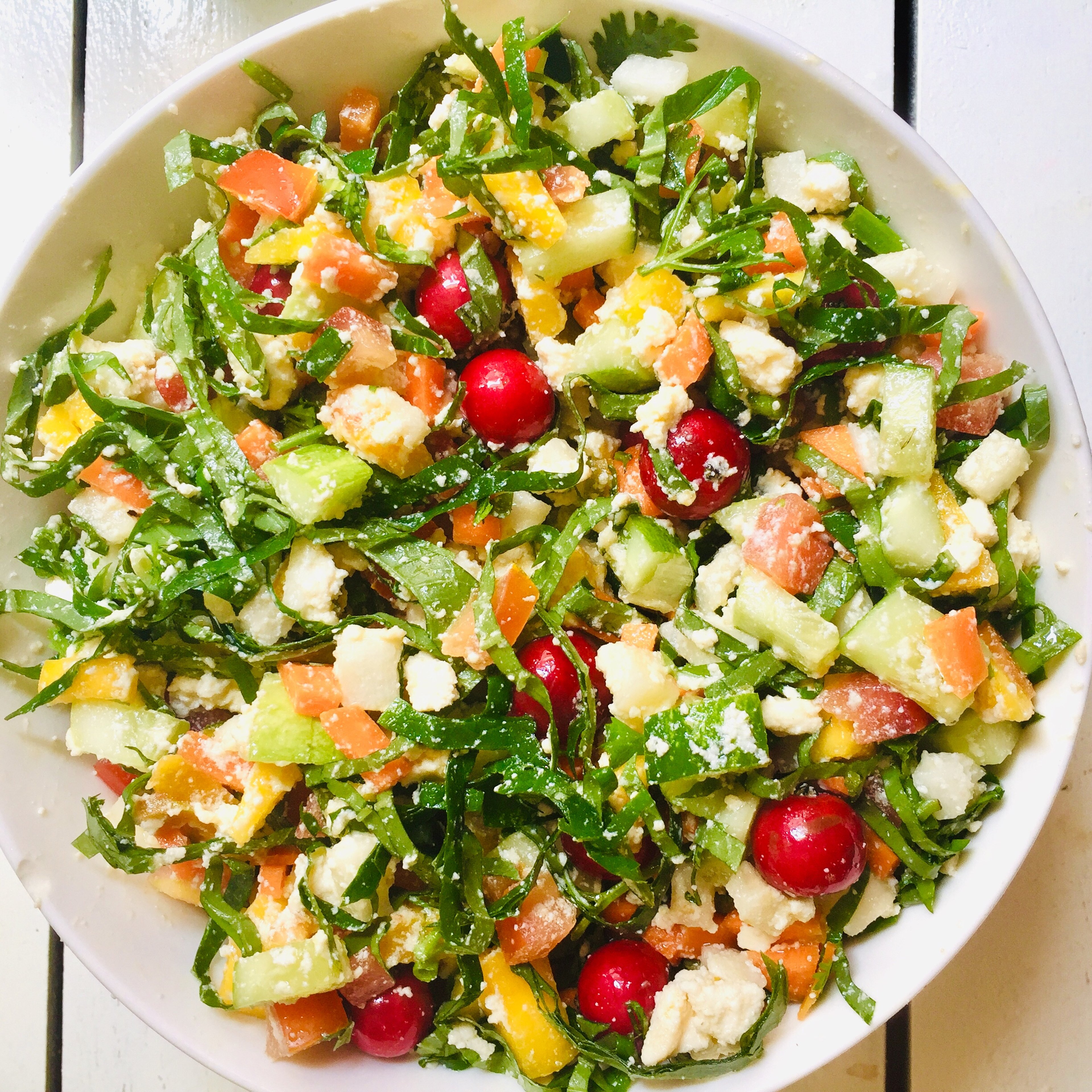 Colorful spring bloom salad
"The Jamaica cherry and the piper lolot leaves are from our garden. The ricotta cheese is homemade and was inspired by the video "how to make ricotta" from Kitchen Stories. I hope you will enjoy this delicious and packed with vitamins salad made in Vietnam, but nurtured by my love of international flavors!"
Ingredients
Jamaica cherry (Muntingia calabura)
Utensils
1 knife, 1 cutting board, 1 bowl (large), Spoon
Step 1/ 5

1 head

cucumber

1 head

tomato

1 head

carrot

½ bulb

Jicama (Mexican turnip)

1 head

mango

20 leaves

Piper lolot

200 g

Jamaica cherry (Muntingia calabura)

2 stalks

scallions

2 stalks

cilantro

Wash all ingredients thoroughly. Take off all the excessive water. Peel the carrot, the jicama, and the mango.

Step 2/ 5

1 cutting board
1 bowl (large)

Cut the mango, tomato, jicama, cucumber and carrot into small cubes. As for the piper lolot leaves, stack the leaves together and fold them into a straw shape, then slice the leaf straw into thin strips. Put everything into a large bowl.

Step 3/ 5

Pour the Jamaica cherry into the salad bowl.

Step 4/ 5

Chop the ricotta cheese into small pieces and add to the salad bowl.

Step 5/ 5

½ tsp

salt

3 tbsp

extra-virgin olive oil

Chop the scallion and cilantro into small cuts and put them on top of the salad bowl. Sprinkle the salt. Pour in the extra virgin olive oil. And mix it all up using a large spoon or anything that can help you to blend all the ingredients of the salad together. Now, please sit down and enjoy the spring colors and flavors blooming in your mouth!

Enjoy your meal!
More delicious ideas for you