Make fancy chicken fricassee with Christian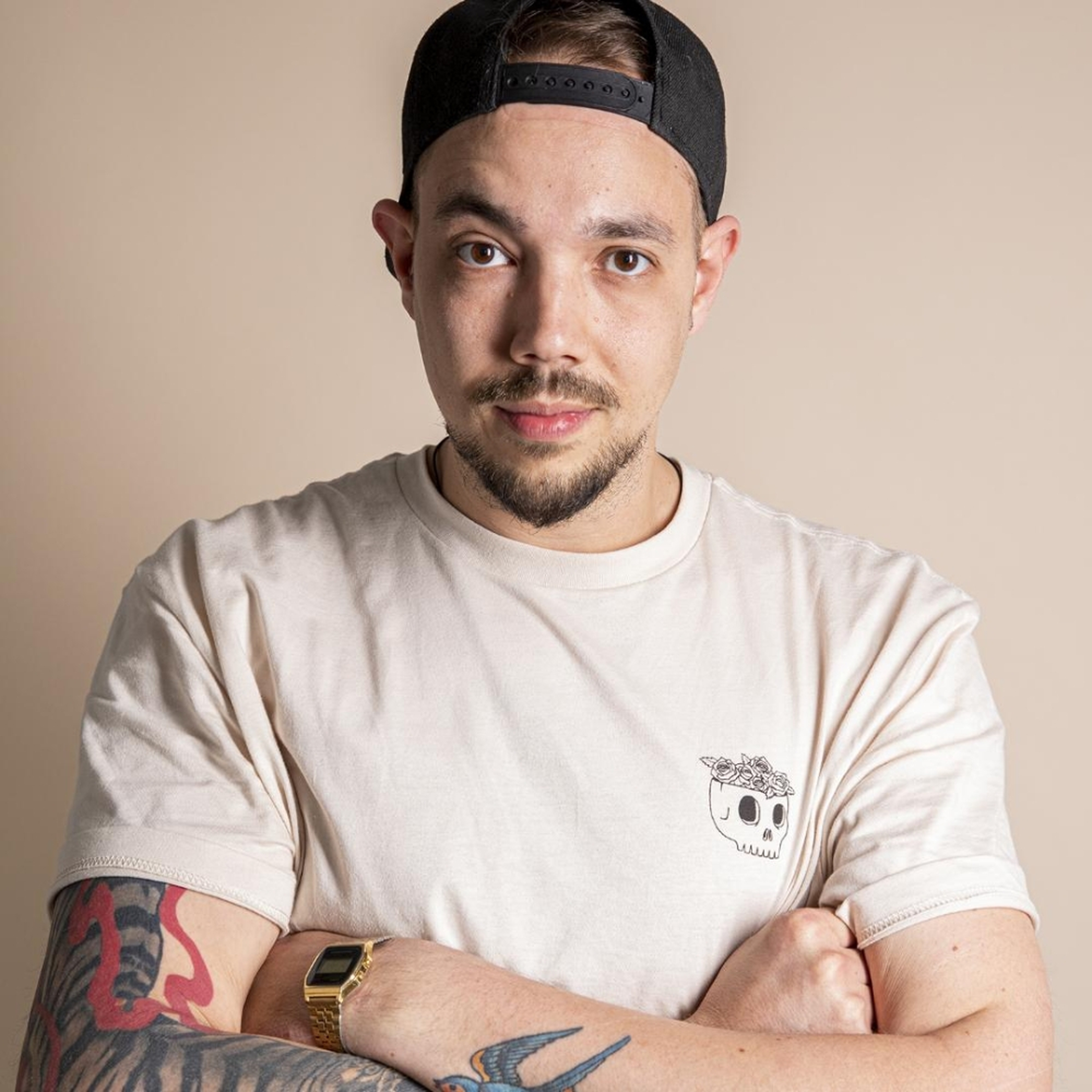 "Chicken fricassee (a dish of stewed or fried pieces of meat served in a thick white sauce) instantly transports me to my childhood. I remember loving my grandma's version the most and she would often cook it for me. I've tried to reinterpret this classic by changing up how the different components are plated or prepped, while keeping the essence of the dish intact. Maybe this leaves you inspired to revive your childhood classics and take it to the next level!"
Ingredients
chicken breasts (skin-on)
vegetable oil (for frying)
clarified butter (for frying)
Utensils
4 pots, peeler, melon baller, cutting board, knife, fine sieve, 2 bowls, immersion blender, food processor, cooking spoon, large pot, tongs, large bowl, oven, 2 frying pans, paper towels
How to shell peas
Homemade Béchamel
How to blanch
How to chop herbs
Step 1/ 10

250 g

clarified butter

2

potatoes

For the potato confit, heat a small pot over low heat. Add clarified butter. Peel potatoes and use a melon baller to scoop out balls of potato, keeping the balls as round as possible. Add to the pot of clarified butter and let cook for approx. 60 min.

Step 2/ 10

200 ml

grapeseed oil

30 g

chives

5 g

parsley

ice cubes

pot
cutting board
knife
fine sieve
bowl
immersion blender

For the chive oil, heat grapeseed oil in a separate pot. Chop chives and some parsley, add to the pot, and let gently cook for approx. 4 min. Remove from heat and blend using an immersion blender. Strain through a fine-mesh sieve into a small bowl set in an ice bath and let cool.

Step 3/ 10

2 slices

sandwich bread

30 g

chervil

55 g

parsley

For the herb breading, add white bread, remaining parsley, and chervil to a food processor and process until well combined.

Step 4/ 10

1 tbsp

butter

1

onion

1 clove

garlic

2 tbsp

flour

50 ml

white wine

200 ml

chicken stock

100 ml

heavy cream

1 tsp

mustard

1

bay leaf

½

lemon

For the béchamel sauce, heat some butter in another small pot. Peel and dice onion and garlic, and fry for approx. 2 min. Add flour and stir until a thick paste is formed. Deglaze with white wine. Add chicken stock, cream, mustard, bay leaf, and lemon juice while stirring constantly. Let cook for approx. 10 min, stirring constantly, then blend with an immersion blender and set aside.

Step 5/ 10

6

baby carrots

2

scallions

4

turnip

50 g

peas

100 g

snap peas

3

green asparagus

ice cubes

Clean, prepare, and blanch carrots, spring onion, turnip, peas, sugar snap peas, and asparagus individually in a large pot of boiling water. Remove from the pot once crisp tender and transfer to an ice bath.

Step 6/ 10

1

shallot

1 clove

garlic

2 tbsp

butter

200 g

peas

100 ml

vegetable broth

50 ml

white wine

For the pea purée, heat remaining butter in another small pot. Peel and dice shallot and remaining garlic, and add to the pot. Add remaining peas and fry for approx. 1 min. before deglazing with remaining white wine and vegetable broth. Let cook for approx. 5 min. and transfer to a food processor. Blend until a smooth purée is formed.

Step 7/ 10

2

chicken breasts (skin-on)

1 tbsp

ground coriander

1 pinch

ground nutmeg

½ tbsp

lemon zest

2 tbsp

flour

1

egg

salt

pepper

For the chicken, preheat the oven to 140°C/275°F. Combine ground coriander, nutmeg, lemon zest, pepper, and salt in a small bowl. Remove the skin from half the chicken breasts, chop into bite-size pieces, and season with the spice mix. Season the remaining chicken breasts with the spice mix only on the underside (leaving the skin-side unseasoned). Toss the bite-size chicken pieces in some flour to coat, then into a bowl of whisked egg, then into the breadcrumbs.

Step 8/ 10

50 g

capers

vegetable oil (for frying)

In a frying pan, heat some oil and fry the capers just until they start to pop. Remove and let drain on some paper towels.

Step 9/ 10

5

button mushrooms

clarified butter (for frying)

Heat some clarified butter in the same frying pan over medium-high heat. Fry the whole chicken breast until the skin is golden brown, then remove and transfer to the oven for approx. 6 – 8 min. Add mushrooms to the same pan and fry for approx. 3 min. In another frying pan, add more clarified butter and pan fry the breaded chicken pieces until cooked through and golden brown on all sides.

Step 10/ 10

2 tbsp

vegetable broth

1 tbsp

butter

1 pinch

sugar

salt

chervil (for garnish)

watercress (for garnish)

Add some vegetable broth, butter, salt, and a pinch of sugar to a pot over low heat. Add the blanched vegetables and toss to coat in the glaze. Remove the chicken from the oven and slice. Assemble the plates with all the ingredients, making sure to heat things up before serving. Garnish with chervil and watercress and enjoy!

Enjoy your meal!
More delicious ideas for you