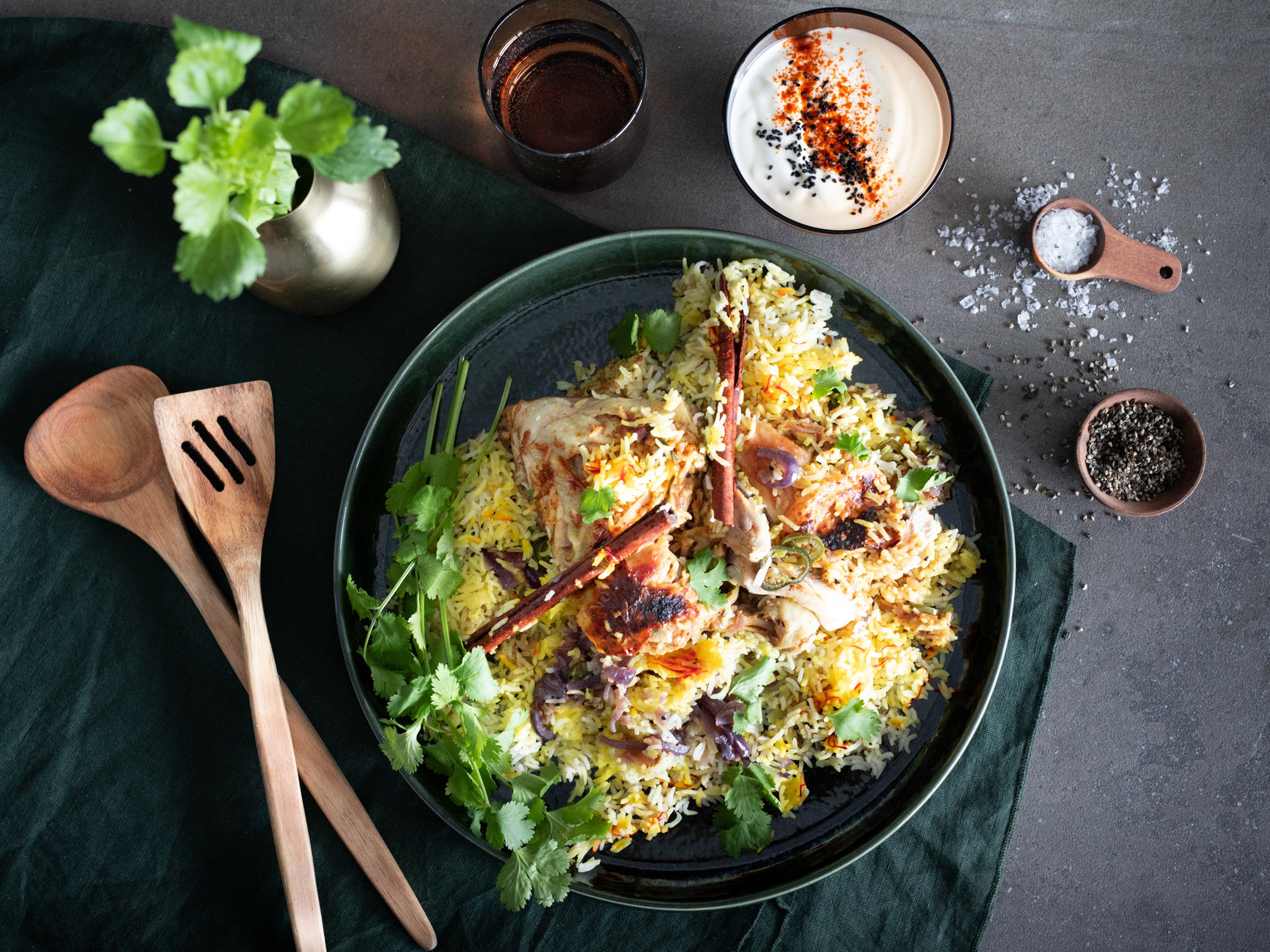 Chicken biryani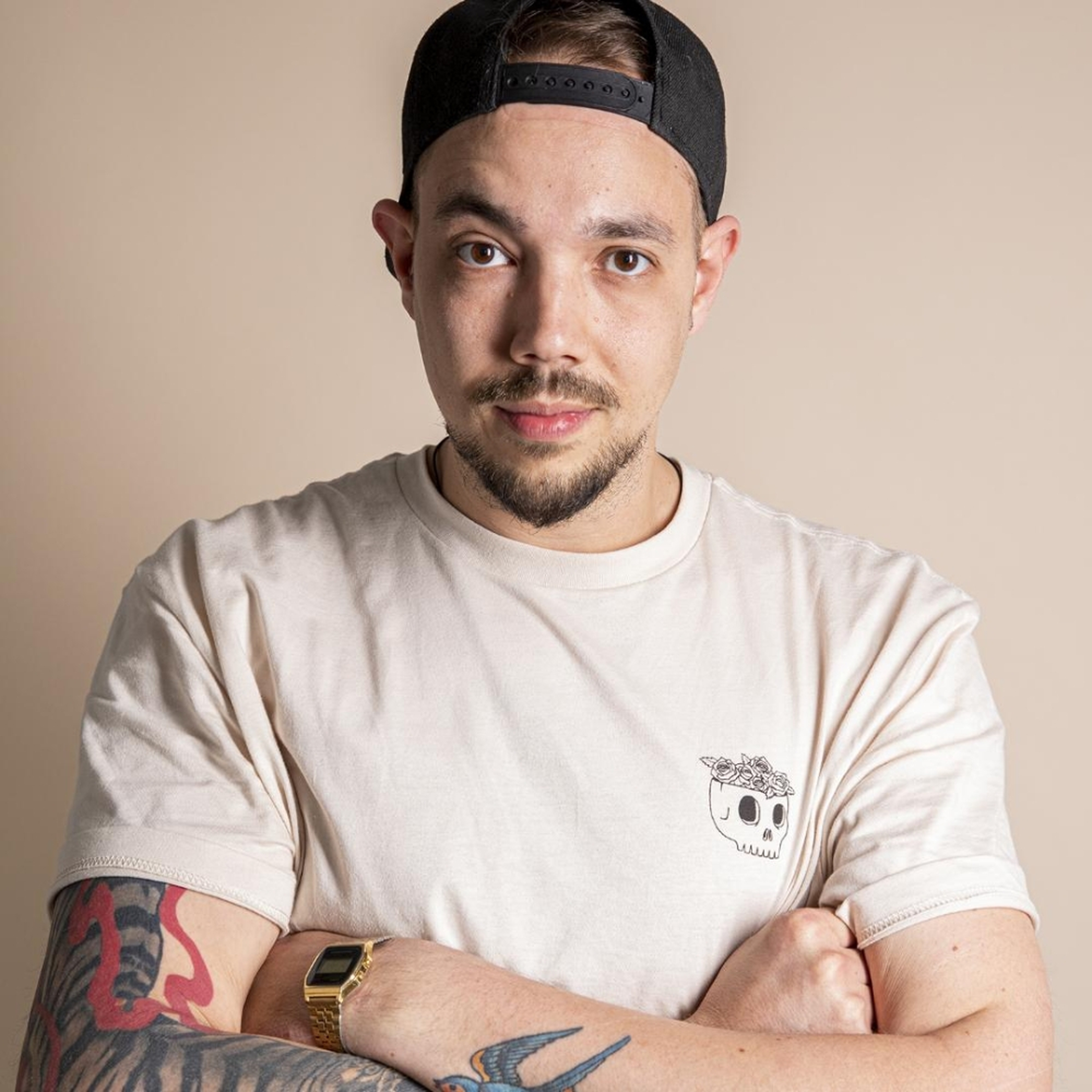 "Want a shortcut with more flavors? Try our CURRY POWER seasoning to substitute garam masala, chili powder, and turmeric! Biryani contains everything that makes Indian cuisine so amazing: delicious aromas, strong colors, fluffy rice, and the addictive taste of spices."
Ingredients
Kitchen Stories Curry Power seasoning (optional)
Utensils
knife, cutting board, bowl (large), mortar and pestle, Curry Power seasoning, pot (small), pot (large), colander, pot
How to cook basmati rice
How to prepare a chili
Homemade garam masala spice mix
How to chop green herbs
How to cut up a whole chicken
How to prepare garlic
Step 1/ 4

1⅓ cloves

garlic

3⅓

cardamom pods

3⅓ g

ginger

1⅓ tsp

Kitchen Stories Curry Power seasoning (optional)

⅔ tbsp

garam masala

⅓ tsp

chili powder

⅓ tsp

ground turmeric

⅔ tsp

salt

200 g

yogurt

2

chicken thighs

knife
cutting board
bowl (large)
mortar and pestle
Curry Power seasoning

Crush garlic. Remove cardamom seeds from pods and grind. Mince ginger. Add ginger, garlic and ground cardamom to a bowl, add garam masala, chili powder and turmeric or CURRY POWER seasoning (if using), then season with salt. Mix to combine. Add yogurt and chicken thighs and let marinate for 3 hours.

Step 2/ 4

1⅓

onions

66⅔ g

ghee

100 ml

whole milk

⅓ tsp

saffron

2⅔

green chilis

Thinly slice onions. Heat ghee in a large pot over medium heat, add onions, and fry until golden brown. Remove from heat and set aside. Combine milk and saffron in a small pot. Bring to a boil, remove from heat, and set aside. Finely chop green chilies and set aside.

Step 3/ 4

300 g

basmati rice

⅔ tsp

black cumin seeds

1⅓

cinnamon sticks

2⅔

black peppercorns

⅔ tsp

salt

Add rice to another pot along with water, black cumin, cinnamon, salt and pepper. Bring to a boil, reduce heat to low, place a lid on, and cook for 5 min. Drain the rice and spread it out, so it doesn't stick. The rise should not be cooked through at this point.

Step 4/ 4

1⅓ tbsp

cilantro

2⅔ tbsp

lemon juice

Transfer chicken thighs and marinade to the pot with the fried onions and fry until seared. Distribute the milk-saffron mixture, chilies, cilantro, lemon juice, and rice. Cook for approx. 1 hour over low heat with a lid. If the meat isn't tender after 1 hour, continue cooking for another 15 min. Once ready, mix well and serve immediately.

Enjoy your meal!
More delicious ideas for you