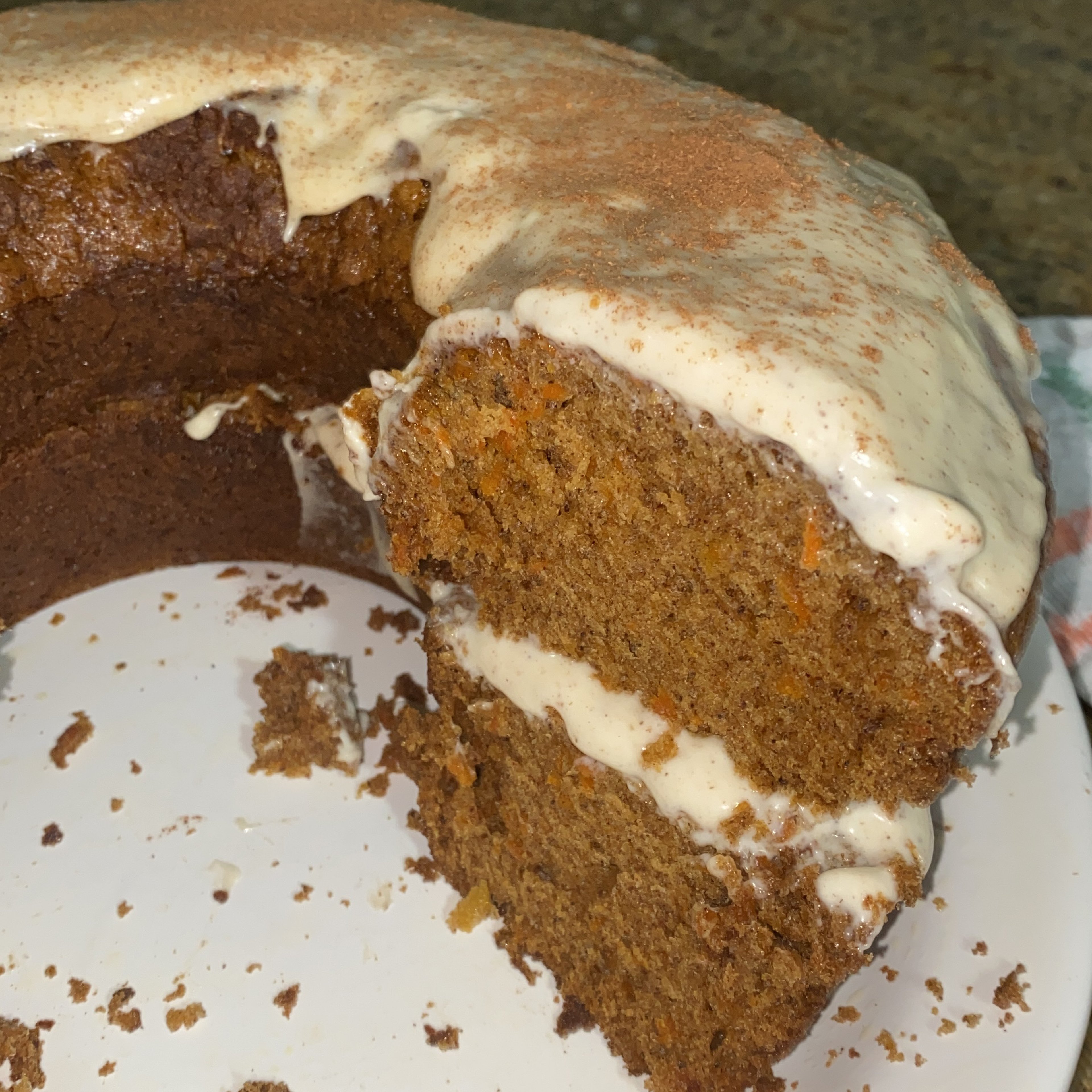 Carrot cake❣️
"This is my favorite carrot cake recipe, and of course, nut-free! All my family is in love with it, I hope you like it too🤍 I would love to see your results🥰"
Step 1/ 4

Preheat the oven to 350 degrees Fahrenheit / 180 degrees Celsius

Step 2/ 4

½

carrots

60 g

flour

½

eggs

16 g

sugar

8 g

light brown sugar

8 g

brown sugar

⅜ tsp

vanilla extract

⅛ tsp

salt

¼ tsp

baking powder

¼ tsp

baking soda

40 ml

vegetable oil

⅜ tsp

ground cinnamon

In a large bowl, beat together eggs, oil, the sugars, and 3 teaspoons of vanilla. Mix in flour, baking soda, baking powder, salt and cinnamon. Grate the carrots and combine with and electric mixer for 2/3 minutes. Pour that beautiful mix into a greased pan, then, straight to the preheated oven!

Step 3/ 4

30⅔ g

cream cheese

⅜ tbsp

sweetened condensed milk

⅛ tsp

ground cinnamon

⅛ tsp

vanilla extract

Bake in the preheated oven for 40 to 50 minutes, or until a toothpick inserted into the center of the cake comes out clean. In the meantime, it's time for us to make frosting. In a medium bowl combine the cream cheese and the sweet condensed milk (you can add as much as you like the sweetness), then add the vanilla extract with the cinnamon and mix very well until combined. Put the frosting in the fridge and wait until the cake is ready.

Step 4/ 4

Let the pan rest at least 15 minutes. Get the cake out of it into a plate. Slice across it and put the pieces in different plates. Then, apply the frosting on every piece (middle and top of the original cake) when you are sure it isn't hot anymore. Put them into the fridge for at least 30 minutes to make sure the frosting will be thick. Then, put the top of the cake on the low half, add some ground cinnamon in the top for decoration and you're done! Hope you enjoy🤍

Enjoy your meal!
More delicious ideas for you