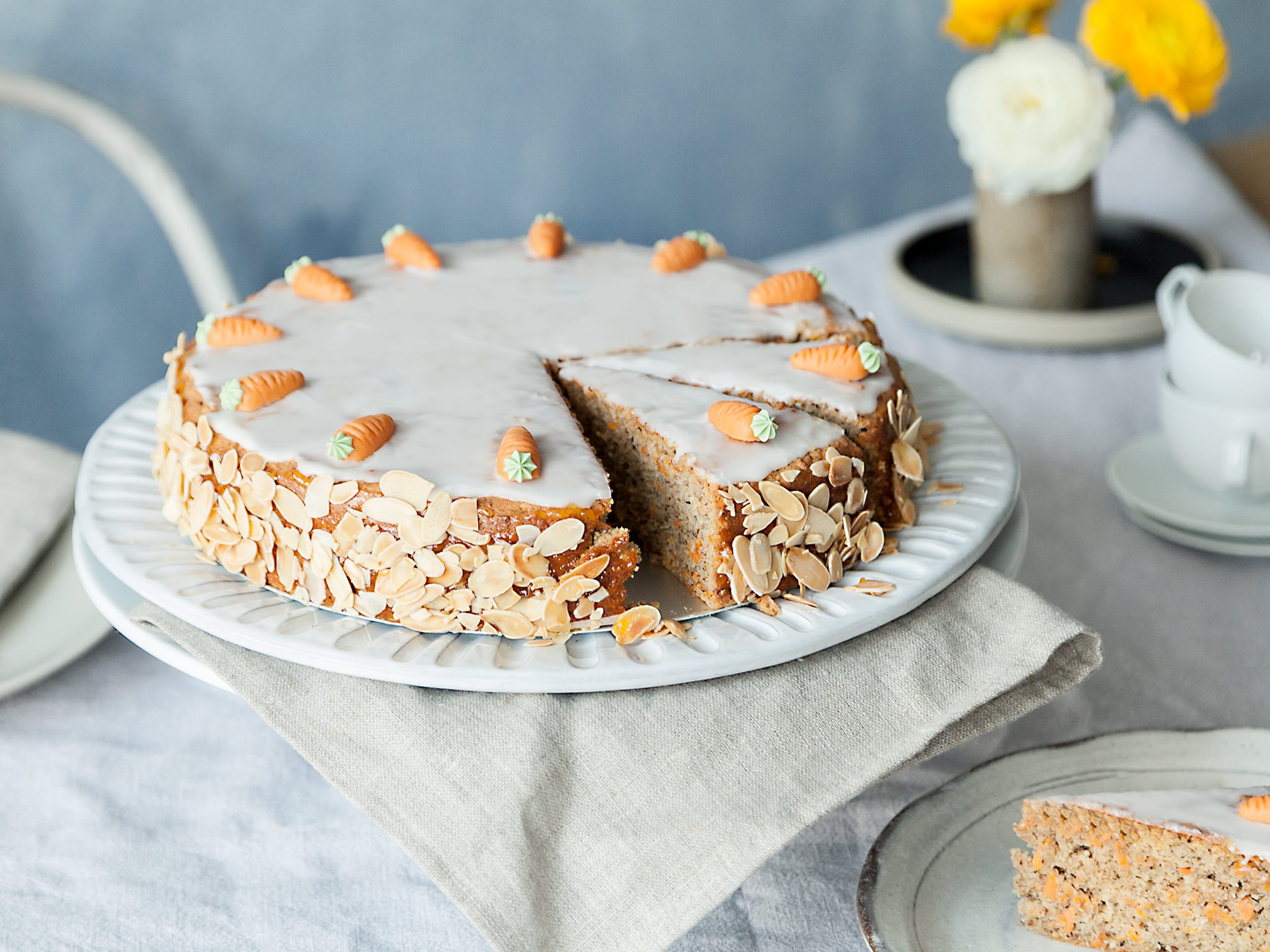 Utensils
oven, peeler, 2 small bowls, springform pan, grater, immersion blender, 2 large bowls, hand mixer with beaters, large bowl, rubber spatula, baking sheet, fine sieve, small bowl, palette knife
How-To Videos
Homemade marzipan
Quick sugar icing
How to beat egg whites
Step 1/ 7

46⅔ g

carrots

1⅛

eggs

butter for greasing

oven
peeler
2 small bowls
springform pan
grater

Pre-heat oven to 170°C/330°F. Grease a spring form pan with butter. Peel and grate carrots and set aside. Separate eggs in two small bowls.

Step 2/ 7

11⅔ g

flour

46⅔ g

ground hazelnuts

⅛ tsp

baking powder

33⅓ g

almond paste

⅛ tsp

cinnamon

immersion blender
2 large bowls
hand mixer with beaters

In a large bowl mix flour, ground hazelnuts, and baking powder and set aside. Add almond paste, egg yolks, and cinnamon to a separate large bowl and blend with an immersion blender until smooth. With a standing hand mixer continuously beat until the mixture turns lighter in color. Set aside.

Step 3/ 7

Mix egg whites, sugar, and salt and beat until stiff in a large bowl.

Step 4/ 7

Fold in beaten egg whites into almond paste mixture. Add ground hazelnut-flour mixture and grated carrots. Stir gently to combine.

Step 5/ 7

Transfer batter to the springform pan and bake at 170°C/330°F for approx. 40 min. or until a toothpick inserted into the center of the cake comes out clean or with a few moist crumbs. Remove cake from oven and allow to cool.

Step 6/ 7

Place sliced almonds on a baking sheet and roast in oven for approx. 10 min. or until golden brown. Remove from oven and let cool.

Step 7/ 7

16⅔ g

confectioner's sugar

4⅛ ml

water

16⅔ g

apricot jam

2

marzipan carrots

fine sieve
small bowl
palette knife

Sieve confectioner's sugar into a small bowl, and add water to make a thick icing. With a palette knife coat cake with apricot jam and evenly brush with icing. Decorate sides with roasted almond slices and the top with marzipan carrots. Enjoy!

Enjoy your meal!
More delicious ideas for you