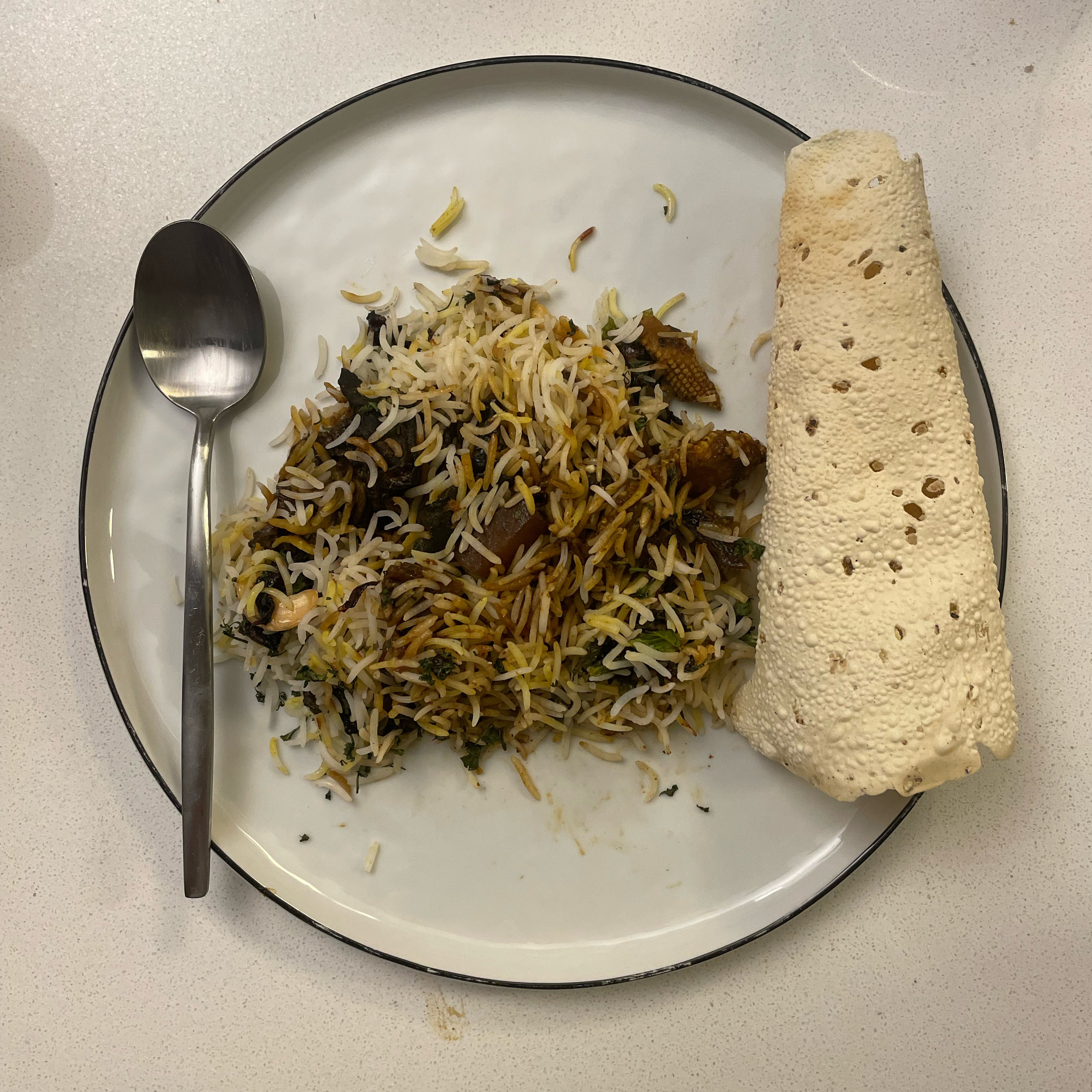 Step 1/ 18

Cut medium slices of onion. Slow fry the sliced onions in 3Tbsp of oil at low-medium flame, making sure it does not burn. Once caramelized, keep it aside to let it crisp. Cook time: 20mins

Step 2/ 18

1⅝

potatoes

¾

cilantro

¾ tbsp

chili powder

⅜ tbsp

Turmeric powder

2 tbsp

Biryani masala

2 tbsp

ginger garlic paste

¾ tbsp

Coriander Powder

Marination. Dice potatoes in medium size and marinate with following. Coriander power 2 spoon. Chili powder 2 spoon. Turmeric 1 spoon. Some fried onions.

Step 3/ 18

¾

bay leaves

¾

black cardamom pods

2

cloves

1¼

Red Chilli Whole

1⅝

cardamom pods

¾ tbsp

black peppercorns

¾

star anise

¾ tbsp

Shahi Jeera

Whole Spice for Rice

Step 4/ 18

Soak Rice

Step 5/ 18

⅜ tsp

Amchur powder

¾ tbsp

yogurt

Add Yogurt and Amchur powder to the potatoes and let it marinate. Marination time: 1hr

Step 6/ 18

Prepare baby corn, mint and garlic and set aside. We will use this in later stage when cooking the masala and rice.

Step 7/ 18

Slow roast cashew. Cook time: 3-5mins

Step 8/ 18

Sautee the whole spice mix until fragrant. Should be couple of mins.

Step 9/ 18

Bring water to running boil

Step 10/ 18

Boil rice to 70-80%. Also, add fresh mint. It will finish cooking during the layering stage. Cook time 10-15mins.

Step 11/ 18

Drain out the water from the rice using a colander, when 80% cooked. This will ensure rice is not overcooked.

Step 12/ 18

Masala. Sautee garlic for a min then onions. Add water if needed to make sure its not burnt. Add biryani masala. Cook time: 5-7 mins at med-high flame.

Step 13/ 18

Add the marinated potato mixture to sautee pan. Sautée until potatoes are cooked 70-80%. Add water if needed. Cook time: 10-15mins, at med-high flame.

Step 14/ 18

3⅝

Mushrooms

⅜

mint

2

baby corns

Add baby corn. Mushrooms. Mint. And Cilantro. Cook time: 7-12mins at med-high flame.

Step 15/ 18

Add Ulavacharu masala. Do not cook this, tamarind will go bitter. Can be skipped if Ulavacharu is not available.

Step 16/ 18

Layering. The idea is to layer the masala and rice and slow cook for 20-30mins. This will bring out the flavors of masala into the rice and finish cooking the rice and potatoes. Create alternate layers of the cooked vegetables and rice each layer being half an inch. Start by by keeping the cooked masala as the bottom layer.

Step 17/ 18

Top it up with roasted cashew, fried crisp onions and some mint leaves.

Step 18/ 18

Add a mixture of saffron, garam masala, heavy cream, this will give the signature orange color to the rice. Cover the pan and lets it slow cook. Cook time: 20-30mins.

Enjoy your meal!
More delicious ideas for you