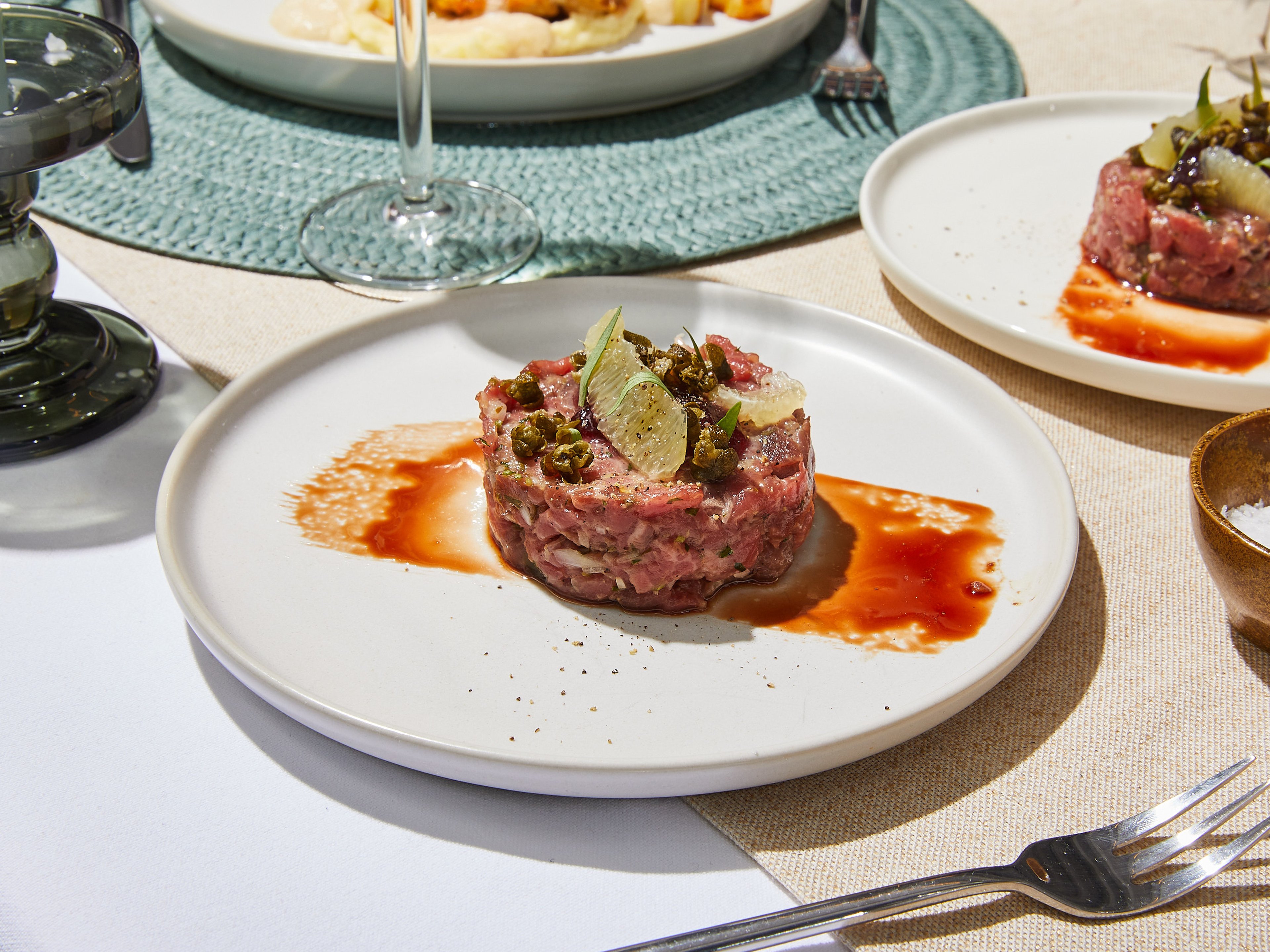 Beef tartare with port wine glaze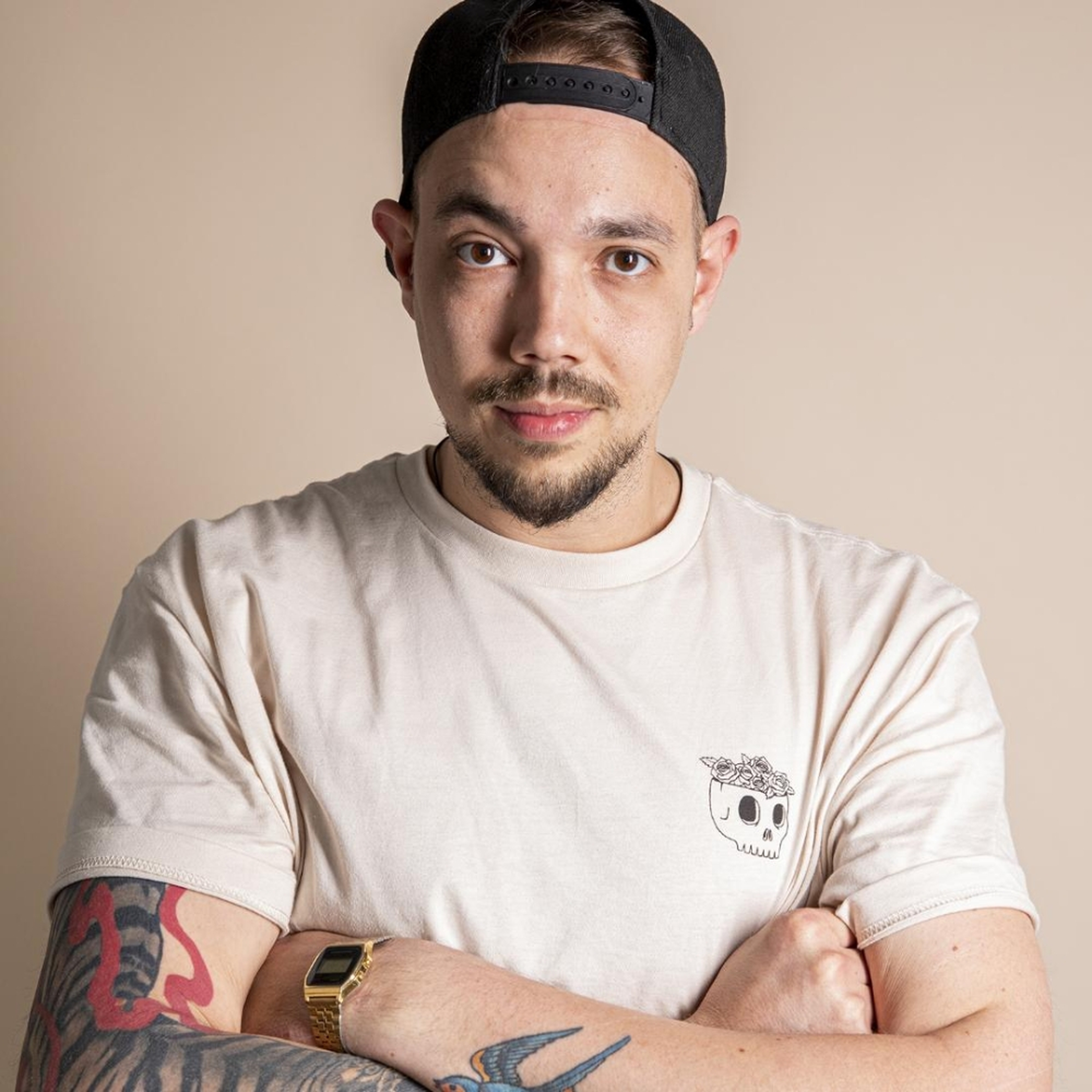 "This recipe for beef tartare with a twist was created by Hanna and me during a video challenge to create an impromptu 3-course-dinner, taking inspiration from ingredients given to us. Head to our Youtube channel to watch the video! Instead of seasoning with classic parsley, this recipe adds tarragon for a twist and completes the dish with a moreish port wine glaze."
Ingredients
vegetable oil (for frying)
Utensils
2 saucepans, cooking spoon, knife, pitcher, paring knife, sieve, plate, paper towels, bowl (large), fillet knife, cookie cutter
How to sharpen a knife
How to reach the perfect temperature for frying
How to caramelize sugar
Step 1/ 4

40 g

sugar

½

bay leaf

½

juniper berry

½

clove

100 ml

Port wine

½ tbsp

balsamic vinegar

Add sugar to a saucepan and let caramelize over medium-high heat. Then add bay leaf, juniper, and clove. Deglaze with port wine and balsamic vinegar, bring to a boil then reduce heat and let cook slowly until slightly thickened, approx 10 min.

Step 2/ 4

1

shallots

1

lemons

1½ tbsp

capers

vegetable oil (for frying)

knife
pitcher
paring knife
saucepan
sieve
plate
paper towels

Finely mince shallots and place in a jug of water to soften the flavor. Trim ends off the lemon then slice off the peel. Use a paring knife to cut into segments. Drain capers. Heat vegetable oil in a saucepan until approx 3 cm/ 1 in deep and heat on medium-high. Add half of the drained capers to heated oil, removing them once they opened up, approx 1 – 2 min. Drain on a paper-towel-lined plate.

Step 3/ 4

7½ g

tarragon

300 g

beef tenderloin

½

egg yolk

¼ tbsp

mustard

salt

pepper

Drain shallots and add to a bowl. Finely mince remaining capers. Pluck tarragon leaves, leaving a third for garnishing. Finely mine the remaining tarragon. Add capers and minced tarragon to the bowl. Using a very sharp knife, slice beef filet into 0.5cm / ¼ in slices. Then slice into strips of the same width, and then into even dices. Add to the bowl with the shallots, along with the egg yolk and mustard. Season with salt and pepper and mix well until combined.

Step 4/ 4

½ tbsp

cranberry jam

sea salt

Portion out the tartare into desired servings. Filling each serving into a wide cookie cutter (or a makeshift ring made out of aluminum foil), patting it until it's compact and releasing onto a plate. To serve, add cranberry jam or jelly on top, followed by a lemon segment, tarragon leaves, sea salt and drizzle with the port reduction. Enjoy!

Enjoy your meal!
More delicious ideas for you