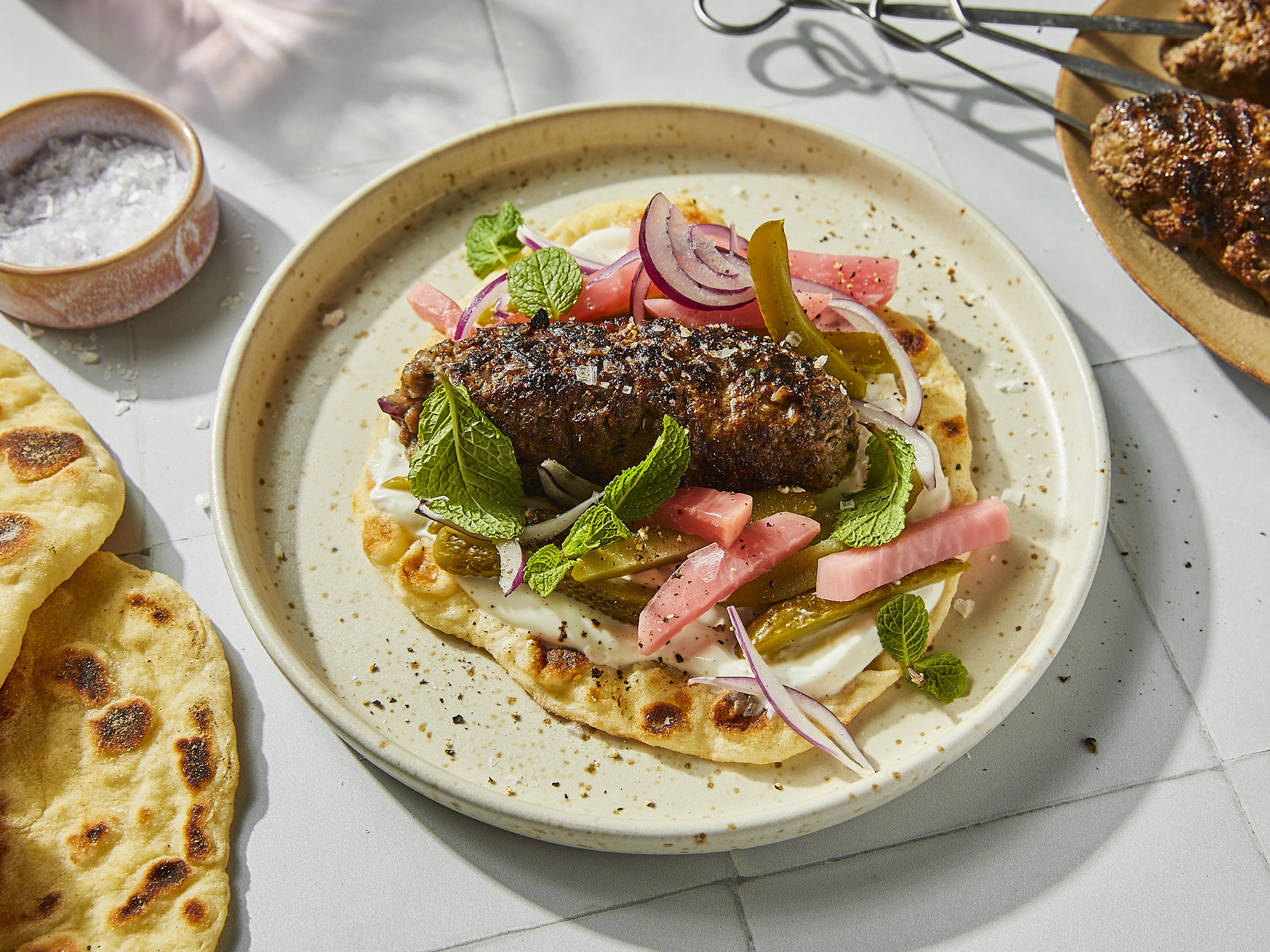 Beef kofta in homemade flatbread
"These juicy, flavorful ground beef skewers are inspired by Turkish kofta. We put our beef version on homemade flatbread (find a veggie variety in our recipe for "easy homemade flatbreads with burst cherry tomatoes"), making it easy to grab and go. Served with refreshing yogurt, crunchy pickled vegetables and herbs, different textures and flavors will delight your palate and give the fresh kick to make the dish the perfect summer meal for a dinner with friends. If you don't have our spice mix at home, you can also use a mixture of black cumin, chili flakes, dried mint, parsley, cumin, coriander, pepper, and garlic powder."
Ingredients
Kitchen Stories Aromen Reichtum seasoning
vegetable oil (for frying)
vegetable oil (for greasing)
Utensils
nonstick pan, large bowl, kitchen towel, knife, cutting board, grater, Aromen Reichtum seasoning
Our recommendation for this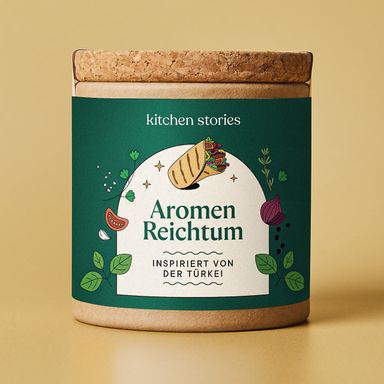 How to pan fry meatballs properly
Homemade cucumber pickles
Homemade yogurt
Step 1/ 3

115 g

full-fat Greek yogurt

115 g

flour

2 tbsp

olive oil

2 tsp

baking powder

⅛ tsp

salt

vegetable oil (for greasing)

nonstick pan
large bowl
kitchen towel

First, make the flatbreads. In a large bowl, mix together most of the yogurt, flour, baking powder, olive oil and salt to form a dough. On a lightly oiled work surface, divide the dough into 8 equal portions and roll them out flat. Heat a non-stick frying pan and fry the flatbreads one by one in the dry pan for approx. 1 min. on each side. Turn as soon as the dough takes on some color and some dark spots appear. Keep the finished flatbreads warm under a kitchen towel until ready to serve.

Step 2/ 3

1½

red onions

250 g

ground beef

½ tbsp

Kitchen Stories Aromen Reichtum seasoning

knife
cutting board
grater
Aromen Reichtum seasoning

In the meantime, peel and then grate ⅓ of the onions. Mix minced meat with our AROMEN REICHTUM seasoning and grated onion and let stand for approx. 15 min. Meanwhile, cut the remaining onions into strips.

Step 3/ 3

vegetable oil (for frying)

40 g

full-fat Greek yogurt

30 g

pickles

25 g

pink pickled turnips

10 g

mint

salt (for serving)

pepper (for serving)

Shape the minced meat mixture into 8 finger-length, two-finger-thick kofta (approx. 60 g each). Heat oil in a pan and fry or grill kofta on all sides for approx. 4–6 min. over medium-high heat. Meanwhile, cut pickled cucumbers in half lengthwise and pluck leaves from mint. Serve kofta with the prepared flatbreads, the remaining yogurt, pickled vegetables, mint, and red onion strips.

Enjoy your meal!
More delicious ideas for you