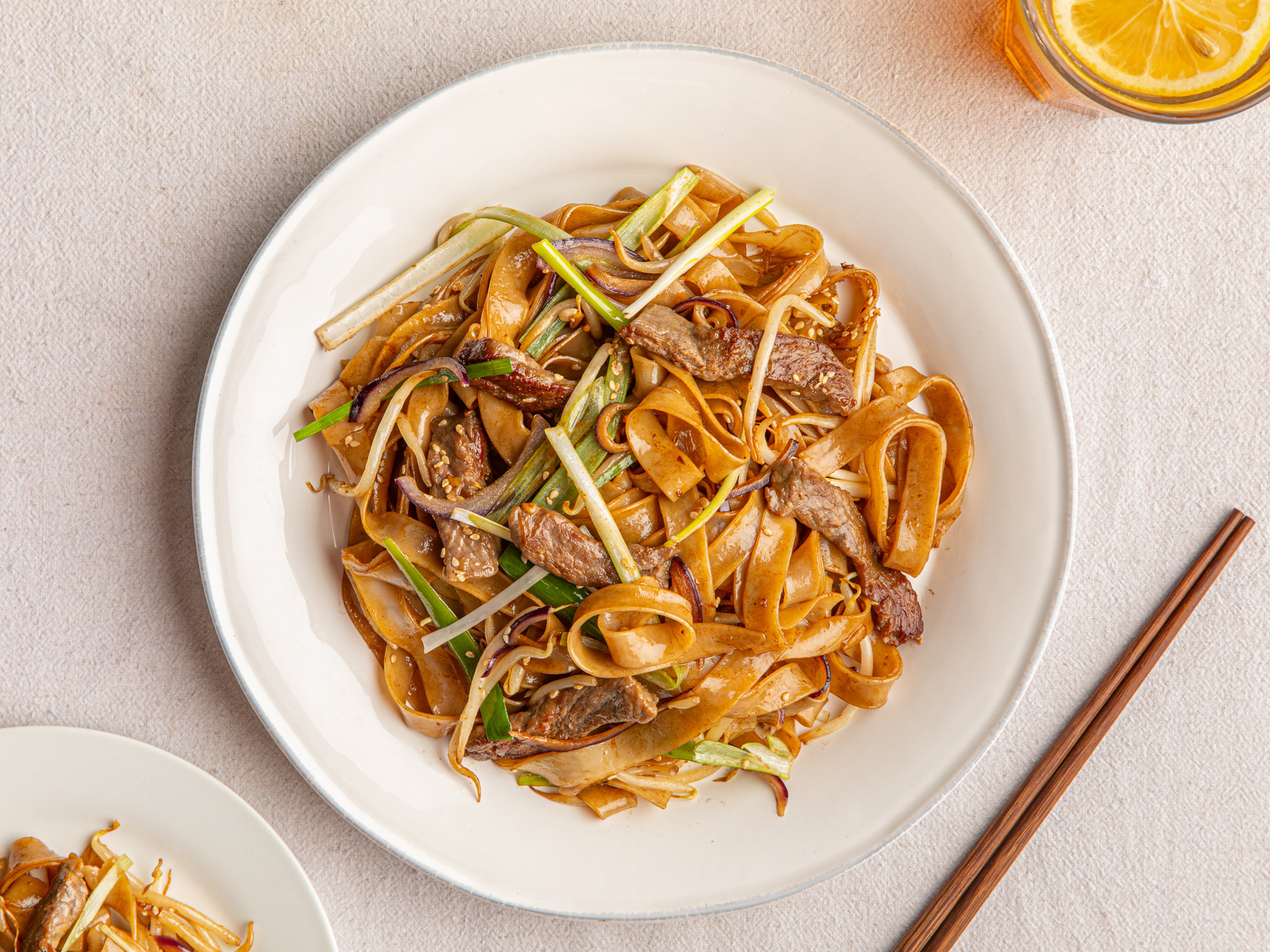 Beef chow fun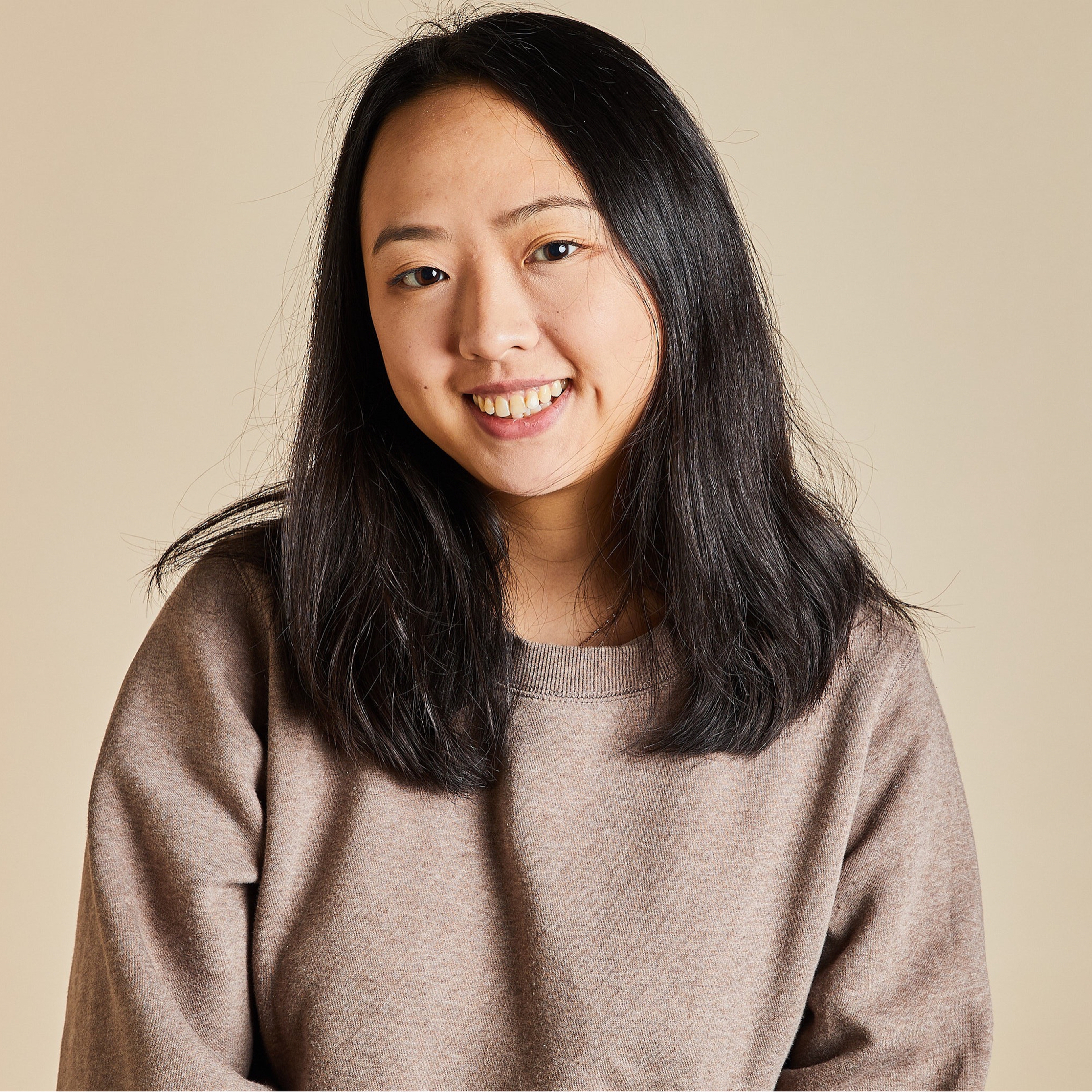 "Beef chow fun (干炒牛河) is a beloved Cantonese fried noodle dish. Ideally you would use fresh rice noodles but we used wide Vietnamese-style dried rice noodles as a substitute. Using a wok, which can reach really high temperatures, is essential for getting the wok hey (the breath of the wok which infuses the dish with a unique, almost charred flavor). One of the key techniques is to use hot wok and cold oil, meaning you heat the wok first and then add oil."
Ingredients
vegetable oil (for frying)
sesame seed (for garnish)
Utensils
cutting board, knife, bowl, bowl (large), sieve, wok, spatula, bowl (small), paper towels
How to cut an onion
How to thinly slice meat
How to cut green onions
Step 1/ 4

133⅓ g

beef tenderloin

⅔ tsp

starch

⅔ tbsp

soy sauce

⅓ tsp

baking soda

⅔ tsp

sugar

⅔ tbsp

water

salt

Cut the beef into slices against the grain, approx. 0.5 cm/1/4 in. wide. Add beef to a bowl with the corn starch, some of the soy sauce, the baking soda, half of the sugar, water, and season with salt. Mix to combine and let marinate for at least 30 min. in the fridge (if your beef is cold, you can marinate at room temperature).

Step 2/ 4

200 g

broad rice noodles

2

scallions

⅔

red onion

Soak the dried rice noodles in warm water for approx. 15 min. or until soft. Rinse under cold water and drain, and toss them with a little bit of oil to prevent sticking. Slice scallions lengthwise and then cut them into strips, approx. 5 cm/2 in. wide. Slice red onion.

Step 3/ 4

3⅓ tbsp

vegetable oil (for frying)

Heat a wok on high heat. When it starts to smoke, add vegetable oil. Once the oil is warm but not smoking (approx. 60-70°C/140°F), add beef. Quickly stir fry until almost cooked through. Remove the beef from the wok and set aside.

Step 4/ 4

100 g

bean sprouts

1⅓ tbsp

soy sauce

⅔ tsp

sugar

⅔ tsp

chicken stock powder

⅔ tbsp

dark soy sauce

salt

sesame seed (for garnish)

In the same wok, add a bit more vegetable oil and use a paper towel to coat the wok with a very thin layer of oil. Add rice noodles, stir fry carefully so they don't break. Add bean sprouts and red onion and stir fry, approx. 1-2 min. Then add remaining soy sauce, remaining sugar, chicken stock powder, dark soy sauce, and season with salt. Keep stir frying over high heat. Lastly, add beef and scallions. Toss briefly to combine and warm through. Serve with a garnish of white sesame seeds. Enjoy!

Enjoy your meal!
More delicious ideas for you