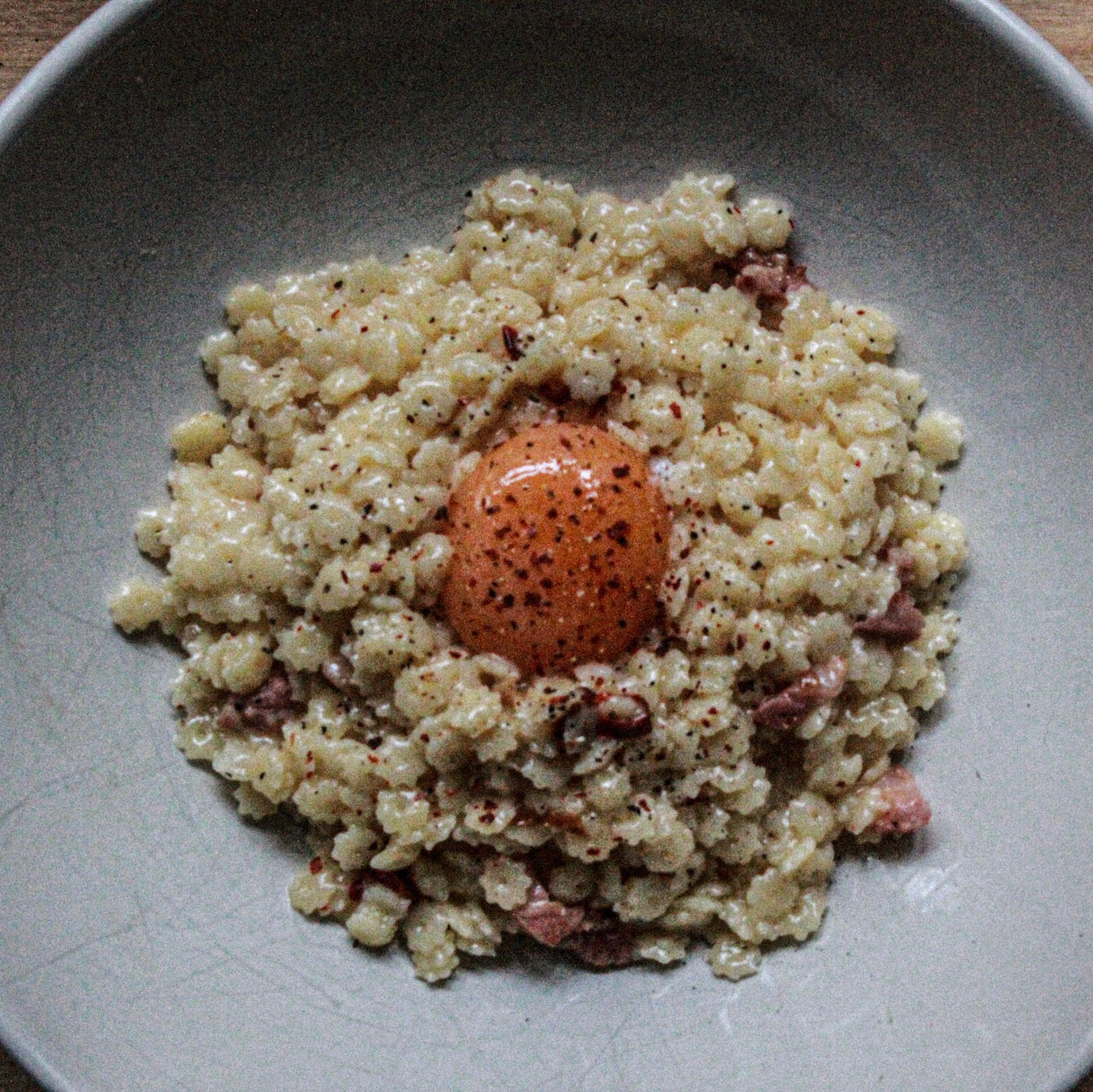 Almost Carbonara
"This is nearly a Carbonara, but I've added a salt-cured egg yolk and chilli. I use Stelline or other tiny pasta firstly because they're adorable and secondly because the egg coats them evenly and forms a rich, majestic sauce. Don't make this if you don't like eggs."
Step 1/ 5

Start by making the salt-cured egg yolk. Separate 2 egg yolks and discard the whites. Bring a pan of water to the boil and dissolve 3 tbsp of salt in it. Once all the salt has dissolved, pour the water into a bowl and immediately drop the yolks into the water (stay very close to the surface of the water to try and avoid the yolks breaking.) Set the bowl to one side.

Step 2/ 5

Next put the pasta on to boil. Follow packet instructions to cook.

Step 3/ 5

50 g

Parmesan cheese

½

chili

1 package

pancetta

While the pasta is cooking, slice the chilli and fry over a medium-high heat. After 3 minutes, add the pancetta. In a bowl, mix the 2 remaining egg yolks with the parmesan.

Step 4/ 5

Once the pasta is nearly cooked, drain the pasta but keep a few ladles of the water. Put the pasta back in the pan with the remaining water and the chilli and pancetta mix and leave for one minute, stirring occasionally. Then add the egg and parmesan to create a rich sauce.

Step 5/ 5

Spoon the pasta into a bowls and make little wells in the middle. Carefully scoop out the salt-cured yolks and place them in the wells. Sprinkle with salt, pepper and chilli flakes.

Enjoy your meal!
More delicious ideas for you