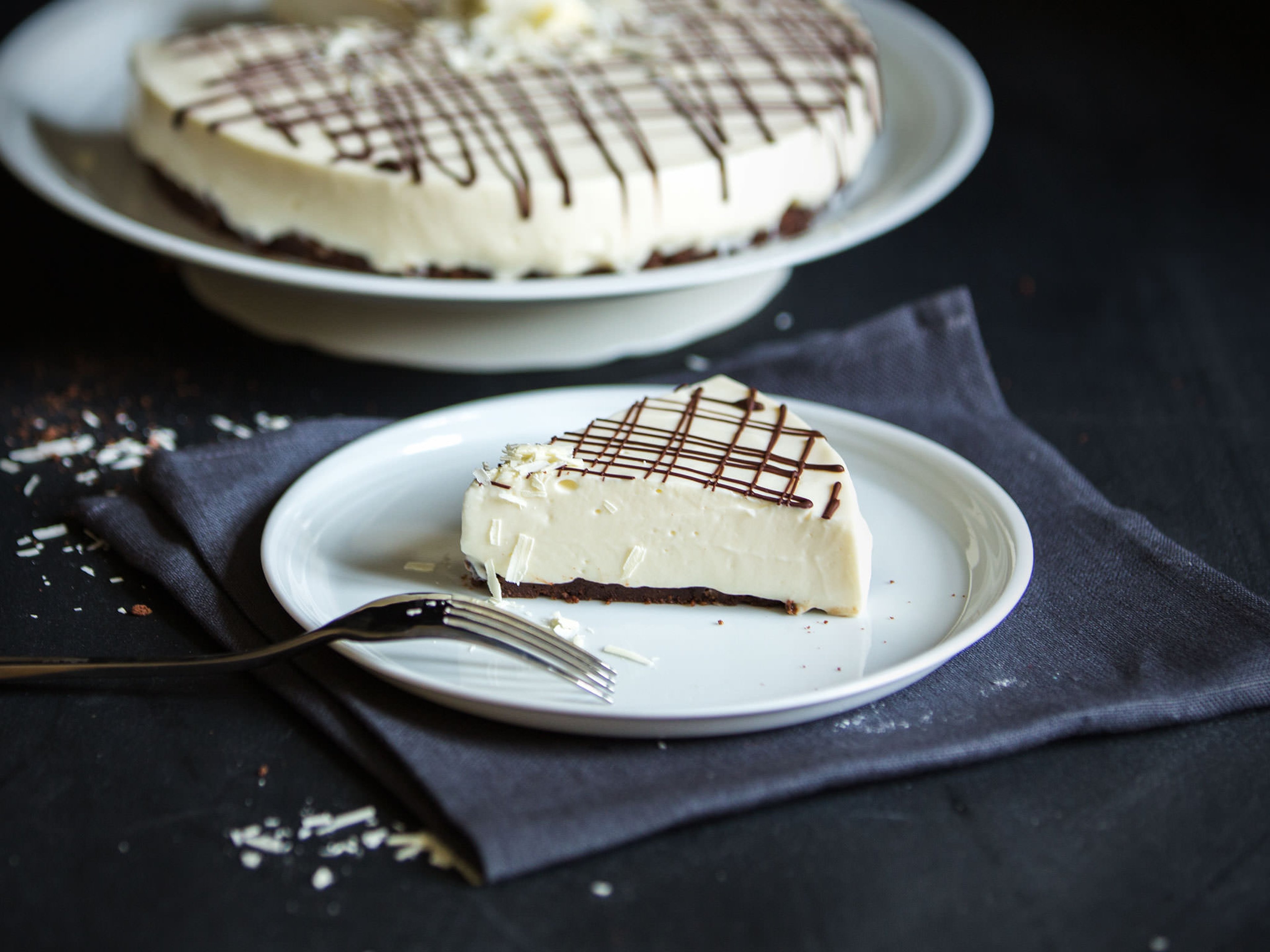 White chocolate cheesecake
Utensils
medium bowl, freezer bag, rolling pin, small pan, bowl, round baking form, large saucepan, heat-resistant bowl, rubber spatula, small saucepan, whisk, cake platter, knife
Easy no-bake cheesecake
How to create chocolate shavings
How to crumble cookies neatly
How to set up a double boiler
Step 1/ 12

¾ sheets

gelatin

18¾ ml

water

Add gelatin sheets to a bowl with some water. Leave to soak for approx. 8 – 12 min.

Step 2/ 12

Place cookies into a freezer bag. Tightly seal bag and crush cookies with a rolling pin.

Step 3/ 12

Melt butter in a small pan over medium-low heat. Transfer cookie crumbs to a bowl, pour in melted butter, and stir until combined.

Step 4/ 12

Add cookie crumb mixture to a round baking form and press firmly into bottom of baking form.

Step 5/ 12

large saucepan
heat-resistant bowl
rubber spatula

To set up a double boiler, add some water to a large saucepan and bring to a simmer. Place a heat-resistant bowl on top of the saucepan. Add white chocolate to the bowl, allow to melt, and then set aside.

Step 6/ 12

Add soaked gelatin with the soaking water and sugar to a small saucepan. Slowly heat over medium-low heat, stirring until the gelatin has completely dissolved. Be careful not to overheat. Quickly add gelatin to white chocolate. Stir well to combine.

Step 7/ 12

37½ g

yogurt

65⅝ g

cream cheese

Add cream cheese to yogurt. Stir well to combine.

Step 8/ 12

Add gelatin mixture to the mixture. Stir well to combine.

Step 9/ 12

Pour cream into round baking form. Gently tap form on counter to release air bubbles. Transfer to refrigerator and allow to set for approx. 3 hours.

Step 10/ 12

6¼ g

bittersweet chocolate

large saucepan
heat-resistant bowl
rubber spatula

Melt the bittersweet chocolate in a double boiler. Set aside.

Step 11/ 12

Carefully run knife around the edges of the baking form. Remove cake and transfer to a cake platter.

Step 12/ 12

2½ g

white chocolate (grated)

Before serving, decorate the cake with the melted bittersweet chocolate and grated white chocolate. Enjoy with a cup of coffee or tea!

Enjoy your meal!
More delicious ideas for you