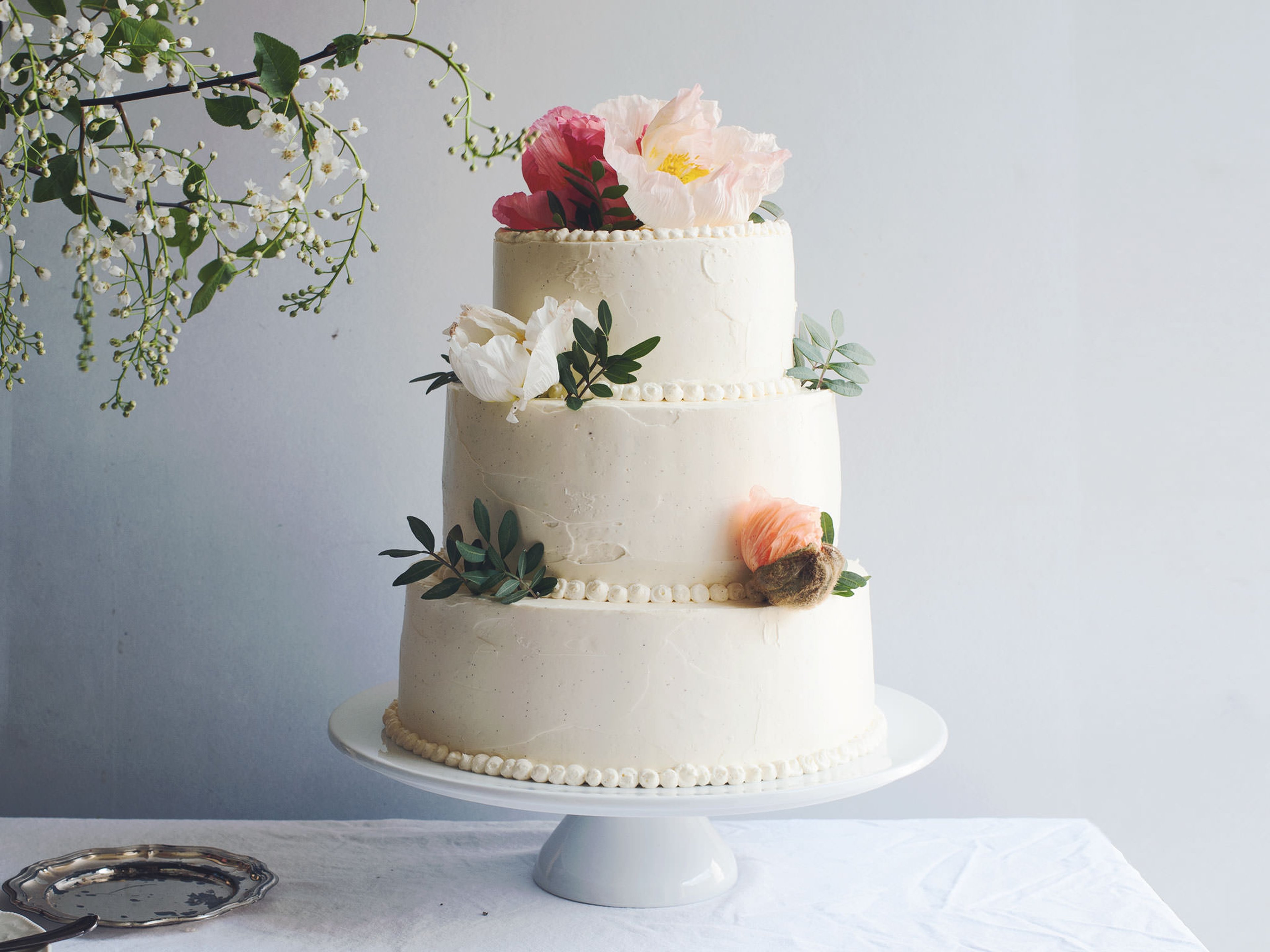 Wedding cake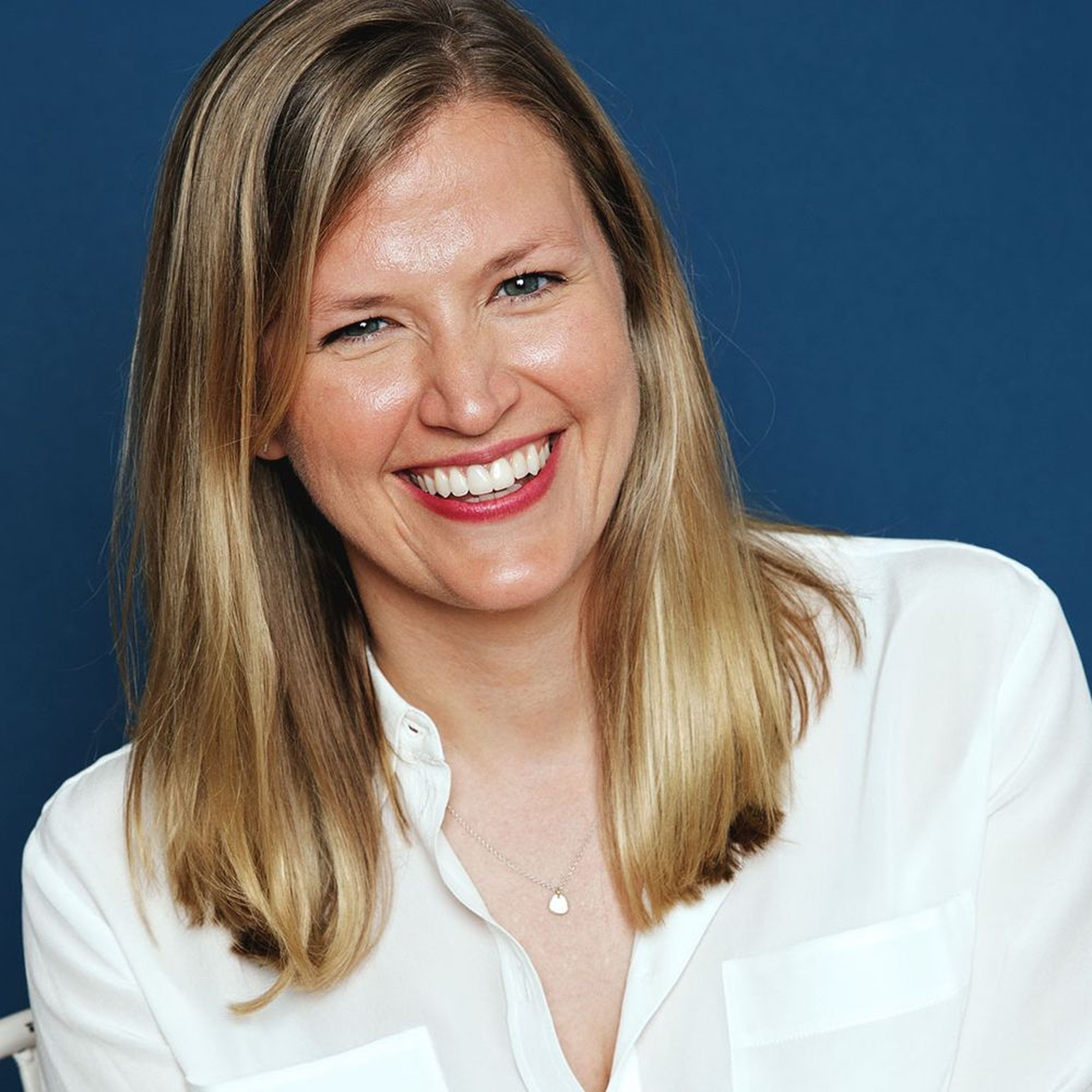 Ingredients
vanilla beans (scraped and divided)
all-purpose flour (divided)
fresh flowers for decorating
Utensils
mixing bowl, oven, whisk, parchment paper, rubber spatula, stand mixer or hand mixer with beaters, cooling rack, plastic wrap, toothpick, candy thermometer, large pot, heatproof bowl, 10-inch/25-cm cake board, cake turntable, 8-inch/20-cm cake board, serrated knife, 6-inch/15-cm cake board, offset spatula, 8-inch/20-cm cake pan, 10-inch/25-cm cake pan, 6-inch/15-cm cake pan, scissors, 7 large straws or wooden dowels, piping bag and tips, 12-inch/30-cm cake board
How to level cakes
How to Prepare a Cake Pan
Swiss buttercream
How to crumb coat a cake
Step 1/ 9

9½ ml

whole milk

⅛

egg whites

⅛

vanilla bean (scraped)

butter for greasing

mixing bowl
oven
whisk
parchment paper

Preheat the oven to 175°C/350°F. Butter cake pans, line bottoms with parchment, and dust with flour, dusting off any excess. Combine milk, some of the egg whites, and some of the vanilla bean seeds; whisk until blended.

Step 2/ 9

8⅜ g

all-purpose flour

9½ g

sugar

⅛ tbsp

baking powder

⅛ tsp

salt

5⅜ g

butter

flour for dusting

rubber spatula
stand mixer or hand mixer with beaters

Whisk together flour, sugar, baking powder, and salt. On low speed, gradually add some of the butter and mix until it resembles moist crumbs. Add half of the milk mixture and beat on medium speed for approx. 2 minutes. Add second half and beat for approx. 1 minute longer. Scrape down sides of bowl, then beat mixture for approx. 30 more seconds.

Step 3/ 9

oven
cooling rack
plastic wrap
toothpick

Divide batter evenly between the 8-inch/20-cm pans. Bake for approx. 30 minutes, or until a toothpick inserted into center of cake comes out clean. Let cool for approx. 10 minutes before turning out onto cooling rack. Allow to cool completely before removing parchment paper from the bottom of cakes and wrapping tightly in plastic wrap. Chill in refrigerator for at least 30 minutes or up to 5 days; or store in freezer for up to 2 weeks. Make batter two more times, each time baking one 6-inch/15-cm and one 10-inch/25-cm cake together. The 6-inch/15-cm cakes will bake for approx. 20 minutes, and the 10-inch/25-cm cakes will bake for approx. 40 minutes.

Step 4/ 9

¼

egg whites

16¼ g

sugar

⅛ kg

butter (cool and cubed)

⅛

vanilla beans (scraped)

candy thermometer
whisk
large pot
heatproof bowl
stand mixer or hand mixer with beaters

To make buttercream, fill pot with a few inches of water and bring to a slow simmer. In heat proof bowl or bowl of stand mixer, combine egg whites and sugar. Place bowl over pot of simmering water. Heat mixture, stirring constantly, until the mixture reaches 70°C/160°F or the sugar is completely dissolved. Transfer bowl to stand mixer or use hand mixer to beat egg whites, gradually increasing speed, until they form stiff peaks and bowl and meringue have cooled to the touch. With mixer running, add vanilla, then add butter gradually, until all is incorporated and buttercream is light and smooth. This can take time; continue to beat until it comes together. Make the buttercream recipe one more time. Store in airtight container if not using immediately, though fresh buttercream is best for decorating.

Step 5/ 9

10-inch/25-cm cake board
cake turntable
8-inch/20-cm cake board
serrated knife
rubber spatula
6-inch/15-cm cake board

Assemble each tier: level each cake by slicing off a thin, even layer off top to create a level surface. Cut each cake in half so each tier has four layers. For each tier, smear a dab of buttercream onto corresponding cake board. Place first layer of cake down on top of cake board, then spread thin layer of jam onto it. Place next layer of cake on top and spread a layer of buttercream on top. Continue until tier is complete and place in refrigerator to chill. Repeat with each tier.

Step 6/ 9

Apply a crumb coat to each tier by spreading a thin layer of buttercream over the tops and sides. Scrape and clean spatula as you go to prevent spreading more crumbs into buttercream. Place tiers in refrigerator for at least 30 minutes to firm up before proceeding.

Step 7/ 9

8-inch/20-cm cake pan
10-inch/25-cm cake pan
6-inch/15-cm cake pan

When tiers are firm, frost each with final layer of buttercream in the style you prefer. Return tiers to refrigerator to firm up for at least an hour or up to 24 hours. When tiers are firm, prepare to insert straw dowels: Measure and mark the 10-inch/25-cm tier by centering an empty 8-inch/20-cm cake pan over it and pressing down gently to mark where that tier will go. Do the same with an empty 6-inch/15-cm pan over the 8-inch/20-cm tier.

Step 8/ 9

scissors
7 large straws or wooden dowels

Just inside the marks on the 10-inch/25-cm tier, insert straws (or wooden dowels) at 12-, 3-, 6-, and 9-o'clock positions. Mark where cake meets straw, then remove it and trim just below the mark so that it disappears when reinserted in cake. Push straws back into cake. Repeat process with 8-inch/20-cm tier, using 3 straws at 12-, 4-, and 8-o'clock positions. Use buttercream to smooth over holes.

Step 9/ 9

fresh flowers for decorating

piping bag and tips
12-inch/30-cm cake board
offset spatula

To finish cake, place cake board onto cake turntable. Dollop a tablespoon of buttercream onto board and center 10-inch/25-cm tier on top. Dollop another tablespoon of buttercream on top of that tier, and use your hand and an offset spatula to gently lower the 8-inch/20-cm tier on top, making sure that it's centered. Repeat with 6-inch/15-cm tier. Use piping bag to fill seams between tiers either with tiny dots to resemble pearls or a star tip to create a ribbon around cake. Decorate with fresh flowers or as you prefer, transfer to serving plate, and enjoy!

Enjoy your meal!
More delicious ideas for you