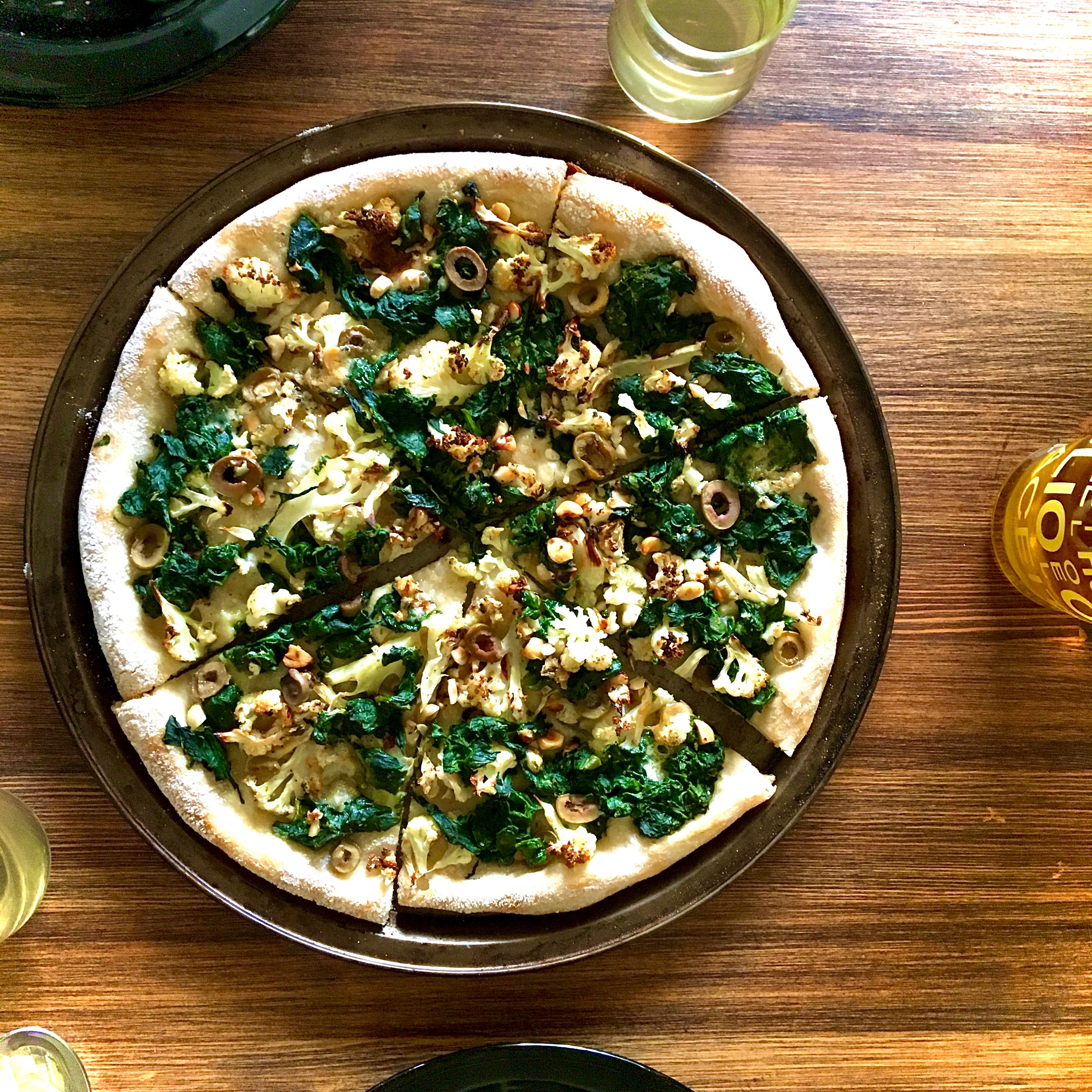 Vegan No-Cheese Pizza
"This pizza dough needs to be proofed for a long time, at least 6 hours at room temperature or overnight in the fridge, so you have to plan ahead to have your pizzas on time... No cheese added here as I wanted a totally vegan pizza, and it seems that they don't need any! If you really crave for something creamy or cheesy here, a layer of béchamel, grated Parmesan, and some Gorgonzola or blue cheese rhyme with both especially with the spinach-cauliflower topping..."
Ingredients
jarred pitted olives (drained)
tomato, skinned, smashed and dehydrated
pesto, preferably homemade and vegan
Utensils
bowl, rubber spatula, dough scraper, kitchen towel (damp), frying pan, oven-safe dish, microwave-safe bowl, microwave , 2 baking dishes
Step 1/ 9

300 g

flour

200 ml

water

⅛ tsp

Yeast

6 g

salt

olive oil (for greasing)

Add the flour, water and yeast to a bowl and combine. Gradually add the salt and mix until a wet and sticky dough comes together. With a rubber spatula loosen up rounds of the dough from the bowl and drizzle with olive oil to prevent the dough from sticking to the bowl during rising time. Cover and let rise for 6 hours.

Step 2/ 9

dough scraper
kitchen towel (damp)

Carefully transfer the risen dough onto a floured work surface. Fold for 2-3 times and divide in two. Shape each into a ball and place on the well-floured surface. Flour the top as well and cover with damp kitchen towel until ready, about 45-60 min. Meanwhile, prepare the pizza topping and preheat the oven at 250 C.

Step 3/ 9

4 tbsp

jarred pitted olives (drained)

200 g

cauliflower

200 g

broccoli

2 tbsp

hazelnuts

2 tbsp

pistachios

¼ tsp

dried oregano

salt

pepper

200 g

spinach

100 g

tomato, skinned, smashed and dehydrated

1 clove

garlic

Slice olives. Cut cauliflower and broccoli into florets. Chop hazelnuts and pistachios. Finely mince the garlic and mix half of it with tomato, salt, pepper and oregano. Cook spinach with remaining garlic, olive oil, salt and pepper.

Step 4/ 9

Place cauliflower pieces in an oven-safe dish. Season with half of freshly grated nutmeg, salt and pepper. Drizzle with olive oil and place in the oven until charred. Add in hazelnuts and place back in the oven for some more minutes, until the nuts get a good roast.

Step 5/ 9

microwave-safe bowl
microwave

Place broccoli in a microwave-safe bowl, season with remaining nutmeg, salt and pepper. Drizzle with olive oil and a splash of water. Microwave for 2 min. until barely cooked.

Step 6/ 9

When the dough is ready, lightly grease two baking dishes. Transfer one of dough pieces onto the baking dish, letting it stretch over your hands by its own weight. Adjust into the dish and shape the rounds.

Step 7/ 9

Drizzle some olive oil over the dough. Arrange cauliflower and spinach over and sprinkle with hazelnuts and half of the olives. Season with freshly grated salt and pepper. Bake at lowest part of oven for 8-10 min. until baked through and golden brown on edges and bottom.

Step 8/ 9

2 tbsp

pesto, preferably homemade and vegan

Repeat shape&stretch step with remaining dough. Place onto the second baking dish. Spread tomato sauce over and drizzle with olive oil. Arrange broccoli, remaining olives and pistachios on top. Bake for 8-10 min. Cool a bit, then dollop the pesto sauce here and there.

Step 9/ 9

Serve and enjoy!

Enjoy your meal!
More delicious ideas for you