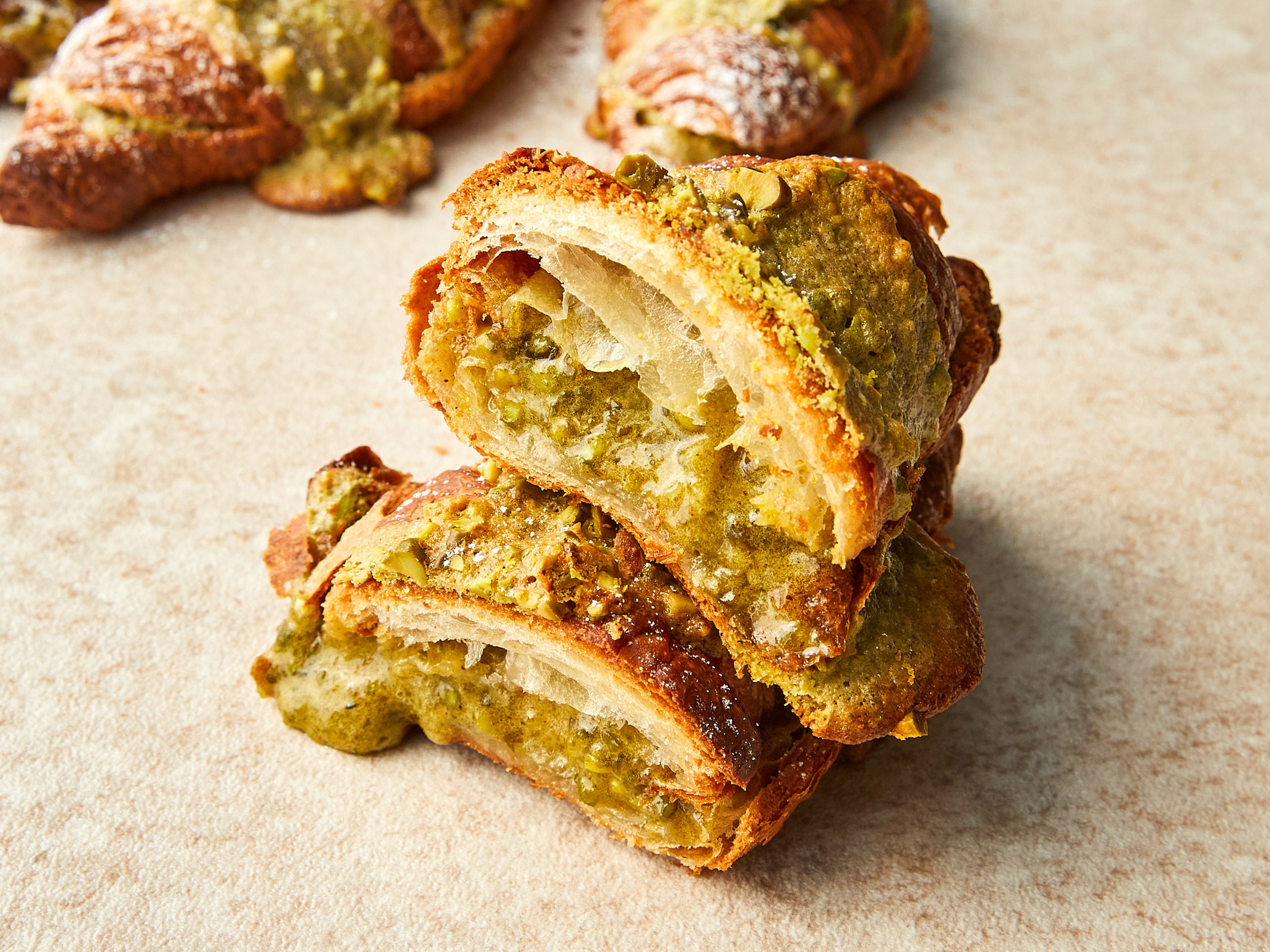 Twice-baked pistachio croissant
"Actually, fresh croissants never make it to the next day for me. This recipe, however, has changed that, transforming croissants from yesterday to today's luxurious afternoon snack in just 30 minutes. We chose pistachios, but almonds, chocolate or even ham and cheese are great options. For a savory version with ham and cheese, use some (grainy) mustard instead of orange blossom water. When I carried the croissants out of the test kitchen for the first time, my dear colleagues couldn't believe how fast they could be prepared. They are also a real eye-catcher. So from now on, always buy a few more croissants!"
Ingredients
orange blossom water (optional)
butter (room temperature)
confectioner's sugar (for dusting)
Utensils
oven, saucepan, cooking spoon, food processor, large bowl, hand mixer with beaters, serrated knife, piping bag, baking sheet, parchment paper
How-To Videos
How to chop nuts
Homemade vanilla extract
How to fill a piping bag
Step 1/ 3

25 ml

water

15 g

sugar

¾ tsp

orange blossom water (optional)

oven
saucepan
cooking spoon

Preheat the oven to 180°C/350°F. Meanwhile, prepare the syrup: put water, ⅓ of sugar, and orange blossom water, if used, in a saucepan. Heat over medium heat, bring to a boil, stir to dissolve the sugar, then reduce heat and simmer for approx. 10 min. Set aside to cool.

Step 2/ 3

62½ g

pistachios

15 g

starch

⅛ tsp

salt

25 g

butter (room temperature)

¼ tsp

vanilla extract

½

eggs (large)

½ tbsp

heavy cream

¼ tsp

ground cinnamon

¼ tsp

ground cardamom

32½ g

sugar

food processor
large bowl
hand mixer with beaters

For the filling, chop most of the pistachios very finely using a knife or food processor. Coarsely chop the remaining pistachios, and set aside. Put the pistachio flour into a large bowl and whip it with starch, salt, room temperature butter, vanilla extract, eggs, heavy cream, ground cinnamon, ground cardamom, and remaining sugar for approx. 2–3 min. with a hand mixer until fluffy.

Step 3/ 3

2

croissants

confectioner's sugar (for dusting)

serrated knife
piping bag
baking sheet
parchment paper

Cut croissants in half lengthwise and generously brush both cut sides with the prepared syrup. Fill a piping bag with the pistachio filling and apply about ⅔ of it evenly on the croissant bottom halves. Alternatively, spread it on using a knife or offset spatula. Place the tops of the croissants on, and spread the remaining pistachio mixture on top. Then sprinkle with chopped pistachios. Bake croissants in the oven on a lined baking sheet for approx. 12–15 min. until crispy. Let cool slightly and then serve dusted with confectioner's sugar, if desired.

Enjoy your meal!
More delicious ideas for you