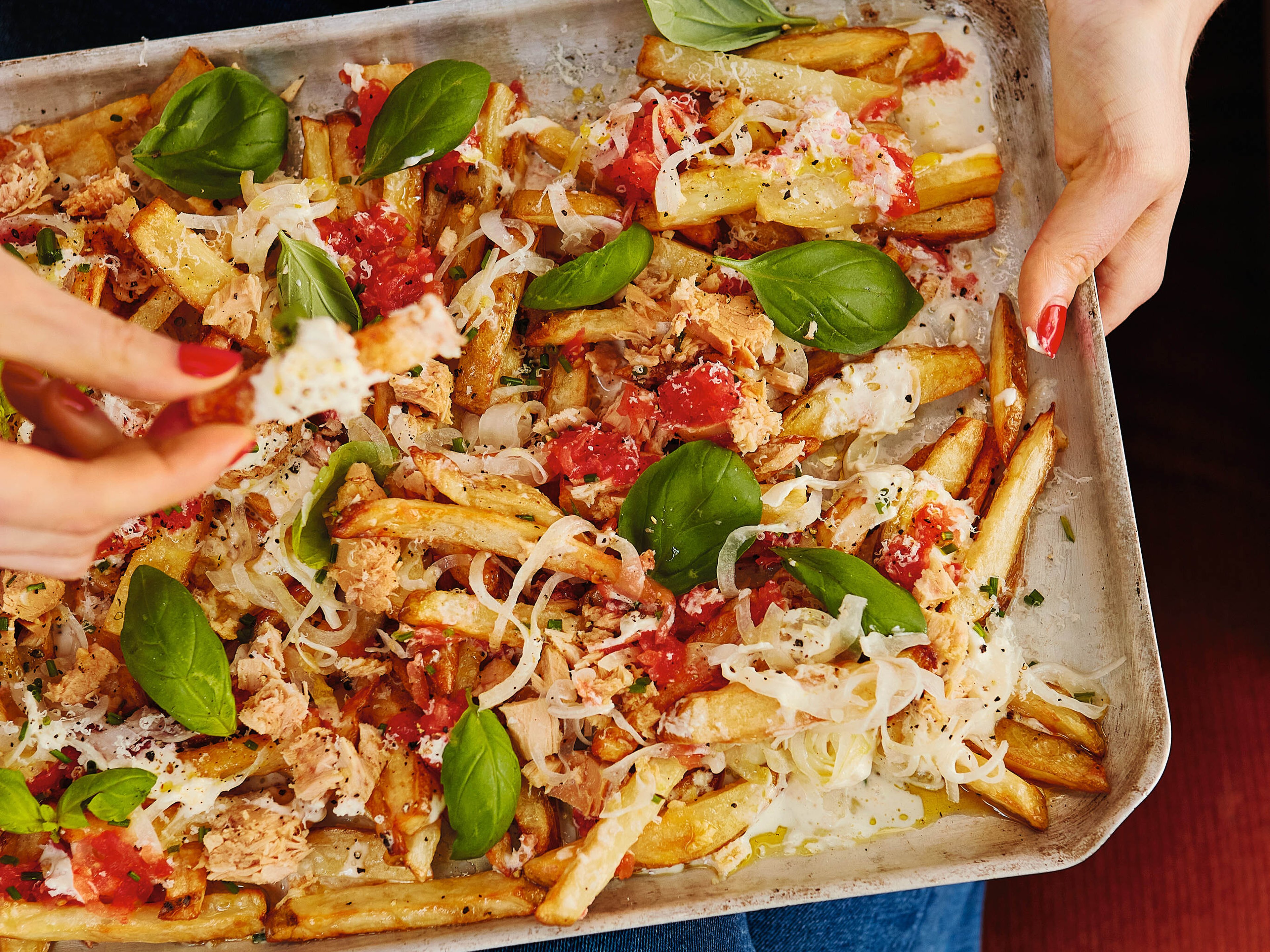 TV chips
"These loaded chips are best eaten in front of the TV. Although I assure you that this is a tried and tested fact, I also invite you to try and test for yourself. Less of a recipe and more of a blueprint, these chips are a foundation on which to build your own vision. Your baking tray needs to be flat, not high-sided, otherwise the potatoes will steam rather than crisp. A kilo of potatoes is really the maximum you should be putting on a tray – any more and you'll have to start piling the chips up, when really you want them to be spread out as much as possible, to crisp up and colour evenly. Make ahead: The Parmesan cream and Scotch bonnet salsa will keep for up to 2 days in the fridge. Bring them back to room temperature before using. This recipe is from Ixta Belfrage's new cookbook MEZCLA."
Ingredients
Parmesan cheese (grated, for serving)
Utensils
oven, baking sheet, parchment paper, 2 bowls, box grater, bowl (small), platter
How to prepare a chili
How to chop green herbs
How to prepare garlic
Step 1/ 6

Preheat the oven to 220°C fan/240°C.

Step 2/ 6

1 kg

floury potato

3 tbsp

olive oil

2 tsp

flaky sea salt

baking sheet
parchment paper

Line the largest flat baking tray that will fit in your oven with parchment paper. Toss the chips (roasting potatoes, skin on and cut into 1cm-thick chips) with the oil and salt and spread them out as much as possible on the tray. Bake for 20 minutes, then lower the heat to 200°C fan/220°C and use the parchment to help you gently toss the chips. Bake for another 20 minutes or so – keep an eye on them for the last 5 minutes and take them out when they're at your ideal level of golden-brown.

Step 3/ 6

½

onion

2 tbsp

lemon juice

½ tsp

flaky sea salt

Meanwhile, mix the onions (thinly sliced on a mandolin) with the lemon juice and salt, and set aside.

Step 4/ 6

4 tbsp

double cream

15 g

Parmesan cheese (grated)

½

garlic

flaky sea salt

Stir the cream with the Parmesan, garlic (crushed) and a pinch of salt, and set aside.

Step 5/ 6

2

tomatoes

½

Scotch bonnet pepper

½

garlic (grated)

½ tsp

hot sauce (optional)

flaky sea salt

Halve and grate the cut sides of the tomatoes using the large holes of a box grater. Discard the skin, and put the pulp into a small bowl with the Scotch bonnet (finely chopped, use a milder chili if you prefer), hot sauce (if using) and garlic (finely grated/crushed). Add 1 tablespoon of the pickling liquid from the onions and a pinch of salt, and stir.

Step 6/ 6

160 g

canned tuna

5 g

chives

5 g

basil

olive oil (for serving)

pepper

Parmesan cheese (grated, for serving)

Assemble! Spread your hot chips out on a platter and top with chunks of the tuna (drained). Spoon over the cream and salsa, layering with the pickled onions (and some of the pickling liquid), chives (roughly chopped) and basil. Finish with extra virgin olive oil, black pepper and a final grating of Parmesan.

Enjoy your meal!
More delicious ideas for you