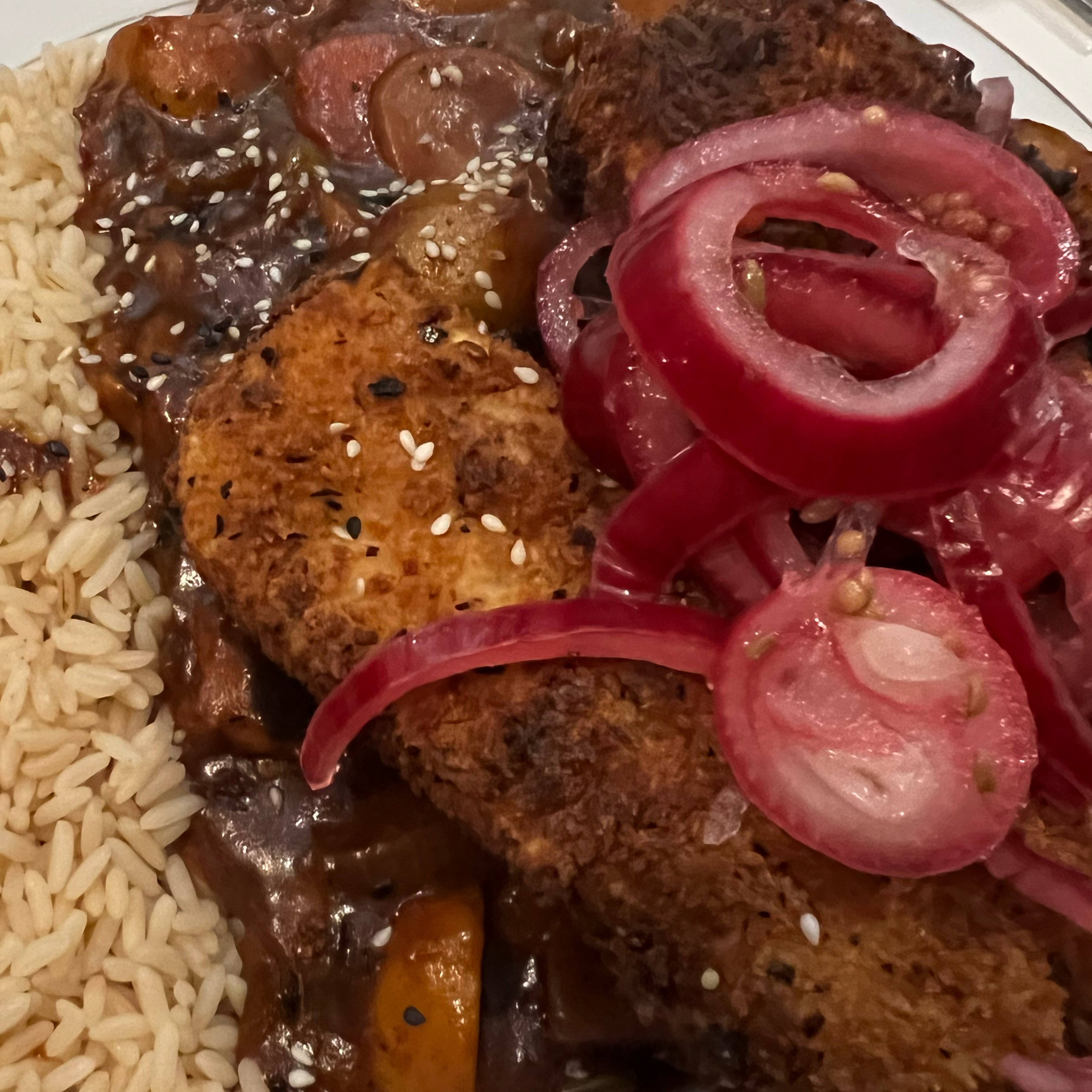 Tofu Katsu Curry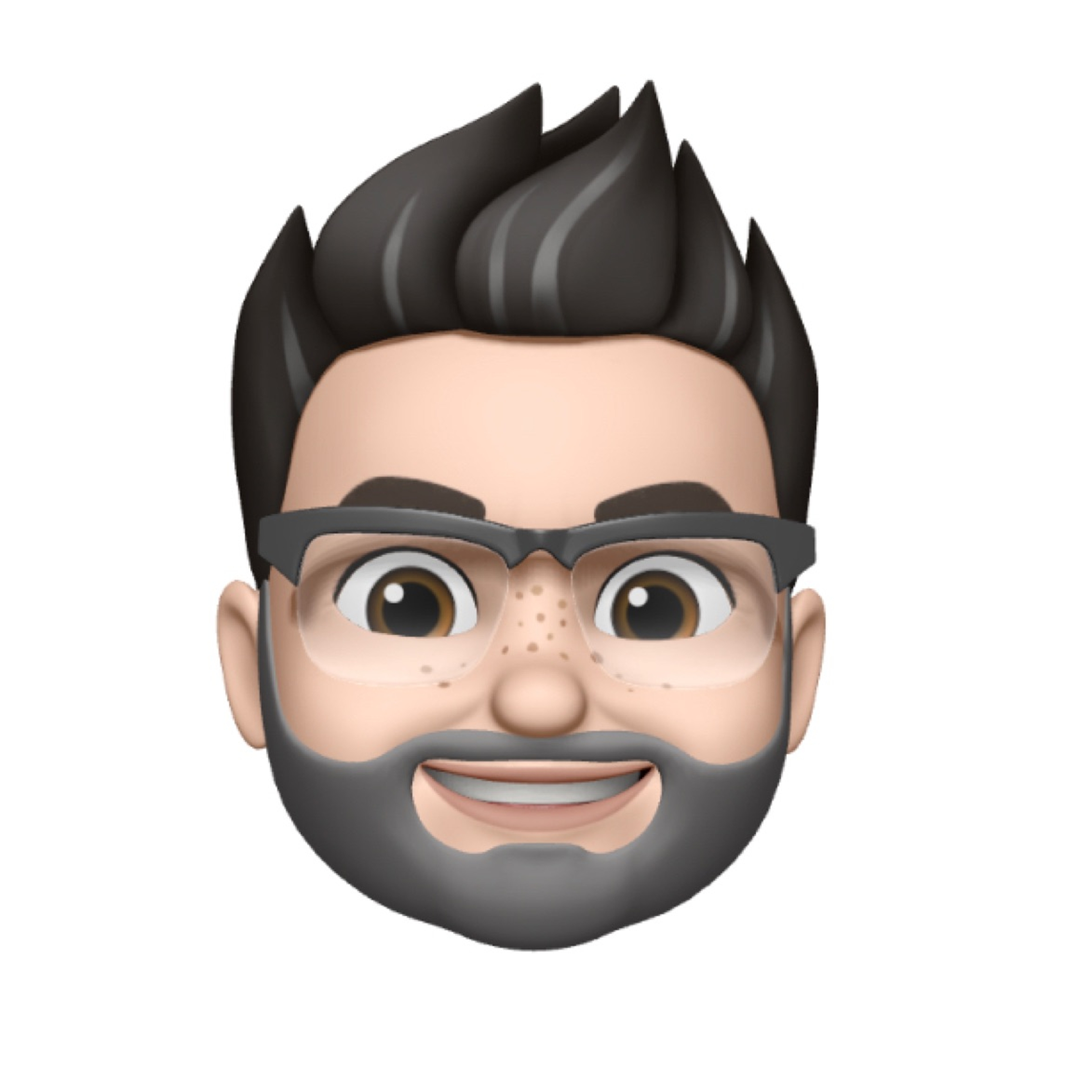 "Looks like a lot of work and a lot of ingredients, but is so worth it. If you can find Golden Japanese Curry Block, you can use that instead of the Garam Masala / Curry Powder / Flour combination. "
Ingredients
panko breadcrumbs (for coating)
chili flakes (for coating)
garlic powder (for coating)
vegetable oil (for frying)
sesame seed (for garnish)
Utensils
knife, 2 saucepans, bowl, baking sheet, frying pan
Step 1/ 14

Drain the tofu and remove as much water as you can. Once dried, cut into 4 rectangular 'fillets' and set aside.

Step 2/ 14

½

onion

2½ cloves

garlic

½ tbsp

ginger

1

carrots

1 stalks

celery

½

banana

Peel and roughly chop the onion, mince the garlic cloves and ginger, finely slice the carrots and chop the celery into 1 cm pieces. Peel and cut the banana into the same size slices.

Step 3/ 14

1 tbsp

sesame oil

100 g

mixed mushrooms

First up, make the curry sauce. In a large saucepan, placed over a medium heat, add the sesame oil followed by the copped onion, garlic, ginger, carrot and celery. Add the mushrooms, ripping them in half if there are any large pieces and stir to combine.

Step 4/ 14

100 g

new potatoes

1 tsp

chili flakes

½ tsp

sea salt

½ tbsp

tomato paste

Sauté the mixture with a sprinkle of salt for 4-5 minutes before stirring in the banana, potatoes (chopped in half / quarters so they're similar sizes), chill flakes and the tomato paste (aka purée).

Step 5/ 14

½ tbsp

curry powder

1 tsp

garam masala

1 tbsp

flour

Mix together the Garam masala, flour and curry powder together before adding to the pan and stirring to coat the vegetables.

Step 6/ 14

240 ml

vegetable stock

½

coconut milk

1 tbsp

soy sauce

Deglaze the pan with the vegetable stock, coconut milk and soy sauce. Mix together well, then pop a lid on, turn the heat down to a simmer and let the curry bubble away and thicken up for at least 30 minutes, stirring occasionally.

Step 7/ 14

Preheat your oven to 180 C.

Step 8/ 14

120 ml

rice vinegar

5

radishes

½

red onion

2½

Sichuan peppercorns

1½ tbsp

caster sugar

1 tsp

mustard seeds

½ tsp

fennel seed

While the curry is cooking, make your pickles. Add the rice wine vinegar to a saucepan with the peppercorns, fennel seeds, mustard seeds and sugar. Bring the mix to a simmer then add the sliced radish and sliced red onion. Turn the heat off then transfer the contents to a bowl to cool completely. Once the pickle has cooled, it's easy to eat, but the flavour will improve the longer you leave it. You can keep any left overs in a sealed sterilised glass jar in the fridge.

Step 9/ 14

60 g

flour (for breading)

½ tbsp

vegetable oil

150 ml

water

Next coat the tofu. First, make the batter by mixing the flour in a bowl and keep adding the water until it makes it a pancake batter style consistency, once you have it then mix in the oil.

Step 10/ 14

100 g

panko breadcrumbs (for coating)

½ tbsp

chili flakes (for coating)

½ tsp

garlic powder (for coating)

60 g

flour (for coating)

In another bowl, add the panko breadcrumbs, chilli flakes and garlic powder. Then in a third bowl, add the plain flour.

Step 11/ 14

Grab your dried tofu and dip them, individually, into the tofu, then the batter, then finally in the breadcrumbs. Make sure the tofu is really well coated, them place them onto a baking tray lined with baking parchment.

Step 12/ 14

125 ml

vegetable oil (for frying)

To cook the tofu, preheat a large frying pan over a medium heat and add the vegetable oil. Shallow fry the fillets when the oil is hot enough for around 2-3 minutes each side - or until the breadcrumbs are golden. Once they're cooked, place them onto the baking sheet and then into the oven for 10 minutes.

Step 13/ 14

Check the curry is ready by checking if the potatoes are tender. If they are still undercooked, let the curry cooked away for a little longer. If the curry starts to get too thick, just add extra vegetable stock to loosen it.

Step 14/ 14

rice (for garnish)

salad (for garnish)

sesame seed (for garnish)

fried onion (optional)

To serve, slice the Katsu tofu fillets, then place up with some sticky rice, lots of curry sauce, salad and the pickles. You can also garnish with some crispy onions and sesame seeds if you wish.

Enjoy your meal!
More delicious ideas for you