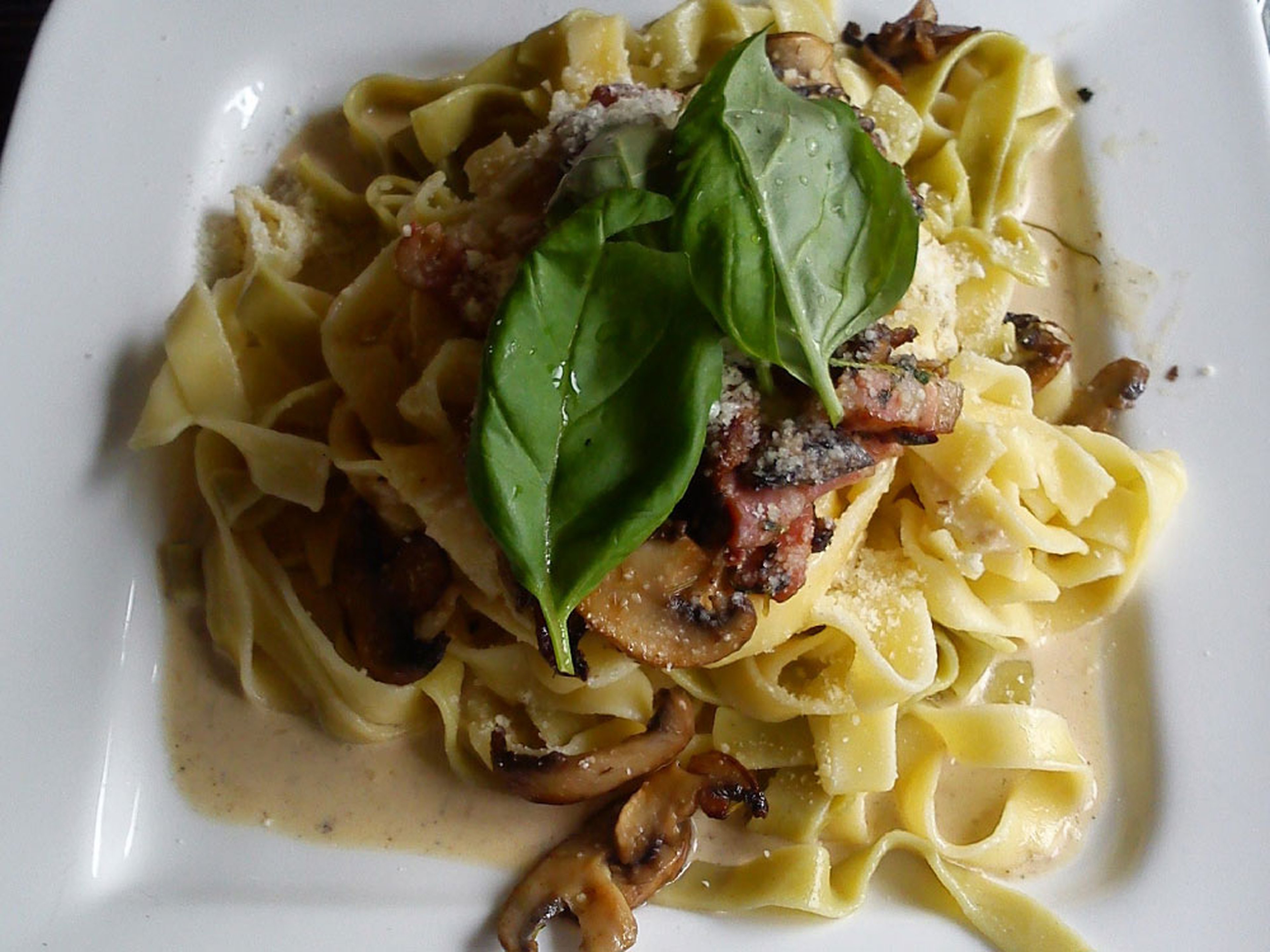 Tagliatelle with creamy mushroom sauce
Ingredients
tagliatelle (green, yellow)
mushrooms (e.g. champignons, porcini)
grated Parmesan cheese for serving
Utensils
sieve, pot, small bowl (optional), citrus press, cutting board, knife, garlic press, cooking spoon, large frying pan, paper towels
How to chop green herbs
How to prepare garlic
How to clean mushrooms
3 easy ways to juice a lemon
How to cook pasta
Homemade pasta
Step 1/ 5

200 g

tagliatelle (green, yellow)

If you do not make the pasta dough yourself, cook the pasta according to package instructions.

Step 2/ 5

50 g

dry-cured ham

150 g

mushrooms (e.g. champignons, porcini)

½ tbsp

lemon juice

small bowl (optional)
citrus press
cutting board
knife

Cut ham into thin strips. For mushrooms, we used dried porcini soaked in lukewarm water for 20 min. We also used fresh champignons. Clean, cut into thin slices, then drizzle with part of the lemon juice.

Step 3/ 5

¼ tbsp

butter

½ clove

garlic

100 g

cream

75 ml

beef stock

garlic press
pot
cooking spoon

Melt butter in a wide pot, press in the garlic clove and sauté gently. Pour in the cream and the beef broth, bring to a boil, then simmer until reduced and creamy.

Step 4/ 5

½ tbsp

butter

7½ g

parsley

salt

pepper

large frying pan
paper towels

Melt the remaining butter in a frying pan. Add mushrooms gradually and sauté. Rinse the parsley, pat dry with kitchen towels, then chop finely. Add both parsley and ham strips to the mushrooms and fry on low heat. Carefully season with salt (caution: the ham is already salty) and pepper.

Step 5/ 5

basil for garnish

grated Parmesan cheese for serving

Arrange tagliatelle on pre-heated plates. Season the cream sauce with salt, pepper, and a little lemon juice, then pour over the pasta. Top with the mushroom mixture and garnish with plucked basil leaves. Season once again with pepper, and serve with freshly grated Parmesan cheese.

Enjoy your meal!
More delicious ideas for you