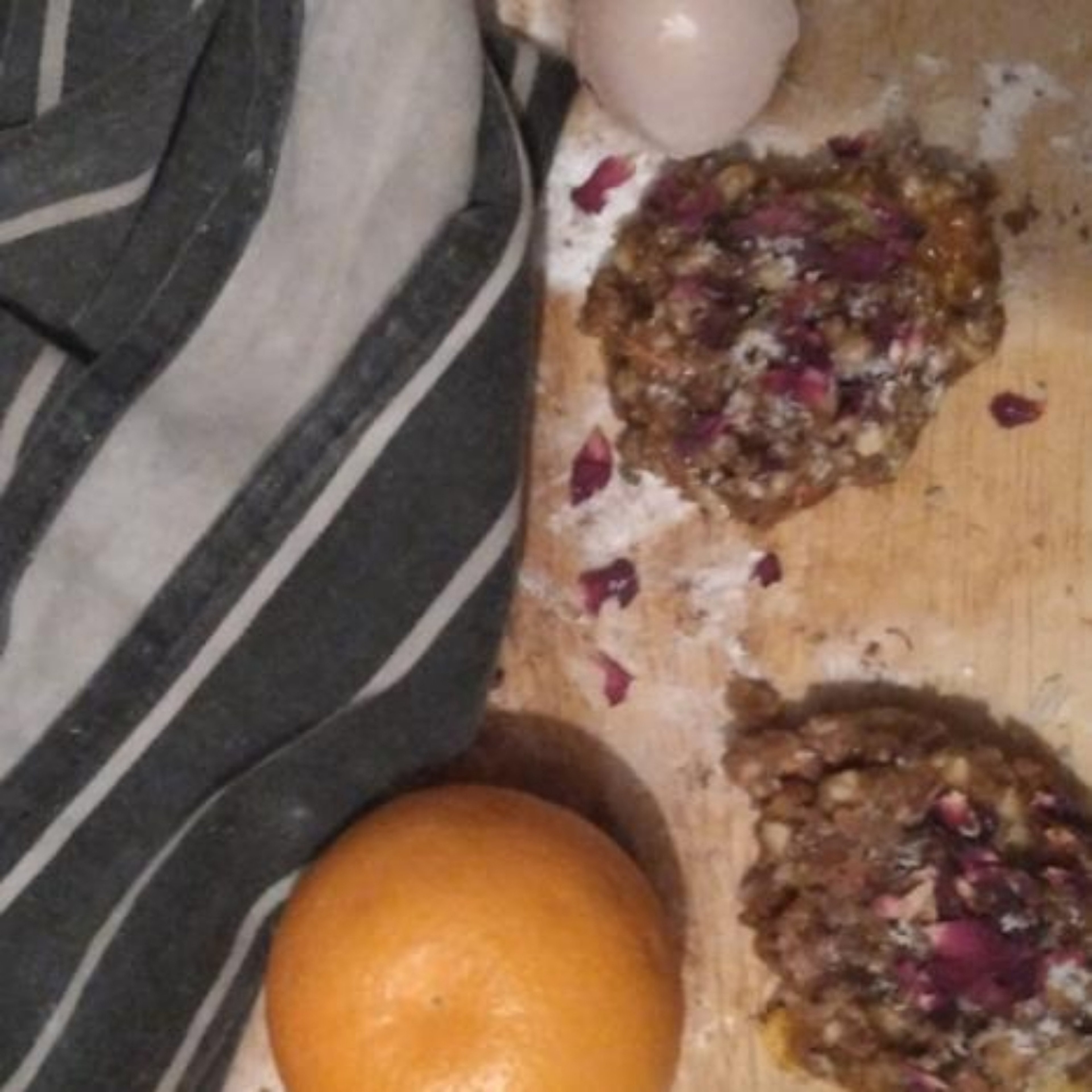 Syrup and almond balls filled with salted egg yolk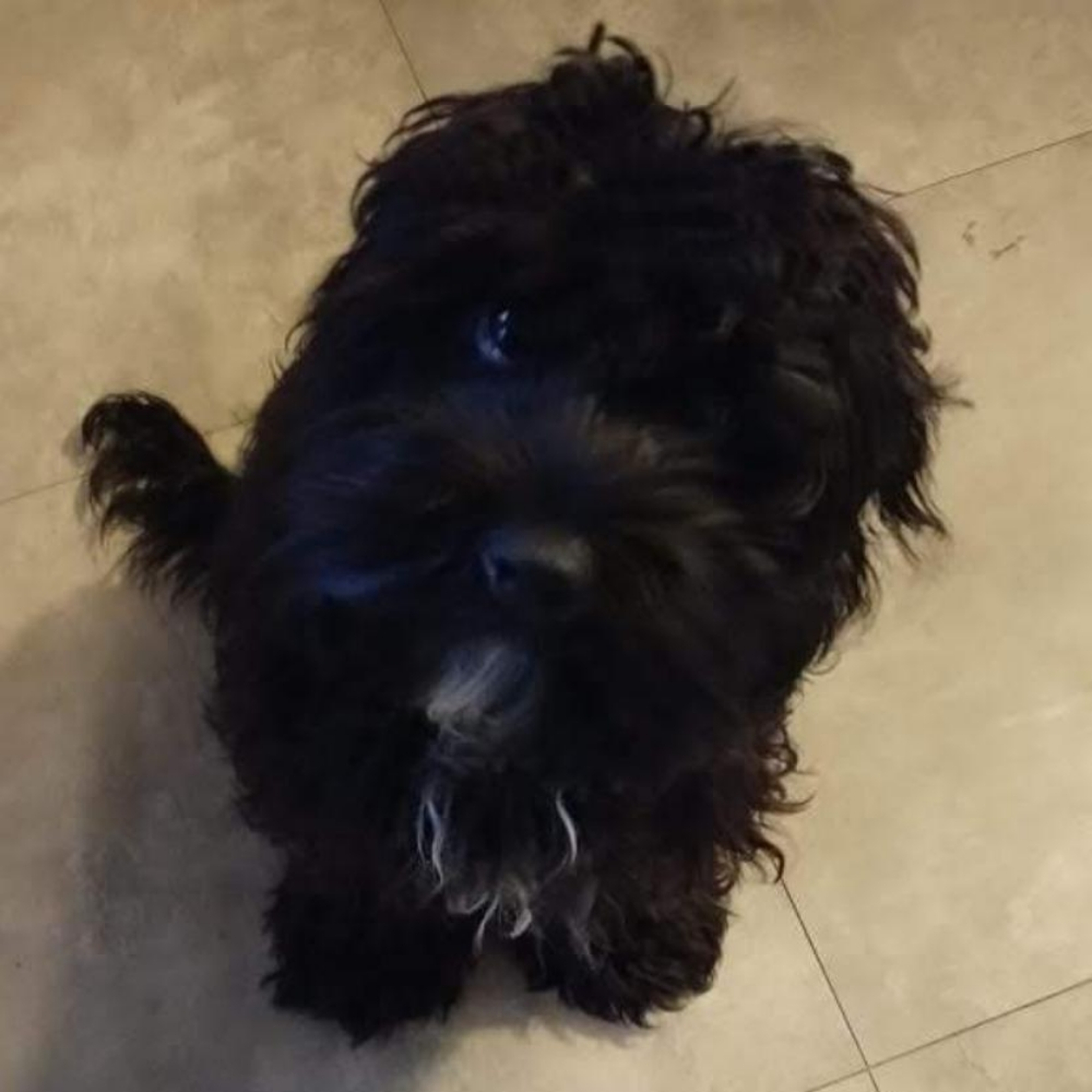 "Sweet or savoury, I'm not sure - but I do know it's delicious. Don't be put off by the yeast extract - there is such a small amount, rather than making it taste of it, it just adds an underlying richness, and a lovely salty savoury hint. And of course, you can't really go wrong with nuts and syrup. The rose petals are totally optional, but I think it just makes it looks a bit prettier."
Ingredients
plain flour, plus extra for dusting
zest and juice of one orange
cardamom pod, seeds ground up (optional)
cinnamon stick (optional)
yeast extract, such as Marmite
Utensils
knife, chopping board, 2 frying pans, slotted spoon, 2 saucepans, kitchen paper, plate, spoon, microplane, juicer, rolling pin (optional), bowl
Step 1/ 8

25 g

plain flour, plus extra for dusting

50 g

almond

knife
chopping board
frying pan

Finely chop the almonds, and toast with the flour over a medium heat. Be careful, as flour can burn without you knowing - it is ready when it's a very light grey-brown colour.

Step 2/ 8

2

eggs

⅛ tsp

yeast extract, such as Marmite

slotted spoon
saucepan
kitchen paper
plate

Separate the eggs, and bring a pan of water to a gentle simmer over a low heat. Slowly place the egg yolks in the water one by one, and simmer for 30-40 seconds or until the outside has solidified and the inside seems soft. Place on a plate lined with paper towels to drain off any excess liquid. Sprinkle with sea salt whilst they are still warm.

Step 3/ 8

splash of water

15 g

granulated sugar

10 g

honey

zest and juice of one orange

1

cardamom pod, seeds ground up (optional)

½

cinnamon stick (optional)

½ pinch

edible rose petal

saucepan
spoon
microplane
juicer

Bring the honey, sugar, water and yeast extract to a simmer in a saucepan. Add the orange juice and zest, and ground cardamom seeds and a cinnamon stick, if you like. Simmer until slightly reduced, about 3-4 minutes.

Step 4/ 8

Remove the whole spices if using, then stir in the almond/flour mixture, until it from a dough. If it is too sticky and you can't work with it, add a tbsp or two more of plain flour, until it is firmer.

Step 5/ 8

On a floured surface, using slightly wet hands or a rolling pin (I would advise against using a rolling pin) press/roll it into a small disk. Place a poached egg yolk into the centre and fold the almonds around it. Repeat for the four egg yolks.

Step 6/ 8

Melt the butter in a small saucepan over medium heat. Once bubbling, place the discs of almond into the saucepan, putting the heat down to low, basting it with butter. Once golden brown on one side, after about 3-4 minutes, flip, and cook until golden brown.

Step 7/ 8

sea salt

1 tsp

ground cinnamon

½ tbsp

granulated sugar

Mix together the ground cinnamon and sugar, and sprinkle onto the almond balls. Top with rose petals, if you like.

Step 8/ 8

Serve and enjoy.

Enjoy your meal!
More delicious ideas for you