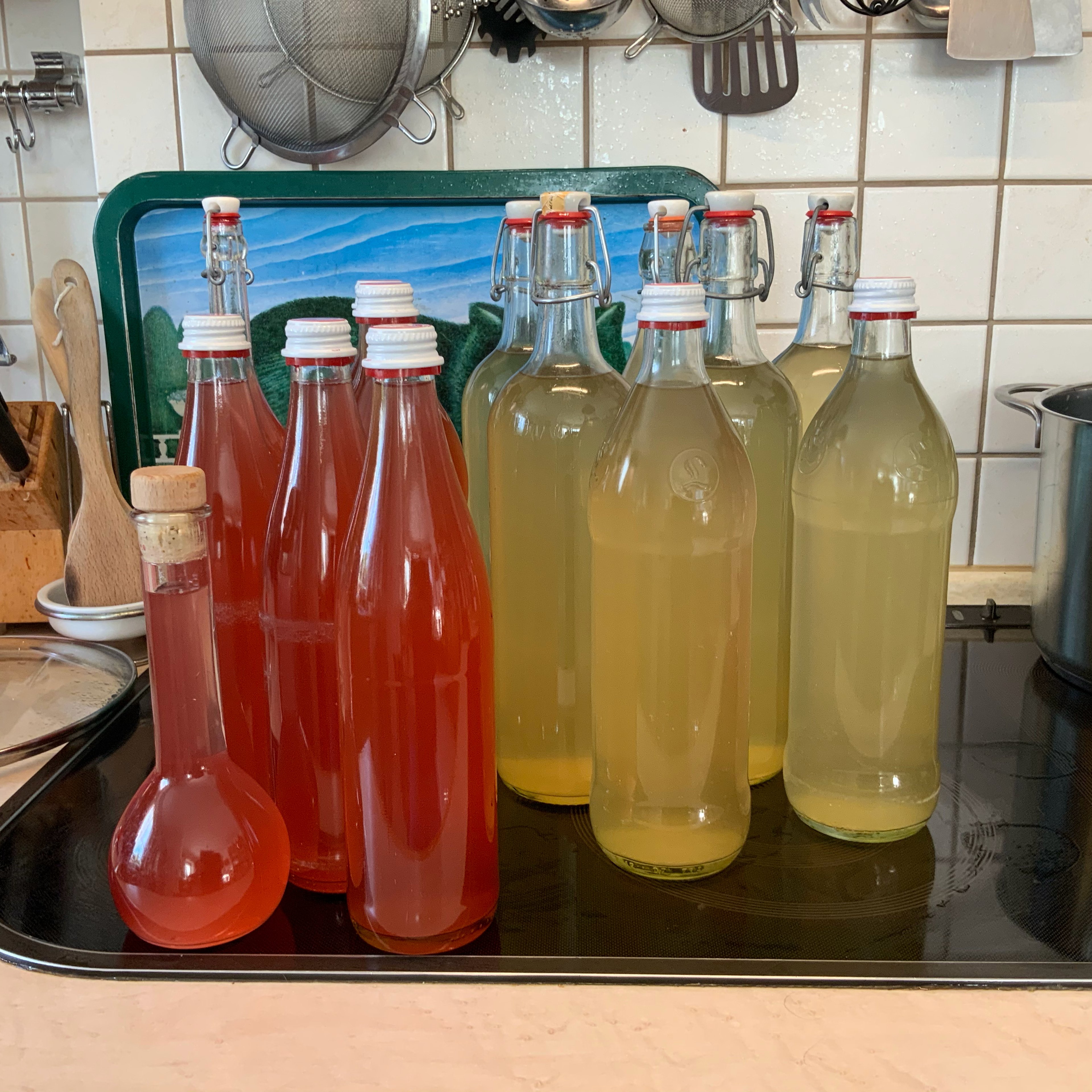 Summery elderflower and rhubarb soda
Step 1/ 9

Collect about 50 elderflowers, at best during the sunny season. Be careful not to shake them around as the more pollen, the more flavor. Any small insects can be skimmed off after soaking. Just avoid any flowers that look they have aphids on them.

Step 2/ 9

Put the elder flowers in about 5 L of water, add the juice of two lemons and another lemon quartered or sliced. It's important to use organic, unwaxed lemons! This process is called cold maceration: here the flowers are left for 2 to 2 days max to macerate.

Step 3/ 9

After macerating for 2-3 days. Strain the mixture through a sieve and into a large pot. Heat the flower maceration, add about 1.5 - 2 kg of sugar and bring to a boil briefly. Skim off any small blossoms that rise to the top. Finally, add the citric acid.

Step 4/ 9

Allow the syrup to cool slightly, skim off any solids again, and then bottle using a funnel.

Step 5/ 9

You can make delicious elderberry or rhubarb sorbet from both syrups. To do this, fill 300 - 400 ml of syrup into an ice cream maker. Depending on the ice cream maker, the sorbet is ready in 30 - 60 minutes. Even without an ice cream maker, a sorbet can be made with a little effort. To do this, also put 300-400 ml of syrup in a plastic container in the freezer and stir every 1/4 hr. in the beginning, and then every 1/2 hrs. until a fine, crystalline sorbet is formed.

Step 6/ 9

For the rhubarb syrup, trim the ends of 2 kg of rhubarb, peel if needed, and cut away any brown spots. Young rhubarb requires little to no peeling.

Step 7/ 9

Cut the rhubarb into 2cm pieces and boil in 4 L of boiling water, without sugar first, and then simmer for 30 minutes. Let the rhubarb broth cool to room temperature.

Step 8/ 9

Strain the warm rhubarb mixture through a sieve lined with a kitchen towel. Then boil the mixture again with about 1kg sugar for about 10 minutes. Skim off any solids that rise to the top. Add the citric acid and then bottle warm. The cooked rhubarb in the sieve can be spiced up with a little vanilla or vanilla sugar, a pinch of cinnamon and cardamom to make a delicious rhubarb compote. It tastes delicious with vanilla pudding. It's also suitable as a rhubarb cake base.

Step 9/ 9

The citric acid brings both a sparkling acidity to the syrup and also serves as a preservative. The elderflower and rhubarb syrup can be stored at cellar temperature for 6-9 months. In our experience, however, it is consumed much faster! It is also suitable as a sauce for ice cream or pancakes. Simply delicious, fresh and tastes nothing like industrial products. "It simply tastes like childhood memories."

Cheers!
More delicious ideas for you