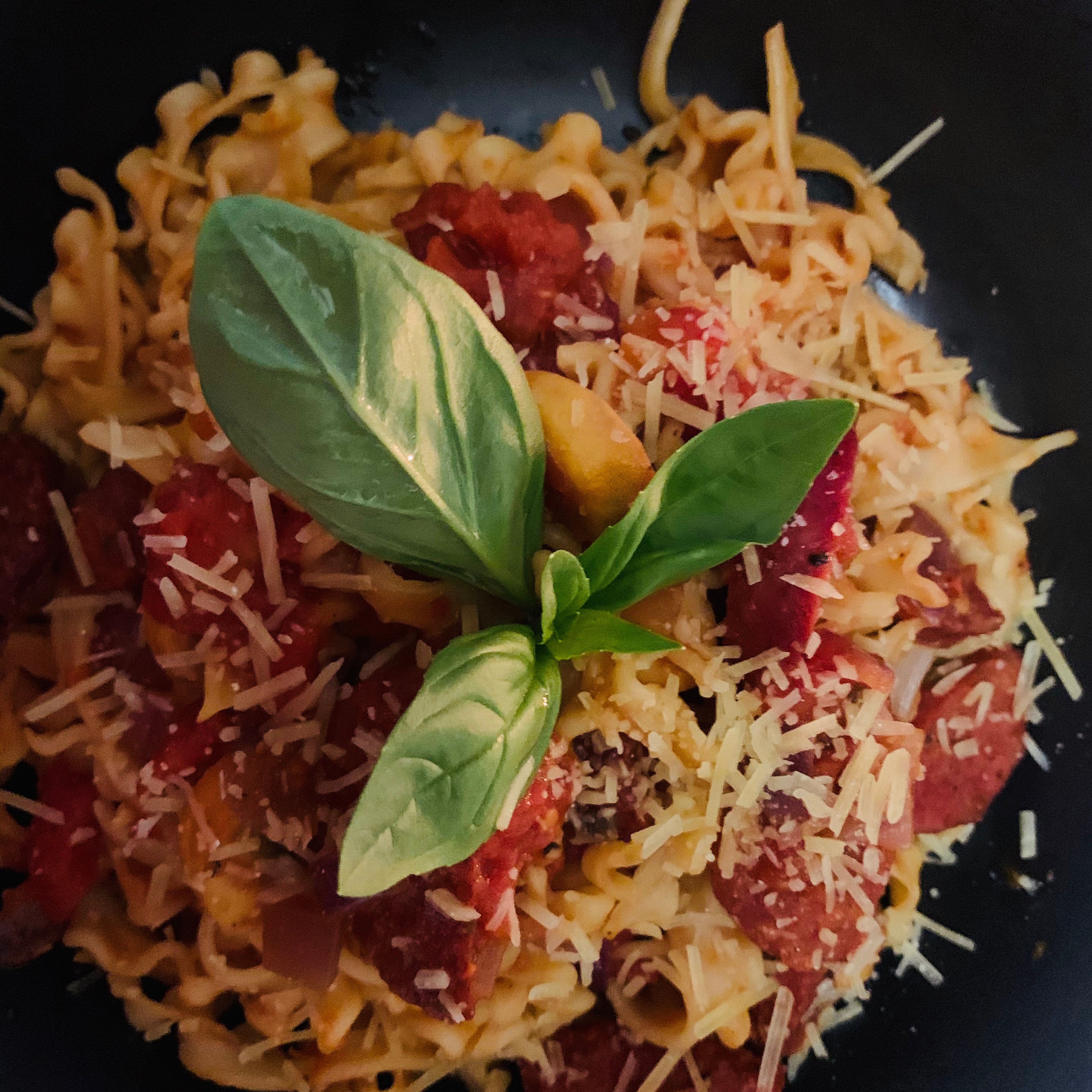 Sucuk sausage pasta with Turkish tomato paste
"Sucuk (beef Turkish sausage) is a versatile type of meat to cook with which can be eaten for breakfast linch or dinner. It's aromatic spices gives this dish a flavoursome and comforting feeling"
Ingredients
dried Italian herb mixture
grated Parmesan cheese (for garnish)
Utensils
pot, Knife, 2 cutting boards, frying pan, Metal spatula, cast iron pan
Recipes made to your taste
Get your personalized recipe picks in 10 seconds.
Step 1/ 11

200 ml

Pasta stock

125 g

Curly fettuccine

1 pinches

salt

Cook pasta in boiling water and add a pinch of salt.Once al dente remove from heat and keep pasta stock

Step 2/ 11

½

red onion

2½

button mushrooms

Finely chop onion and thinly slice mushrooms

Step 3/ 11

Slice Sucuk in half and slice to preferred thickness

Step 4/ 11

Add 1 tbsp olive oil into cast iron frying pan.Fry Sucuk once oil and pan is hot for 1-2 mins each side.Remove from heat and set aside

Step 5/ 11

Turn stove to high heat.Fry onion until aromatic (use same frying pan as Sucuk excess oil from sausage will seep out and can be used to cook with)

Step 6/ 11

¼ tsp

garlic

½ tsp

dried Italian herb mixture

½ tsp

Butter

Add mushrooms butter garlic dried herbs to pan and cook until golden.

Step 7/ 11

¾ tsp

sugar

¾ tbsp

Turkish tomato paste

1 dashes

pepper

200 ml

canned diced tomatoes

cast iron pan
Metal spatula

Pour canned diced tomatoes Turkish tomato paste pasta stock sugar salt and pepper and stir well

Step 8/ 11

Turn heat down to low heat and simmer for 6-10 minutes

Step 9/ 11

Add cooked pasta 2 minutes before simmering ends

Step 10/ 11

Add cook Sucuk 1 minute before simmering ends and remove from heat

Step 11/ 11

1½ pinches

grated Parmesan cheese (for garnish)

2½ leaves

basil

Garnish with Parmesan and basil

Enjoy your meal!
More delicious ideas for you