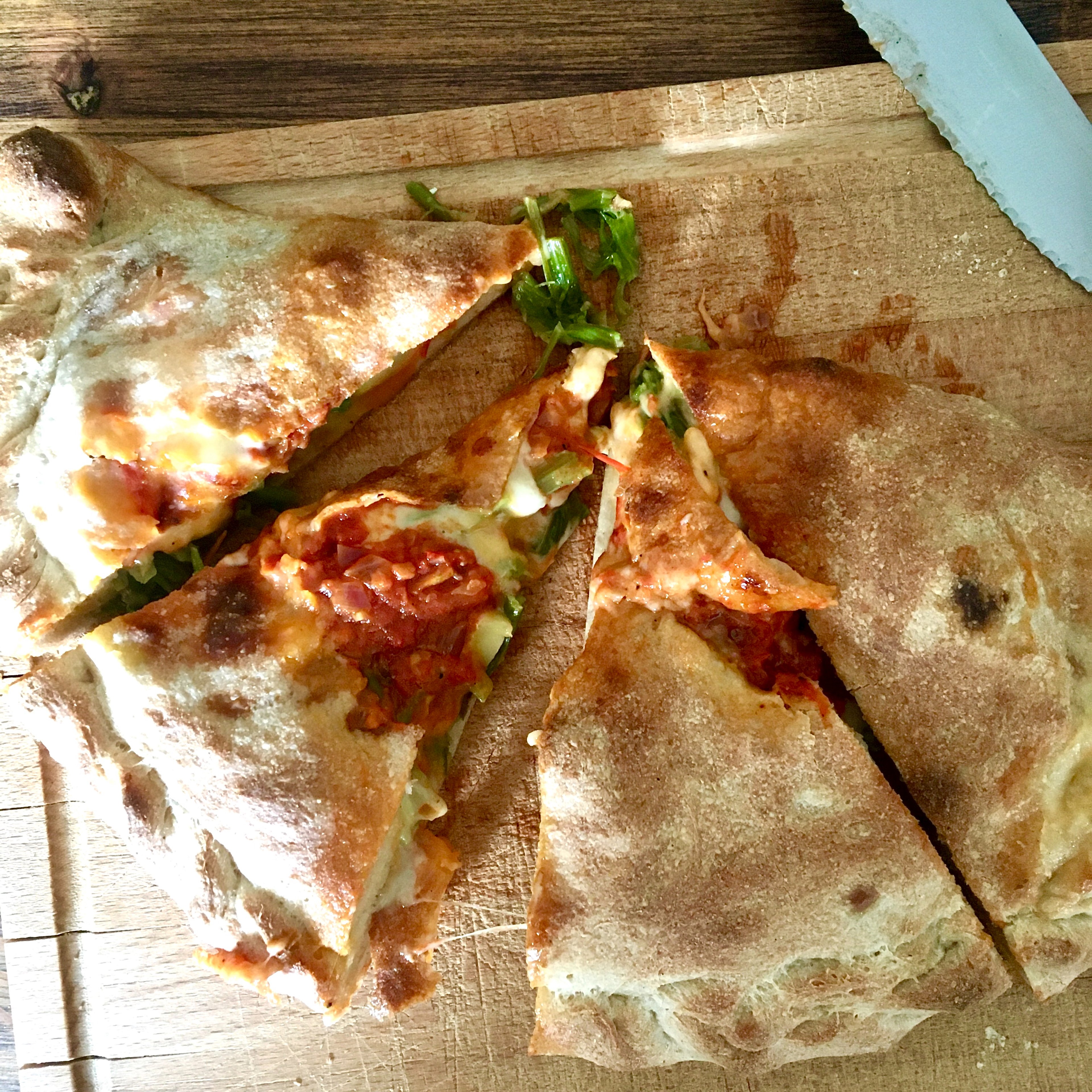 Spinach-Zucchini Calzone with Hot Tomato Sauce
"Easy but delicious... Enjoy!"
Utensils
bowl (large), kitchen towel (damp), oven, 2 baking sheets, saucepan (small), sauté pan (large)
Step 1/ 8

300 g

flour

180 ml

water

¼ tsp

instant yeast

¾ tsp

salt

olive oil

bowl (large)
kitchen towel (damp)

Mix the flour, water and yeast in a large bowl. Add the salt and knead the dough until elastic and smooth, 8-9 min. Drizzle a bit olive oil in the bowl and swirl to coat the bottom. Place the dough into the bowl and move it around so the sides and top are all coated with oil. Cover with a damp kitchen towel and let rise for 3:30-4 hours, until puffed and doubled in size.

Step 2/ 8

Carefully transfer the risen dough onto a floured work surface and fold for 2-4 times. Divide in two and cover again with the damp towel for second rise, about 30-45 min. Meanwhile, prepare the filling, preheat the oven to 240 C and lightly grease a large baking sheet.

Step 3/ 8

4

tomatoes

1 tsp

chili flakes

½ tsp

dried oregano

1½ tbsp

balsamic vinegar

salt

pepper

1

onion

2½ cloves

garlic

Finely chop the onion and tomatoes. Add a bit olive oil and onion to a pan and cook over medium heat until translucent. Mince the garlic cloves but reserve about half of a clove for later. Add the rest with chili and oregano to the pan. Pour in the tomato and continue cooking until saucy and thickened, about 10-12 min. Stir in the balsamic vinegar for the last 1-2 min. Season to taste with salt and pepper. Remove from the heat and set aside.

Step 4/ 8

Cut zucchini into matchsticks or half-moon rounds. Add to a large pan over medium heat with a drizzle of olive oil. Cook for 3-4 min. until a bit soften. Season to taste with salt & pepper. Remove from the heat.

Step 5/ 8

150 g

spinach

3 tbsp

sun-dried tomatoes

150 g

mozzarella cheese

100 g

cheddar cheese

2 tbsp

Parmesan cheese (grated)

Chop the spinach if needed. Add a few drops olive oil into the same pan over medium heat. Add half of a tsp minced garlic (reserved from before) followed by spinach. Sauté until wilted. Season well with salt and pepper, then remove from the heat. Tear the mozzarella into pieces, chop the cheddar cheese and sun-dried tomatoes if needed and finely grate the Parmesan cheese.

Step 6/ 8

Carefully flatten one of the dough pieces. Add half of spinach, zucchini, mozzarella, cheddar, sun-dried tomatoes and Parmesan. Add a good amount of tomato sauce, approximately 2-4 tbsp. Fold the dough in half and seal the edges. Repeat with the second dough. Cut 2-3 scores over each calzone and place them on the baking sheet.

Step 7/ 8

Bake the calzones at the bottom third of the oven for 12-14 min. until the tops are golden and crusty. Remove from the oven and let rest for at least 5-10 min.

Step 8/ 8

Serve the calzones with remaining tomato sauce, preferably a good wine and some light green salad. Enjoy with your best mate!

Enjoy your meal!
More delicious ideas for you