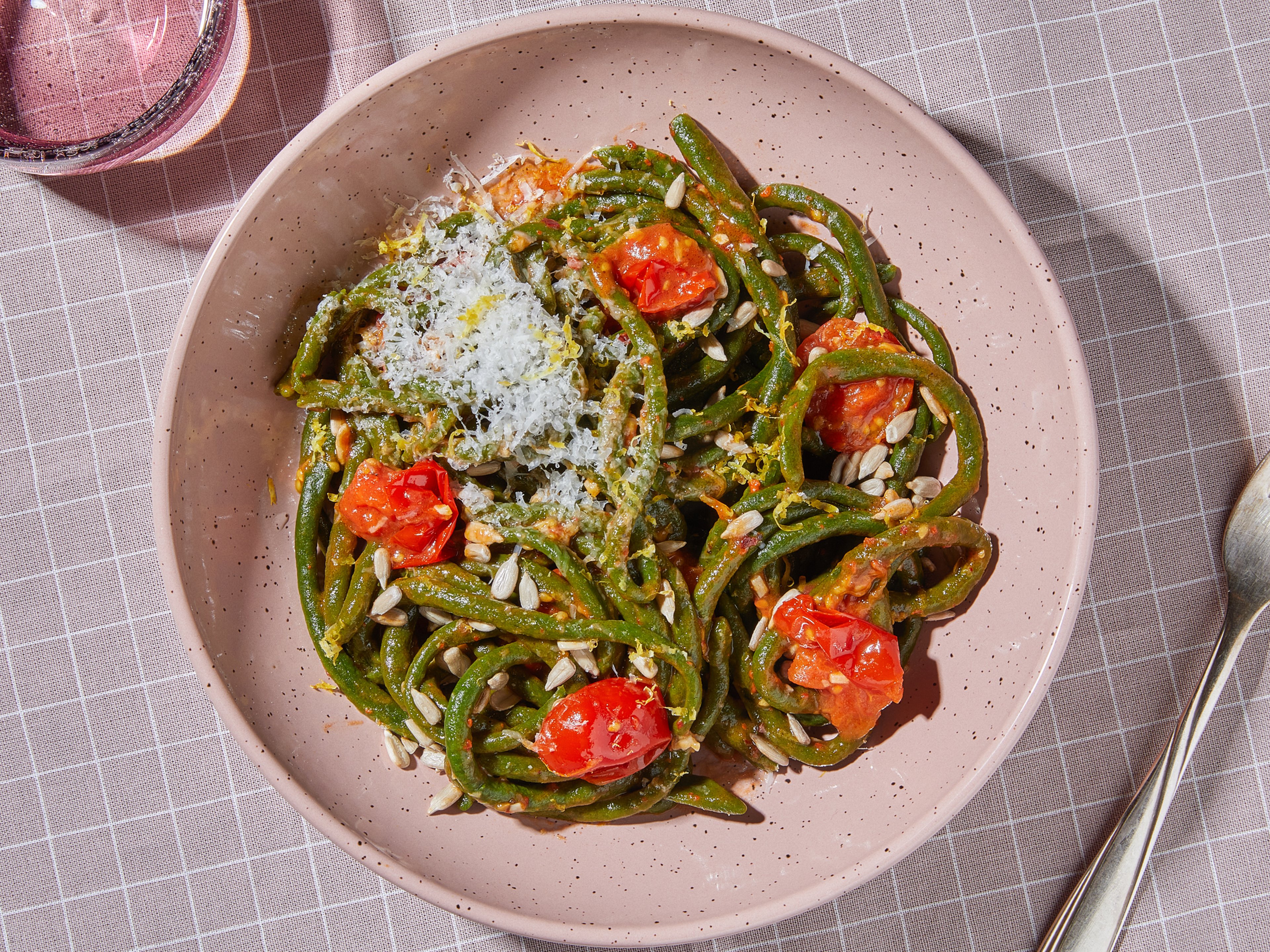 Spinach pici pasta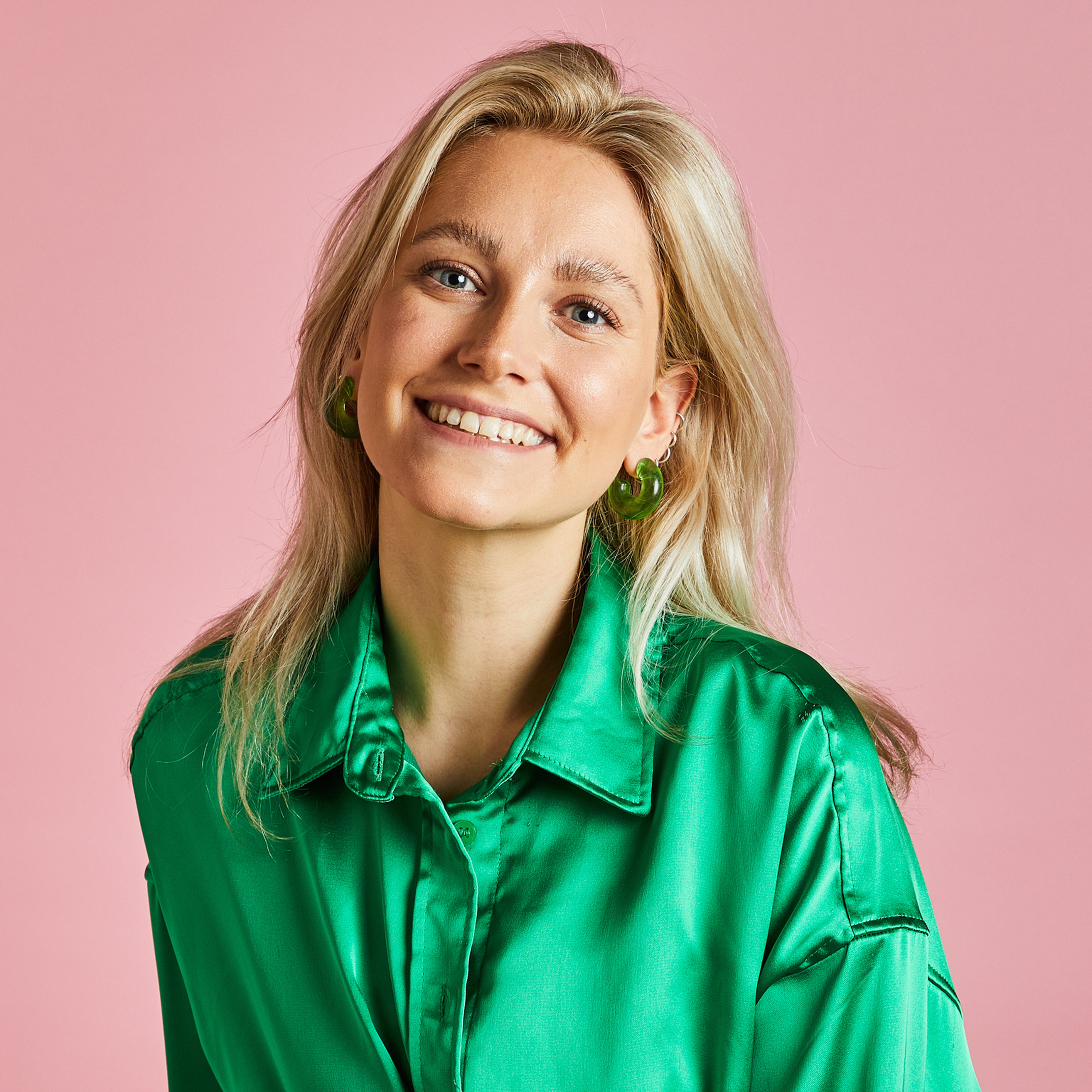 Food Editor at Kitchen Stories
"What looks like green beans at first sight is actually a bright green version of Tuscan pici pasta. Think of them as a thicker hand-rolled spaghetti. Sounds like a lot of work? In fact, these homemade pastas can be made in no time at all. Also, they are allowed to all look a little different, so feel free to have busy helpers (big or small!) lend a hand while you shape them (I had my nostalgic Play-Doh moment too!). It's best to make sure the spinach is well-dried before you add it to the blender, so it doesn't add too much moisture to the pasta dough. To keep costs down, we went for sunflower seeds here, but if you have pine nuts, cashews, etc. in your pantry, feel free to upgrade your pasta with those as well. You can also serve it with roasted vegetables, your favorite pesto, or the classic way with a ragù."
Ingredients
Parmesan cheese (for garnish)
Utensils
knife, cutting board, blender, bench scraper, plate, pot (large), frying pan, cooking spoon, ladle, fine grater
How-To Videos
How to make fresh pasta
How to prepare garlic
How to cook pasta
Step 1/ 4

1 clove

garlic

250 g

cherry tomatoes

150 g

baby spinach

230 g

flour

1 pinch

salt

knife
cutting board
blender

Chop garlic and halve cherry tomatoes. Add baby spinach, flour, and pinch of salt to a stand mixer. Continue on high speed until everything is well combined and has come together as a dough. The dough should not be sticky and should feel well kneaded, so add a little more flour if needed. Remove the dough from the mixer and form into a ball.

Step 2/ 4

To shape the pasta, cut off about 2 cm/3/4 in balls in size from the dough mixture. Then, with lightly floured hands, roll out on a clean work surface into long, thin logs. These may be of different lengths, but should be slightly less than 0.5cm/0.2in in diameter. Continue with remaining dough. Place the finished pasta on a lightly floured plate.

Step 3/ 4

20 g

sunflower seeds

5 tbsp

olive oil

1 tsp

chili flakes

salt

pot (large)
frying pan
cooking spoon

Bring a large pot of salted water to a boil. Meanwhile, in a dry pan, toast sunflower seeds over medium-high heat, tossing often, until slightly browned. Remove and set aside. Add olive oil to the used pan and heat. Add garlic and chili flakes, sauté briefly until fragrant, about 1 – 2 min. Now add cherry tomatoes and continue sauté for about 2 min.

Step 4/ 4

120 ml

pasta water

salt

pepper

Parmesan cheese (for garnish)

lemon zest (for garnish)

Once the water boils, add the pasta to the pot and cook until it floats to the surface, about 1 – 2 min. Remove cooked pasta from the water with a slotted spoon and add to the pan along with a ladleful of pasta water. Toss well and season with salt and pepper. Serve with grated Parmesan cheese, some fresh lemon zest and toasted sunflower seeds. Enjoy!

Enjoy your meal!
More delicious ideas for you