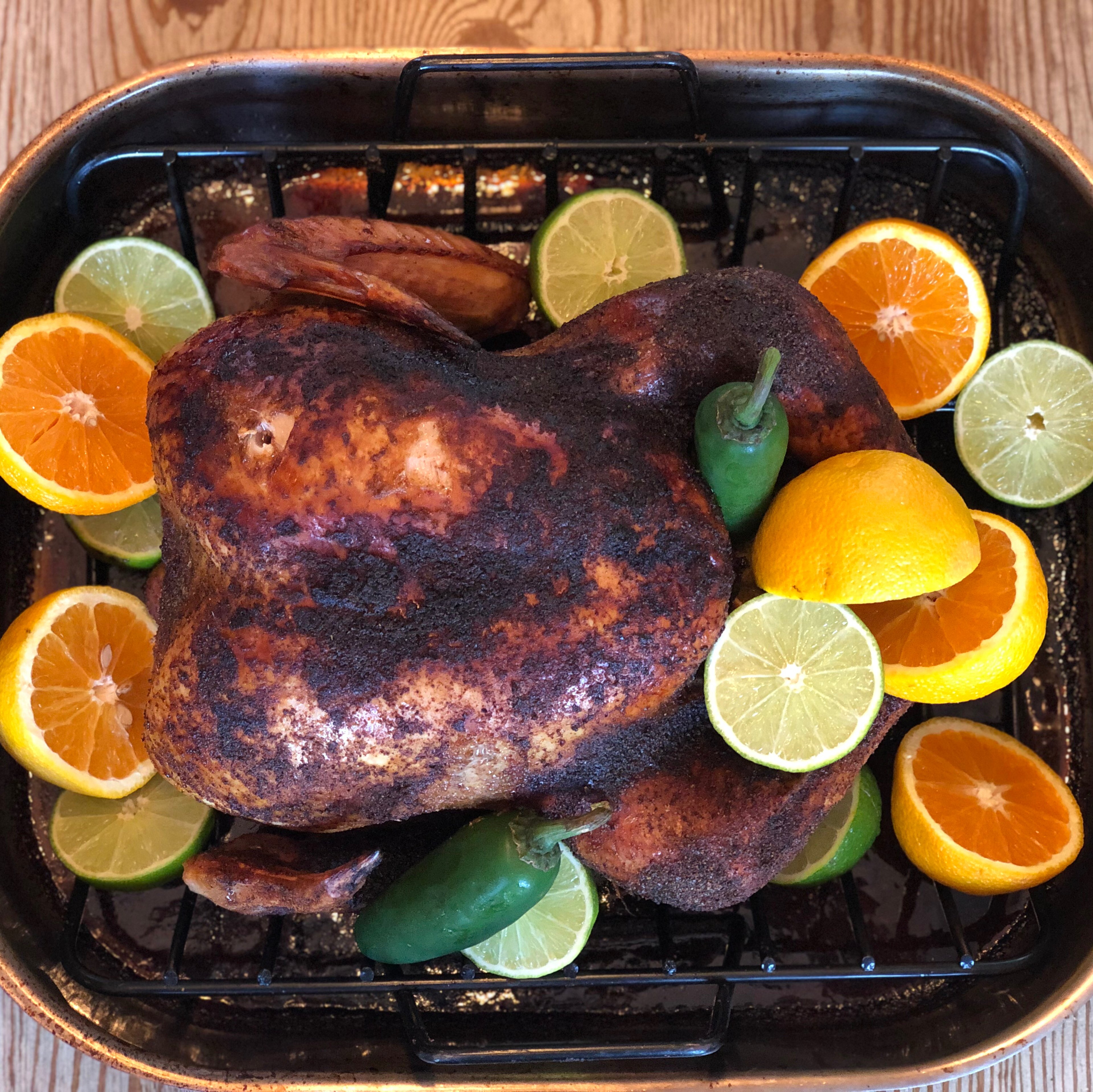 Spicy Partáy Turkey – Brined in a Blue Agave Margarita
"It's almost Thanksgiving, which means it's time for a Partáy! Sure, you could cook your turkey like everyone else, but why be boring? Here's a recipe worthy of the best holiday of the year because, well….food, drinks, family, and football is all that matters. The only good turkey is one that's extra juicy. Brining that bird 8-24 hours before you cook it is how you make it happen. The trick to the perfect brine is the right mix of flavor, salt, citrus, and alcohol."
Ingredients
Partay Key Lime Margarita
Step 1/ 9

Combine water, Partáy key lime margarita, salt and agave nectar in a pot and heat and stir until the salt is dissolved.

Step 2/ 9

Cool the liquid (pro tip – you can do this by adding ice cubes).

Step 3/ 9

While the liquid cools, rinse out your thawed turkey and discard the giblets and neck.

Step 4/ 9

Squeeze and add limes and oranges to the brining base.

Step 5/ 9

Add the jalapeños, cloves and star anise to the brining base.

Step 6/ 9

Move the brining base to a container that will hold the turkey and add the turkey to the brining base, add extra water until the turkey is completely submerged and put in the refrigerator for approximately 8 - 24 hours before cooking.

Step 7/ 9

Remove turkey once it has sat in the brining based for the requisite time, rinse the turkey, and allow it to air dry in the refrigerator for 2 – 3 hours (if you have the time).

Step 8/ 9

Mix all the Spicy Chipotle Dry Rub ingredients together and then liberally apply to turkey, including inside the cavity. Add 4 orange halves and 4 lime halves to inside of the cavity and pour orange juice and 2 cups Partáy Key Lime Margarita into the base of the roasting pan. Bake in oven for 13 minutes per pound at 350 degrees on a rack adjusted to the lowest position. Cover after 1 hour and baste with extra Partáy Margarita. Cook until the internal temperature reaches 165 degrees.

Step 9/ 9

Once cooking is complete let the Turkey rest for 15 minutes. And then slice and serve! Enjoy.

Enjoy your meal!
More delicious ideas for you