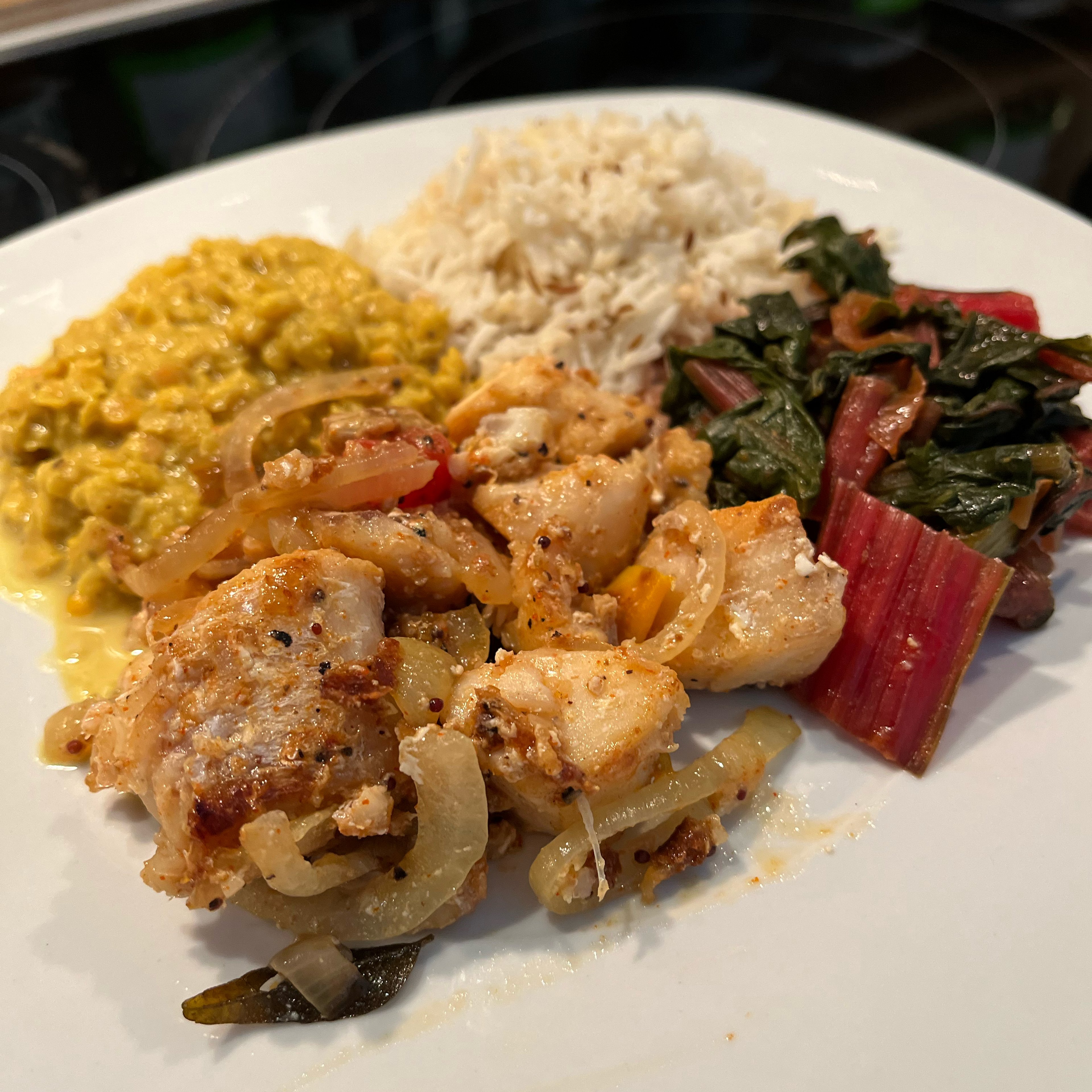 Simple Fish Thel Dala (Srilankan)
"This is our favorite dish for a quick weeknight lunch or dinner. It's main staples are fish flavored with black pepper an cayenne and lots onions. It is spicy! We usually use redfish but you can also use any other type of sea fish fillets with a firm texture that do not flake too easily."
Step 1/ 7

700 g

redfish fillet

1 tsp

cayenne pepper

1 tsp

black peppercorn crushed

1 tsp

salt

1 tsp

vinegar

Clean and cut fish fillets into bite-sized pieces, marinade with cayenne pepper, black pepper, salt and vinegar for 15min.

Step 2/ 7

Peel and slice onions, dice tomato.

Step 3/ 7

2 tbsp

coconut oil

1 tsp

black mustard seed

1 sprig

curry leaf

1

pandan leaf

1

cinnamon stick

3

cardamom pods

2

cloves

Heat oil in a nonstick pan. Add mustard seeds, cinnamon, cardamom, cloves, pandan and curry leaves. Heat up until mustard seeds pop.

Step 4/ 7

Add onions and chili pepper and fry on medium to high heat till onions soften.

Step 5/ 7

When onions start to turn brown, move onion mix to the side and add fish to the pan and spread out. Cook for 5 min.

Step 6/ 7

Turn fish pieces with a fork carefully and keep cooking on high heat till the water evaporates and fish starts to brown.

Step 7/ 7

When bottom of the fish starts to brown, turn fish and mix with onions, add tomatoes at the end. Sauté for another 2min and remove from heat. Serve with rice, parippu and a vegetable dish, e.g. swiss chard.

Enjoy your meal!
More delicious ideas for you