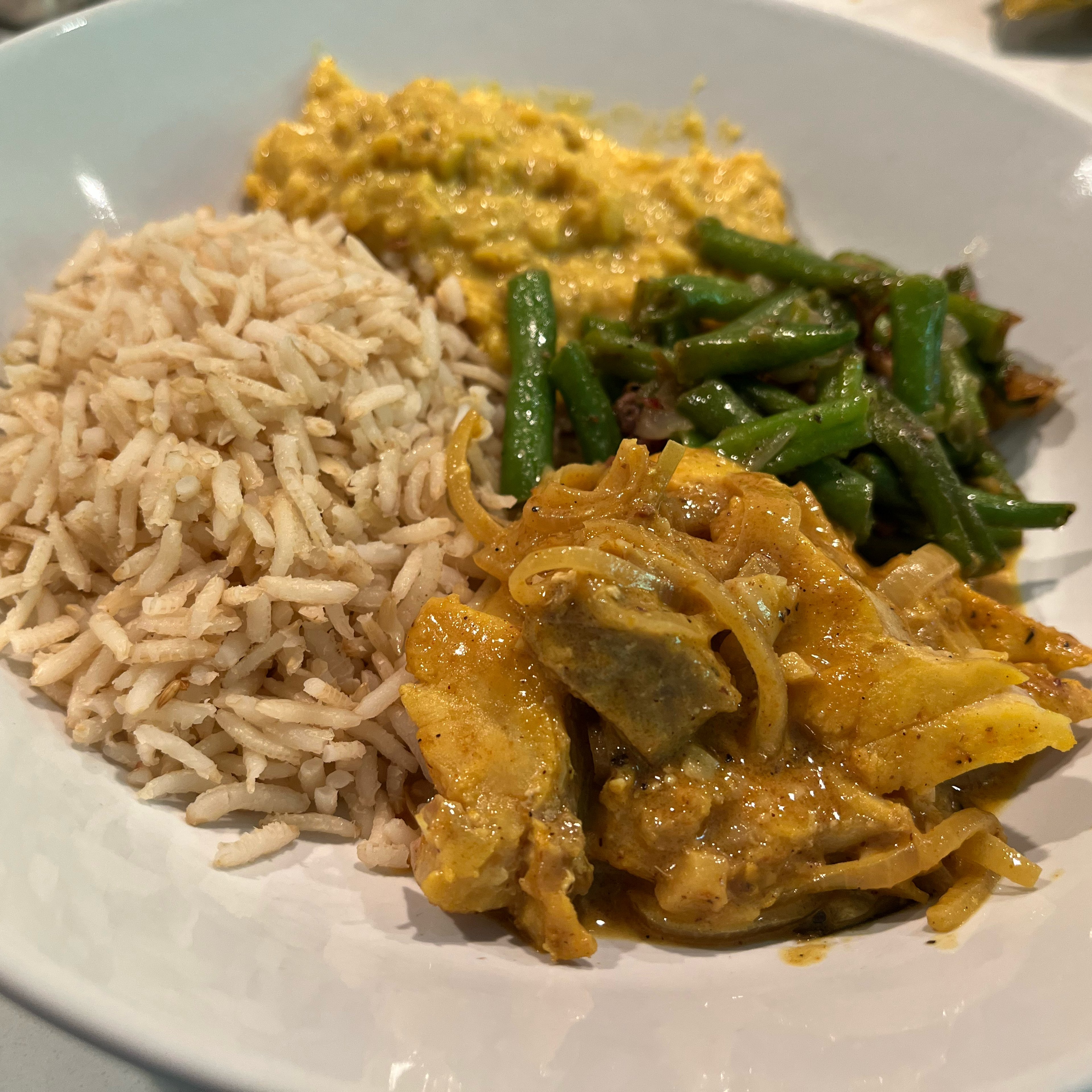 Fried fish curry
"This is a tasty and not too spicy Srilankan fish curry. Firstly, the fish is marinated and fried and set aside while the curry gravy is prepared. Then the fish is added to the gravy at the end. Use a fish with firm texture that keeps its shape. I used red fish, but you can also use dory or red snapper. I served the curry with brown basmati rice, green beans fried with onions and parippu (dhal curry). "
Ingredients
unroasted curry powder (Srilankan)
Utensils
nonstick pan, paper towels
Step 1/ 5

166⅔ g

red mullet fillets

⅓ tsp

salt

⅛ tsp

black pepper

⅛ tsp

ground turmeric

⅓ tbsp

lemon juice

Cut fish into large cubes and marinade with salt, pepper, turmeric and lemon juice while you prepare the remaining ingredients.

Step 2/ 5

⅔

onions

2 cloves

garlic

2 slices

ginger

⅓ sprig

curry leaf

⅓

pandan leaf

⅓ tbsp

tamarind paste

⅓

chili pepper

Slice onions, chop garlic, ginger and chili. Peel and soak tamarind pulp in a table spoon of water. Remove curry leaves from sprig and cut a piece of pandan leave.

Step 3/ 5

Heat coconut oil in the pan and fry fish until light golden brown. Then remove from pan and drain oil on kitchen paper towels.

Step 4/ 5

½ tsp

cayenne pepper

⅓ tsp

unroasted curry powder (Srilankan)

133⅓ ml

coconut milk

Fry onion with curry leaves and pandan leaf 1-2 min. Add ginger, garlic, chili pepper, cayenne pepper and curry powder. Stir fry for 2-3 min. At last add tamarind paste and coconut milk, and simmer gravy until thick.

Step 5/ 5

Add back the pieces of fish to the gravy and simmer until a thin film of oil appears on the surface , about 15min.

Enjoy your meal!
More delicious ideas for you