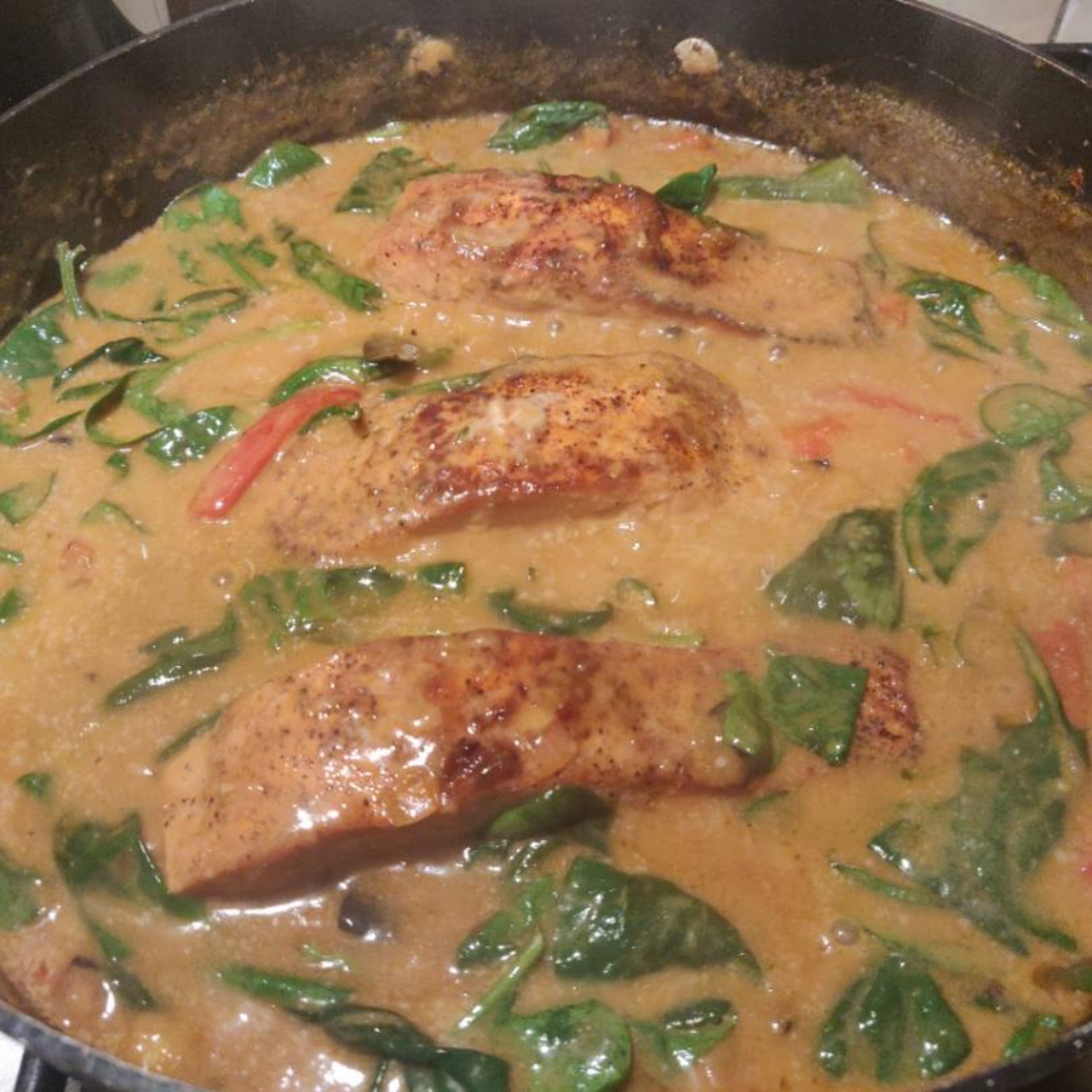 Ingredients
garlic powder (for marinating)
ginger (grated, for breading)
Utensils
frying pan (deep)
Step 1/ 9

salt (for marinating)

pepper (for marinating)

¼ tsp

garlic powder (for marinating)

Season salmon fillets with salt, pepper and garlic powder. Allow to marinate for 30 mins.

Step 2/ 9

180 g

salmon fillets (skin-on)

7½ ml

olive oil

Heat a skillet or grill pan and sear fish 2 or 3 mins per side leaving it raw in the centre. Set aside onto a plate.

Step 3/ 9

1½ cloves

garlic

5 g

ginger (grated, for breading)

½

red bell pepper

¼

eggplant

½

onion

Finely chop onion, mince garlic and grate ginger. Heat olive oil in pan. Saute onion, garlic and ginger until fragrant. Add in chopped red bell pepper and cubed eggplant and saute for 3 to 5 mins.

Step 4/ 9

1 tsp

brown sugar

2

curry leaves

½ tsp

chili flakes

1 tbsp

Thai red curry paste

Add Thai red curry paste, brown sugar and curry leaves, chili flakes and cook for 3 or 4 minutes until the paste has darkened in color.

Step 5/ 9

400 ml

coconut milk

1 tsp

fish sauce

Pour in coconut milk, whisk to ensure the paste dissolves into the milk. Add fish sauce and bring to a slow simmer.

Step 6/ 9

Place fish into sauce and allow it to simmer for an additional 8 mins or so until the fish is completely cooked inside but still flakey (this may depend on the thickness of your fillet).

Step 7/ 9

Add in the juice of half a lime.

Step 8/ 9

Add in spinach and stir until wilted.

Step 9/ 9

Serve with rice

Enjoy your meal!
More delicious ideas for you