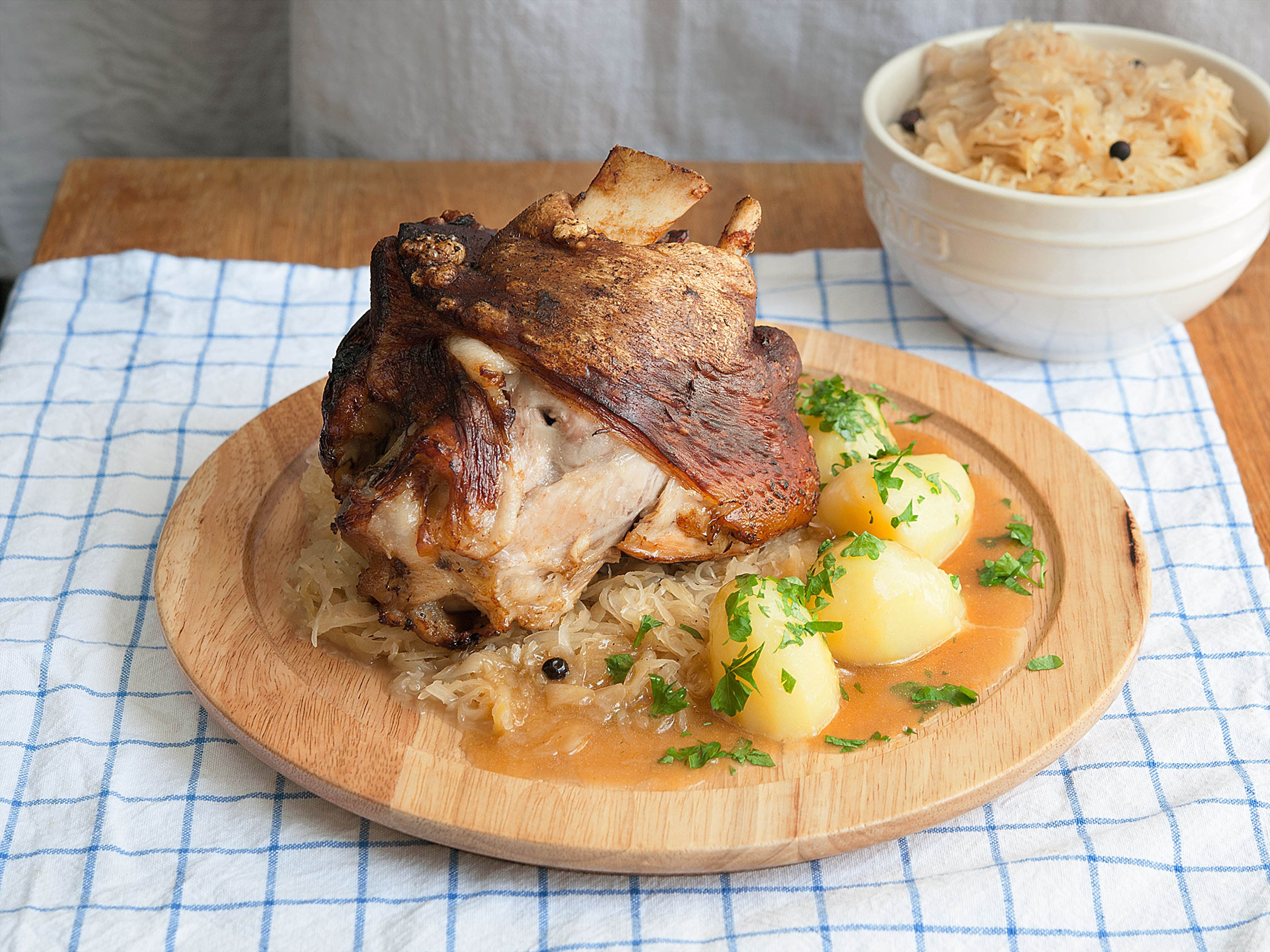 Roast pork with sauerkraut and potatoes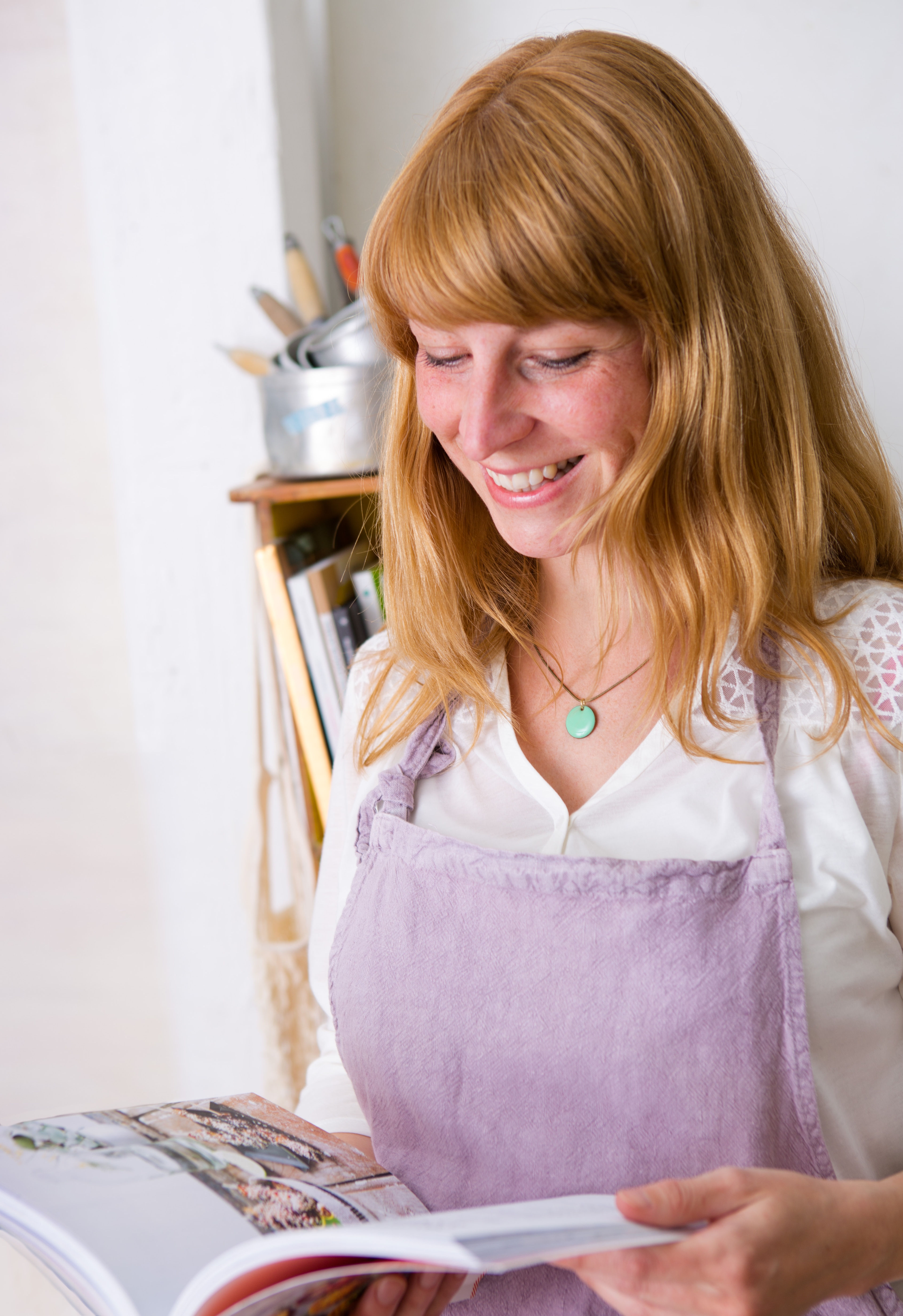 Ingredients
clarified butter (divided)
Utensils
oven, vegetable peeler, large ovenproof pot with lid, cutting board, knife, large saucepan, sieve, medium saucepan, small bowl
How to cut an onion
How to clarify butter
How to prepare sauerkraut
Step 1/ 5

3 cloves

garlic

1

carrots

1

leeks

3 stalks

celery

1

onions

1½ tbsp

clarified butter

½ l

beef stock

oven
vegetable peeler
large ovenproof pot with lid
cutting board
knife

Preheat oven to 180°C/350°F. Peel and roughly chop garlic, onions, carrots, leeks, and celery. Melt clarified butter in a heavy-bottomed, ovenproof pot and sauté vegetables for approx. 5 min. over high heat. Deglaze with some beef stock, bring to a boil, then reduce heat and continue to simmer for approx. 10 min.

Step 2/ 5

1

pork legs

2 tbsp

vegetable oil

1 tbsp

salt

1 tbsp

caraway seeds

1 tbsp

pepper

250 ml

wheat beer

Wash pork and pat dry. Mix vegetable oil, salt, caraway seeds, and pepper, then rub pork with mixture until coated. Place pork on top of vegetables in pot. Roast in the lower third of the oven at 180°C/350°F for approx. 60 min. Pour wheat beer over the pork and continue to roast for approx. 45 min.

Step 3/ 5

½

onion

¼ tbsp

clarified butter

½ kg

sauerkraut

50 ml

white wine

1

bay leaves

½ tsp

juniper berries

62½ ml

beef stock

salt

pepper

large saucepan
cutting board
knife

For the sauerkraut, peel and finely dice onion. Melt remaining clarified butter in a large saucepan set over medium heat and sauté onions for approx. 2 min. Add sauerkraut and white wine and simmer for approx. 5 min. Add bay leaves, juniper berries, and remaining beef stock. Season with salt and pepper. Reduce heat to low, cover with a lid, and simmer for approx. 30 min.

Step 4/ 5

large saucepan
vegetable peeler

Peel and quarter potatoes. In a large pot, bring salted water to a boil, then add potatoes. Cook for approx. 20 min., or until potatoes are knife tender. Drain and keep warm.

Step 5/ 5

½ tbsp

starch

½ tbsp

water

salt

pepper

sieve
medium saucepan
small bowl

Remove pot from oven, take out the pork and place it onto an oven rack. Turn up the heat to 200°C/400°F and roast the pork again in the oven for approx. 10 min., or until golden brown and crispy. Remove from oven and set aside. Pass pork drippings through a sieve into a medium saucepan and let simmer over medium heat. In a small bowl, mix starch and water to make a slurry, then add to sauce. Simmer sauce until thickened. Season with salt and pepper and serve together with pork, sauerkraut, and potatoes. Enjoy!

Enjoy your meal!
More delicious ideas for you