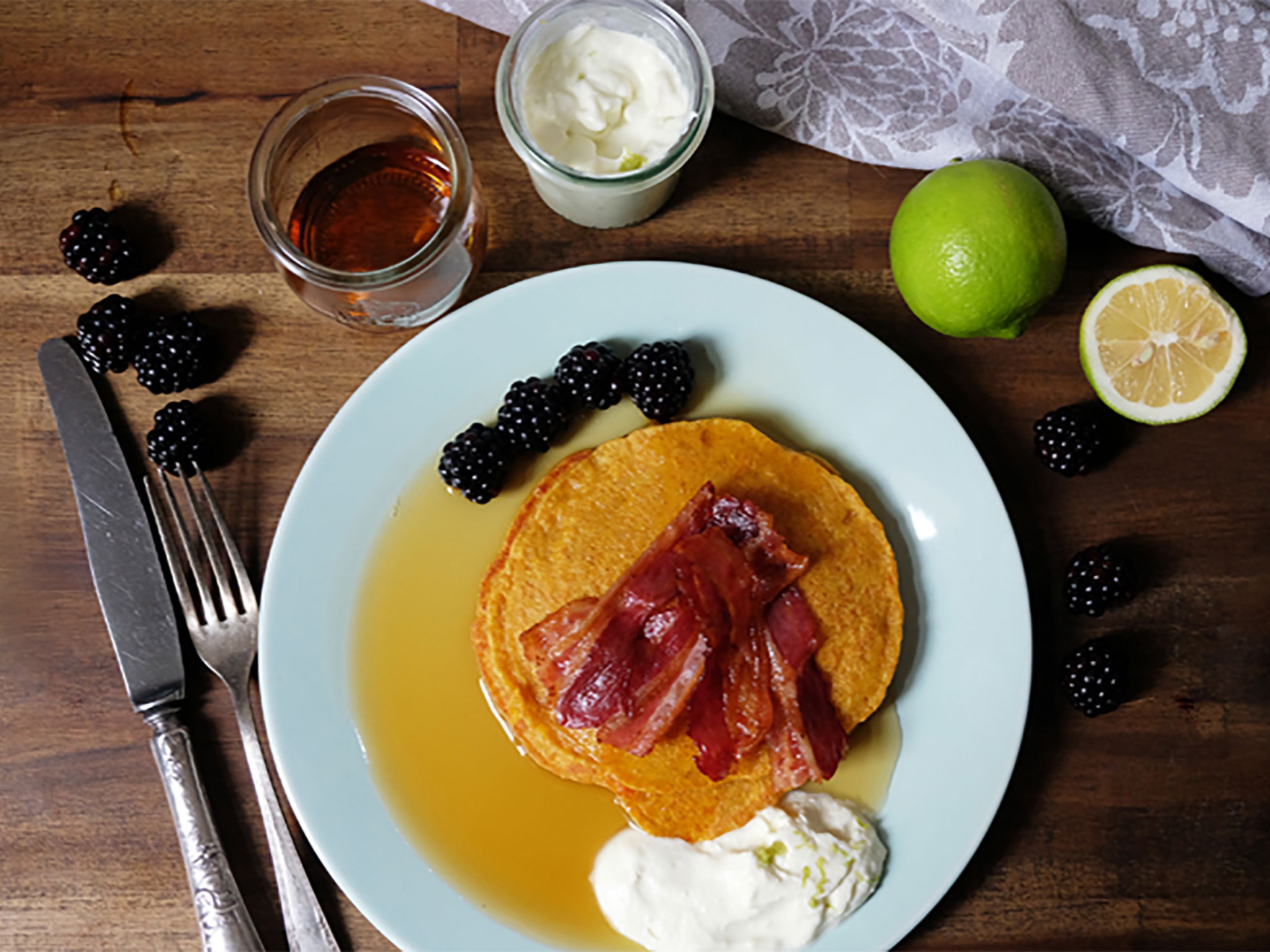 Pumpkin pancakes with bacon and blackberries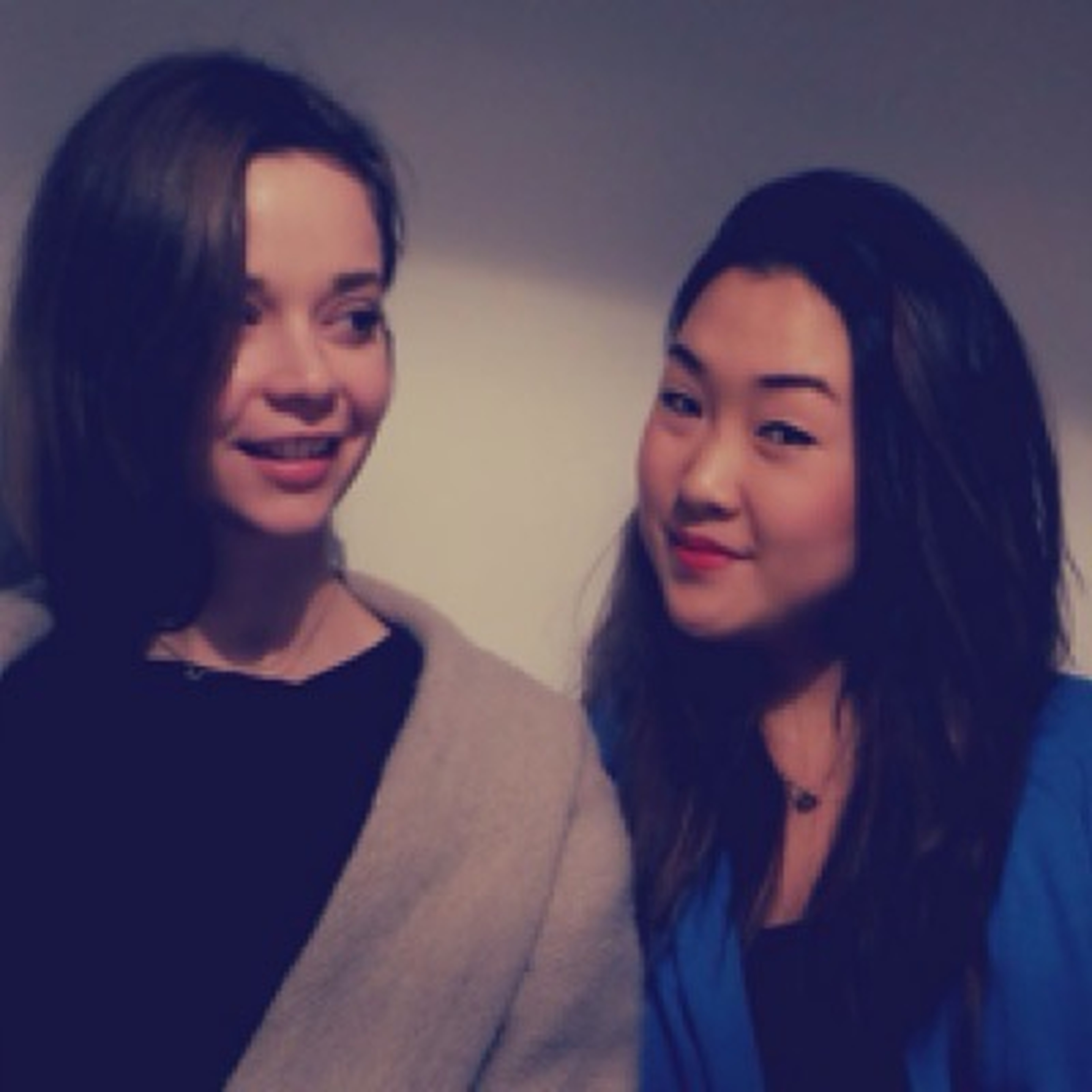 "Pumpkin is very versatile and can be used for far more than just roasted vegetables and soups. Although this recipe is too time-consuming for a quick weekday breakfast, it is perfect for brunch or as a hangover cure after a long party weekend."
Ingredients
clarified butter for frying
Utensils
baking dish, oven, aluminum foil, cutting board, knife, fine grater, citrus press, small bowl, immersion blender, large bowl, 2 large bowls, hand mixer with beaters, rubber spatula, frying pan
Homemade buttermilk
How to fry bacon
Homemade vanilla sugar
How to beat egg whites
Homemade pumpkin purée
How to clarify butter
How to separate eggs
How to cut Hokkaido pumpkin
Step 1/ 7

baking dish
oven
aluminum foil
cutting board
knife

Pre-heat the oven to 200°C/400°F. Wash, core, and cut pumpkin into small chunks. Place them in a baking dish and cover with aluminum foil. Bake for approx. 40 min. until soft. (You can also use your microwave—should be quicker.)

Step 2/ 7

120 g

mascarpone

2 tbsp

buttermilk

½

lemon (juice)

1

lemon (zest)

1 tbsp

sugar

125 g

blackberries

fine grater
citrus press
small bowl

In the meantime, combine mascarpone, part of the buttermilk, lemon juice and zest. Add some sugar to taste. Put mascarpone mixture in a bowl and store in your refrigerator. Wash blackberries and set aside.

Step 3/ 7

immersion blender
large bowl

Purée pumpkin flesh when soft.

Step 4/ 7

2

eggs

330 ml

buttermilk

230 g

wholemeal flour

2 tsp

baking powder

2 tbsp

sugar

1 tsp

vanilla sugar

¼ tsp

ginger

¼ tsp

nutmeg

1 tsp

cinnamon

¼ tsp

salt

2 large bowls
hand mixer with beaters
rubber spatula

To make the pancake batter, separate eggs and beat the egg whites until stiff. In another bowl, combine and whisk the remaining buttermilk, flour, pumpkin purée, baking powder, remaining sugar, vanilla sugar, spices, salt, and egg yolks. Carefully fold in the egg whites. If you prefer your mixture more liquid, add some extra buttermilk.

Step 5/ 7

clarified butter for frying

Heat up a frying pan, add clarified butter, and fry each pancake on both sides on medium heat.

Step 6/ 7

At the same time, heat up a second pan and fry the bacon until crisp.

Step 7/ 7

Serve pumpkin pancakes with blackberries, crispy bacon, mascarpone cream, and maple syrup.

Enjoy your meal!
More delicious ideas for you