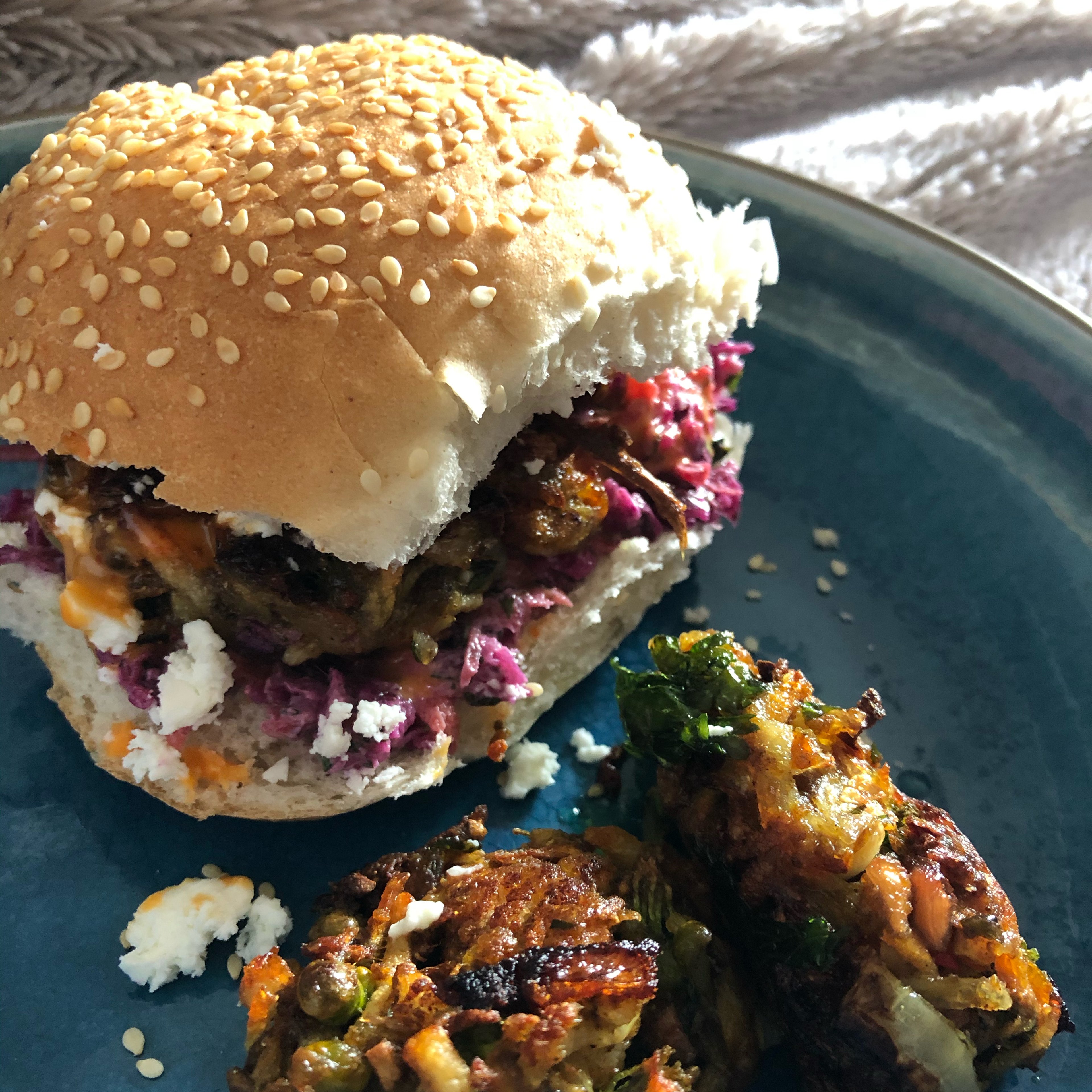 Pakora burger
"Pakoras were my favourite snack to eat in India and I always asked waiters or chefs questions and took note. This is one of my favourite recipes as I have returned vegetarian and reminds me of India with every bite."
Ingredients
feta cheese (for garnish)
vegetable oil (for deep frying)
Step 1/ 7

Get the potato, 4 of the carrots, ginger and garlic and grate them in to a bowl. Then brake the broccoli in to small pieces. Dice the onion, cilantro and chilli.

Step 2/ 7

Crush all the spices. Only using half of the ground cumin. Wait to add the pomegranate seeds separately.

Step 3/ 7

Add all the spices and the flower and mix thoroughly. You will not need to add any water because of the potatoes. I use my hands to mix but you can use a spoon of course.

Step 4/ 7

Add the 1 whole lime zest and the dried pomegranate seeds and mix some more. Cover and set aside.

Step 5/ 7

With remaining carrots, grate them and add them to a bowl of the grated cabbage. Add a generous amount of cilantro chopped finely. Add the remaining half a teaspoon of ground cumin, a pinch of salt and pepper, the juice from the lime, and the yogurt. Mix all together and you have the Indian slaw.

Step 6/ 7

Add about 1cm of veg oil to a pan and heat. Add about 1 and a half tablespoons of the mix per burger and fry evening on each side. Each side should take 1-2 minutes.

Step 7/ 7

Add the slaw, sriracha mayo and pakora to the slightly toasted burger bun. Sprinkle some feta on top and enjoy.

Enjoy your meal!
More delicious ideas for you