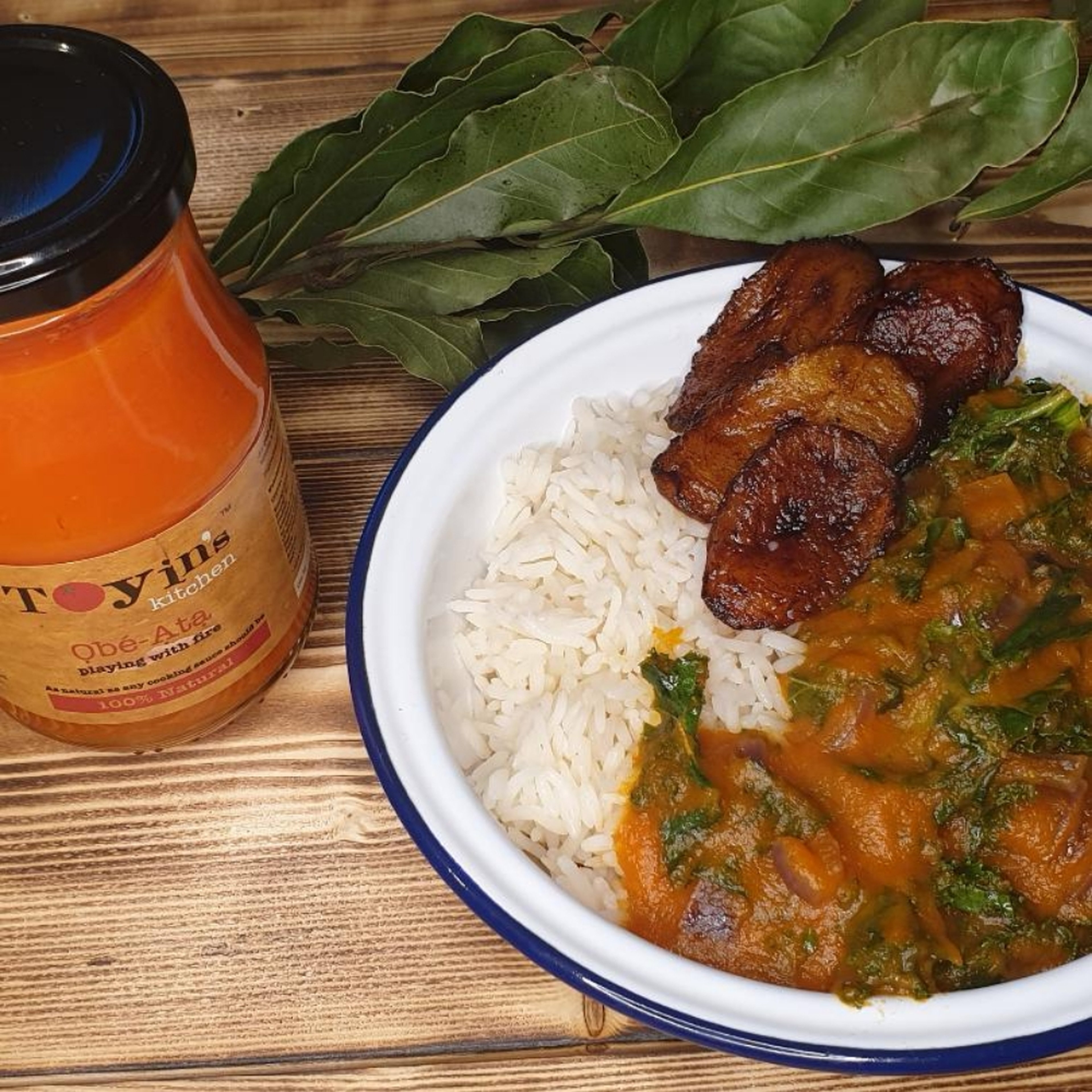 Nigerian Kale Stew (Vegan)
"In Nigeria we love our stews especially red stews. This Stew is a quick and easy recipe I have made using the hottest strength of Obe-Ata called Playing with Fire. I wanted to eat something extremely spicy and tasty but quick to prepare. No chopping chillies tonight! I used Kale after blanching and added to the Stew.This took me a total of 10 minutes to prepare and it was really tasty"
Ingredients
Jar of Obe-Ata available online at wwwtoyinskitchen
Utensils
frying pan, cooking spoon
Step 1/ 11

Fry onions in pan on medium heat for 2 minutes

Step 2/ 11

Add 2 teaspoons of water to further soften the onions and release more of red onion taste

Step 3/ 11

Give your jar of Obe-Ata a good shake as it does not contain thickening agents or emulsifiers. Obe-Ata is a totally 100% natural cooking sauce and does not contain any hidden salt, sugar and emulsifiers so always shake your jar before use.

Step 4/ 11

Gently pour in your Obe-Ata from Toyin's Kitchen.

Step 5/ 11

Fill quarter of the jar with water and pour into the Stew as Obe-Ata from Toyin's Kitchen does not contain any stabilizers or thickening agents.

Step 6/ 11

Add the seasoning of your choice and to your taste. Obe-Ata from Toyin's Kitchen does not contain any salt, sugar or seasoning. Obe-Ata is a natural tasting base sauce that allows you the Cook to add flavours to suit your palate. Here I added maggi cube and a bay leaf and a teaspoon of curry powder.

Step 7/ 11

Add bay leaf and curry powder and mix well

Step 8/ 11

Rinse, blanch and drain excess water from Kale and add to stew.

Step 9/ 11

Allow to simmer for 2 minutes on a low heat and your Nigerian Kale Stew is ready!

Step 10/ 11

Serve with fried plantain and rice and Enjoy!

Step 11/ 11

Thank you for watching this step by step guide on how to cook Nigerian Kale Stew using Obe-Ata from Toyin's kitchen. If you would like to order Obe-Ata please visit my website shop on www.toyinskitchen.co.uk.

Enjoy your meal!
More delicious ideas for you