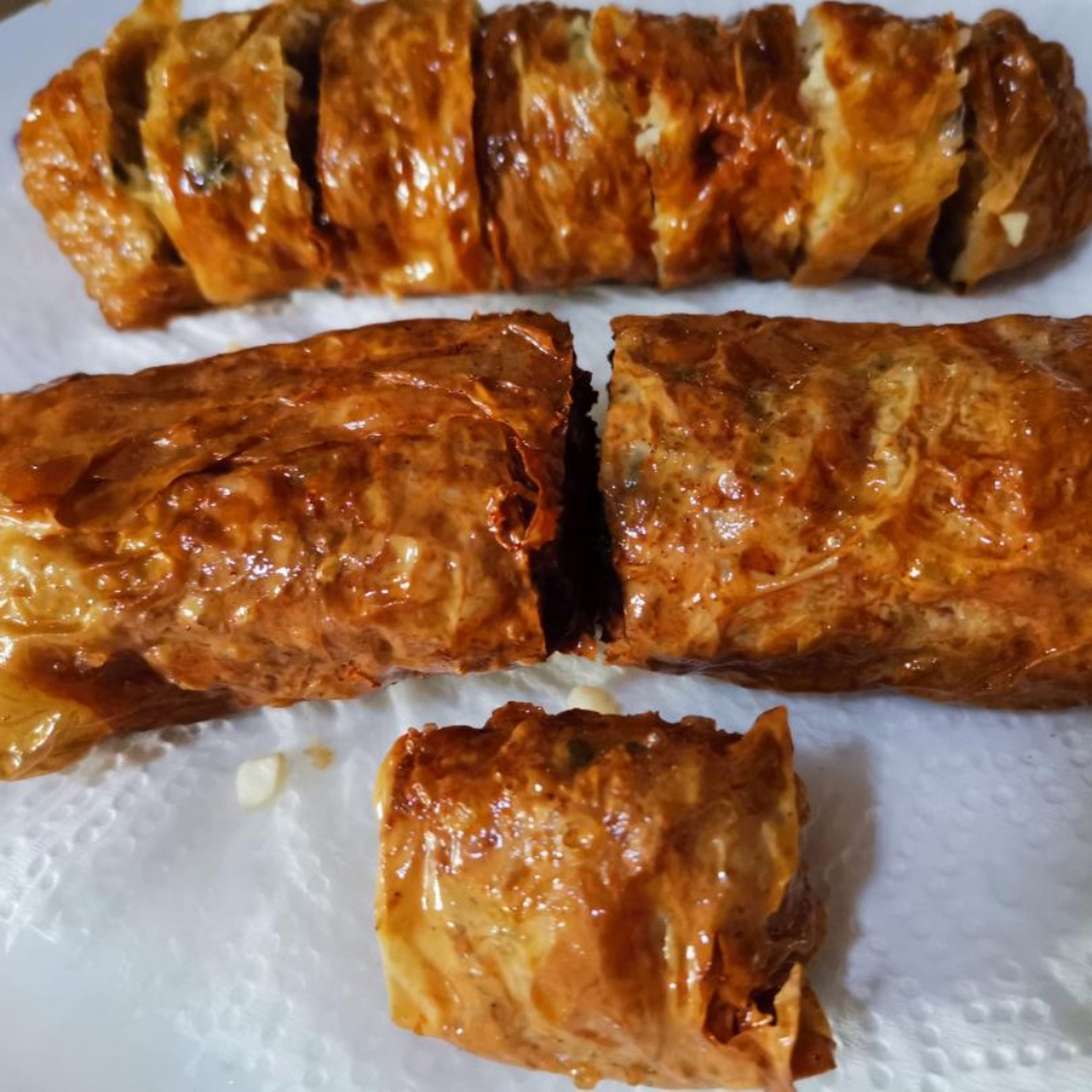 Ingredients
Fresh Prawns (peel & minced abt 6 large)
water chestnuts (about 10 to 12 pices/ 300 grams),
spring onions(scallions) 50-100g
soy sauce (alternatively fish sauce)
Plain flour (or self rising flour)
Dried soya bean skin (4 rectangle pieces)
Step 1/ 12

1. Mix the pork and minced fresh shrimps in a large bowl

Step 2/ 12

2. Add in the water chestnuts, spring onions(scallions) and minced yellow onions.

Step 3/ 12

3. Add the egg(one large egg should be sufficient).

Step 4/ 12

4. Add the five-spice powder.

Step 5/ 12

5. Add the soya/fish sauce, salt, sugar, white pepper to the pork/shrimp mix and stir mixture until it is well mixed.

Step 6/ 12

6. Add 3 tablespoons of plain flour.

Step 7/ 12

7. Stir the mixture until you get a nice blend and no trace of flour. (Hint: it should not be too moisty, give some resistance when stirring)

Step 8/ 12

8. Prepare the soy skins on your work surface, use a damp cloth or kitchen roll to wipe off the salt from the skin.

Step 9/ 12

9. Lay out the prepared piece of skin on the work surface. Arrange a heaping tablespoon of the prepared pork mix along the longer edge of the skin, leaving a ½-inch gap from the surrounding edges.

Step 10/ 12

10. Use a brush to apply some egg white on both sides of skin. Fold inwards, similarly apply at bottom of skin and cover the pork mixture, then roll inward slowly, applying some pressure to maintain the roll shape.

Step 11/ 12

11. Place the complete rolls in wide plate and steam for about 15mins. Let it cool before storing in tupperware.(if you not eating within day, you may wished to portion it and keep in freezer until needed)

Step 12/ 12

12. Heat a non-stick saucepan large enough to hold 2 to 3 rolls comfortably and add enough oil to thinly cover the surface of the pan. deep fried in oil with medium heat for abt 10 mins until golden crisp brown. (alternatively, you may use deep-fryer until rolls become golden brown). Place in kitchen towel to remove excess oil. Serve with dipping black sweet sauce or plum sauce.

Enjoy your meal!
More delicious ideas for you