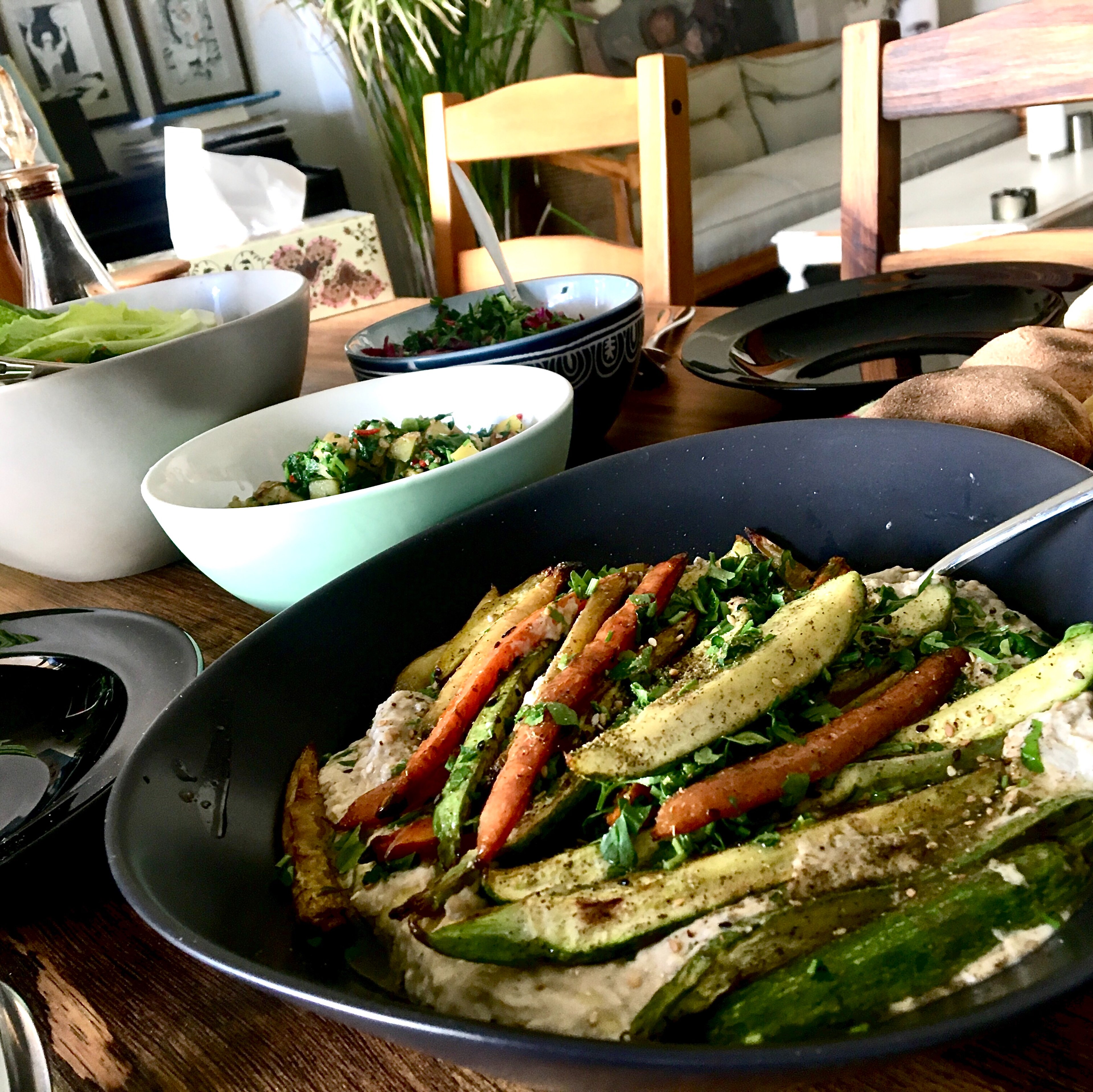 Motabbal with Roasted Vegetables
"As far as I know "Motabbal" means something made delicious via cooking and spices. It is a short form of "motabbal bazenjaan" meaning a delicious food made of eggplant. It is similar to Baba Ganoush, as some might have heard that name more often. Have tried the dish with other vegetables like cauliflower, pumpkin or the eggplant itself, all are heavenly delicious! For a vegan version, I simply omit the yogurt. You also could use any desired or available plant-based yogurt as well."
Ingredients
sesame seed (for garnish)
smoked paprika powder (for garnish)
Utensils
griddled pot, bowl with lid, oven, baking sheet
Step 1/ 8

There are two ways for burnin or grilling the eggplants. Both are easy but the result would be slightly different. First is using a griddled pot over a gas hob, which gives the "Motabbal dish" a vibrant rich & smoky aroma but would make a mess out of your kitchen. The other way is grilling them in the oven which provides a less messy and also less smoky result.

Step 2/ 8

My usual way for burning/smoking things like eggplants is using the griddled pot over gas hobs with medium-high flames. Cutting some scores over the eggplants' flesh helps their steam comes out and prevent them from bursting.

Step 3/ 8

Burn/cook the eggplants over high flame until the outside is charcoal-ish black & burnt, while getting juicy & cooked; rotating them halfway through. It takes around 30-45. depending on the eggplants size and the heat of your hob. Rest the cooked eggplants in lidded bowl until cool enough to handle. This results a much more easier peeling process.

Step 4/ 8

200 g

zucchini

200 g

parsnips

200 g

carrots

200 g

mixed beets

While the eggplants are being burnt or resting, prepare the vegetables. Toss them really well with olive oil and season with salt and pepper. Arrange onto a baking sheet. Roast in the upper part of a preheated oven at 190-200 C. for 20-25 min. until charred and tender to your preference.

Step 5/ 8

olive oil

salt

pepper

200 g

tahini

2 cloves

garlic, minced

2 tbsp

lemon juice

1 tbsp

yogurt (optional)

Peel off the eggplant and discard the skin. Fluff the flesh with a fork in a bowl. It would result for about 1.5-2 cups of smoked eggplant. Add tahini, yogurt if using, garlic and lemon juice. Season with sea salt and freshly grated black pepper. Stir well, taste and adjust the seasoning.

Step 6/ 8

Transfer to a serving plate and set aside until the vegetables are ready. It could be simply served at this step, drizzled with olive oil and garnished with some parsley, chili flakes, sesame seeds or zaatar.

Step 7/ 8

sesame seed (for garnish)

smoked paprika powder (for garnish)

Zaatar (for garnish)

parsley (for garnish)

For serving, arrange the vegetables over motabbal in a desired way. Garnish with za'atar, sesame seeds and paprika. Drizzle some olive oil over and scatter parsley leaves here and there.

Step 8/ 8

Enjoy with fresh pita and some salad, a kind of tangy delicious Fattoush or Tabbouleh might be the best mate here.

Enjoy your meal!
More delicious ideas for you