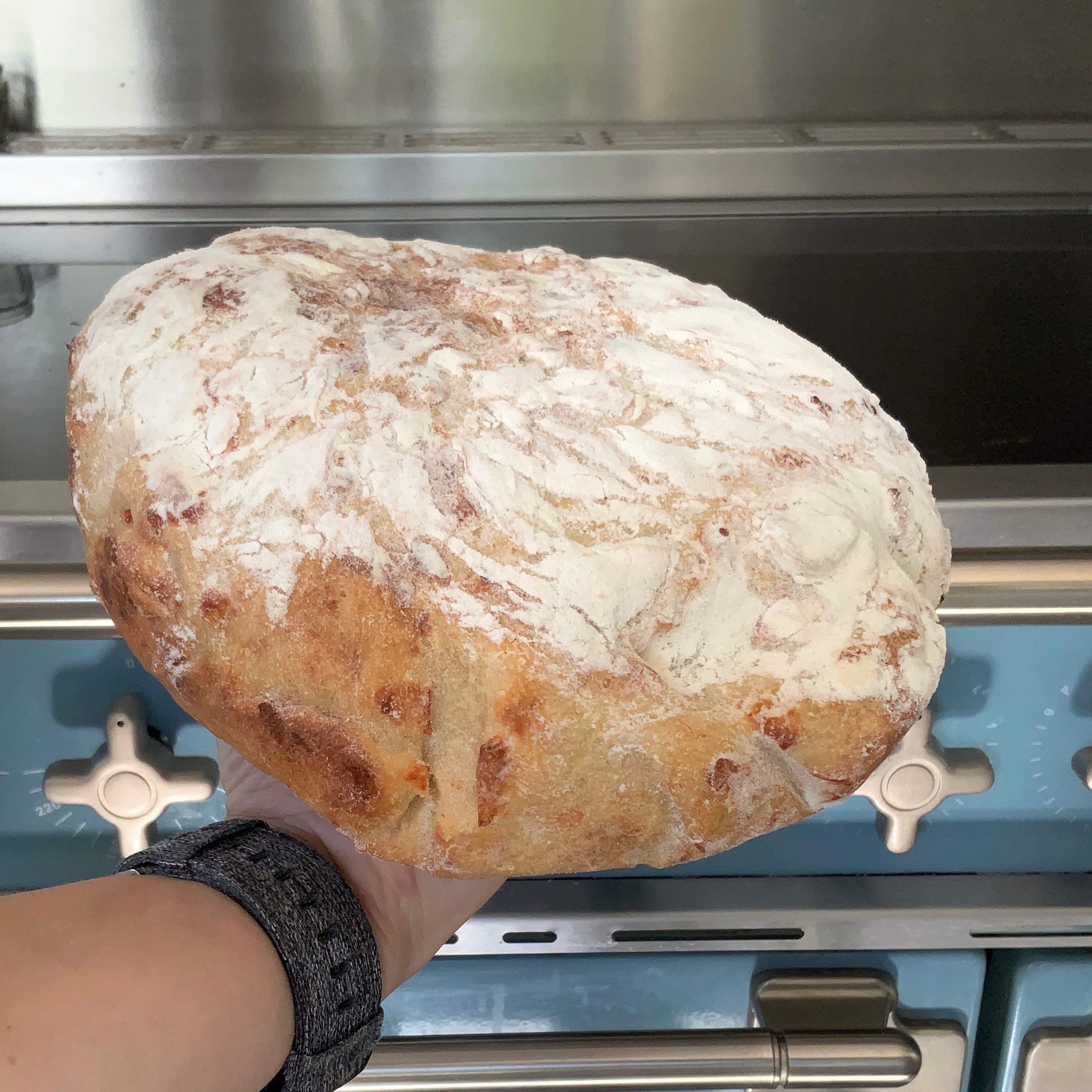 Chilli and Cheese Crusty Bread
"The two toppings i chose for creating these breads was chilli & cheese and olive & roasted pepper (which i roasted myself but shop brought would work aswell) "
Utensils
stand mixer with dough hook
Take an
easy quiz

and discover more recipes you'll love!
Step 1/ 13

3

Grams- active dry yeast

1⅓

Grams- sugar

100

ML- warm water

stand mixer with dough hook

Combine yeast, sugar and water in a bowl and leave to sit for 5 minutes, until the yeast has started foaming (this is it proving)

Step 2/ 13

3⅓

Grams- salt

120

Grams- all purpose flour

Add the flour and salt and mix until all combined (it is a very wet dough so will still be runny)

Step 3/ 13

⅓

Chopped chilli

40

Grams- grated cheese

10

Grams- chopped olives

⅓

Roasted pepper

Add your chosen flavours (either chilli and cheese or olives and roasted pepper) to the dough and mix until the toppings look evenly spread

Step 4/ 13

Coat the dough with flour (still in the bowl), turning it over in the bowl but not kneading he flour in, until the dough is all coated.

Step 5/ 13

Cover the bowl with cling film and leave to prove for 1 hour

Step 6/ 13

Once the dough has risen, lightly flour a work surface and tip the dough onto the surface- it is still a very wet and sticky dough so may need some help leaving the sides of the bowl)

Step 7/ 13

Don't knead the dough or knock the air out!

Step 8/ 13

Sprinkle flour on top of the dough and fold the dough (envelope style) into its centre, repeating the process around 4 times.

Step 9/ 13

Coat a clean bowl with flour and place the dough (seam down) into the bowl, leaving it to rest for 30 mins

Step 10/ 13

Whilst the dough is resting, set the oven to 200 degrees and place a Dutch oven (i use the dish from a slow cooker with a makeshift foil lid on top) into the oven

Step 11/ 13

After 30 mins, tip the dough (it should come away from the edges this time) onto a piece of greaseproof paper and place the greaseproof into the dish (Dutch oven)

Step 12/ 13

Cook for 30 mins with the lid on and then after 30 mins, take the lid off and cook for an extra 15 mins

Step 13/ 13

After 45 mins, take the bread out of the dish and leave to cool on a cooling rack

Enjoy your meal!
More delicious ideas for you