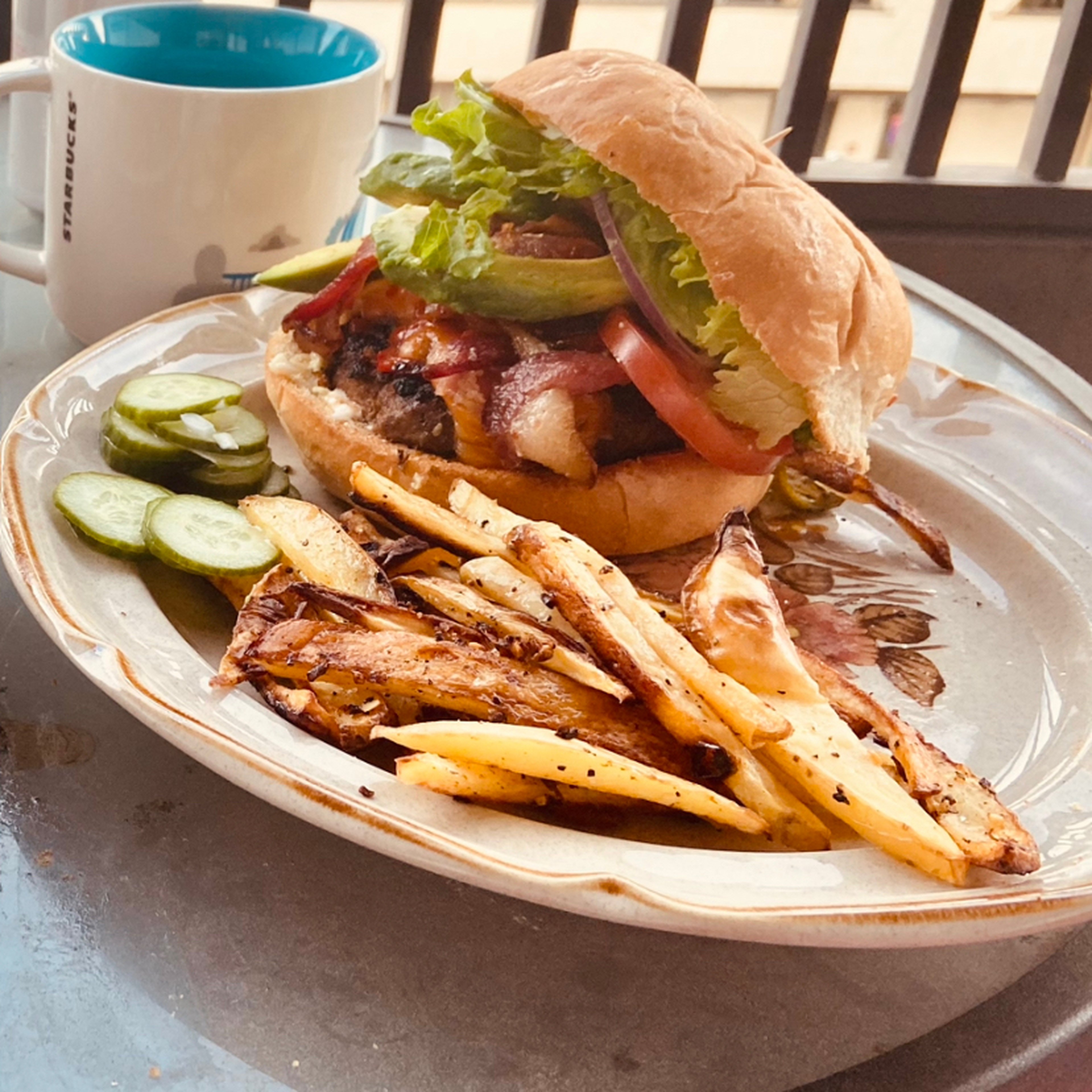 Jalapeno Cola Popper Burger
"A Canadian twist on a classic. Always searching for new recipes! Finally found a way to involve Coca Cola in a dish. Pleasantly surprised."
Ingredients
roast garlic and pepper spice blend
Step 1/ 11

½

onion

75 ml

vinegar

1 tsp

salt

1 tbsp

sugar

½

jalapeno

Mince one tablespoon white onion and slice one jalapeno then submerge in 1/4 cup vinegar after mixing in salt and sugar. Soak 2-4 hours.

Step 2/ 11

225 g

ground beef

15 ml

Coca-Colas

¼ tsp

white peppercorn

½ tsp

black peppercorn

⅛ tsp

ground nutmeg

½ tsp

chicken stock powder

½ tsp

chili flakes

1½ tbsp

panko breadcrumbs

1 tbsp

hot sauce

½ tbsp

barbecue sauce

2 cloves

garlic

 Marinate burgers- Mix in spices, garlic, and 1 oz cola cola. Add Panko bread crumbs to mix to correct firmness. Cover with saran wrap and chill for 2 hours.

Step 3/ 11

Build burger patty- create a 6 oz patter into a ball and apply equal pressure to press patty between two sheets of parchment paper with a oval plate. Crack salt and pepper and chill in fridge until ten minutes prior to cooking.

Step 4/ 11

½

red bell pepper

½ tsp

roast garlic and pepper spice blend

Juilian red peppers and white onion season with olive oil, salt, pepper, and roasted garlic and pepper blend.

Step 5/ 11

Cook bacon in oven at 400° for 20-25 minutes before finishing off in a cast iron for two minutes. I do this to add bacon grease to the cast iron pan.

Step 6/ 11

½

avocado

2 slices

cheese

½ head

Green leaf Lettuce

1

tomatoes

½

red onion

Prepare topping- Slice avocado, tomato's, leaf lettuce, purple onion and marble cheddar cheese.

Step 7/ 11

Cook burger patty in cast iron- Add two table spoons of ghee or clarified butter and heat cast iron to high heat. Add patty to pan and sear both sides. Cook to a internal heat of 160°.

Step 8/ 11

Grill peppers - Grill Julian red peppers and white onions in cast iron. Drain jalapeno from vinegar and cook at hot heat in cast iron 2-3 minutes then add the precooked red peppers mix and continue to cook for 1-2 minutes.

Step 9/ 11

½ package

burger bun

1½ tsp

garlic butter

Roast burger buns with garlic butter high broil for 2-3 minutes or when gently brown.

Step 10/ 11

Assemble burger- Place burger back into cast iron and top with jalapeno, red peppers, white onions, bacon and cheese. Place a splash of water in the pan and cover with a lid for about one minute or until the cheese has melted. (Make sure you are removing excess oil/fat/grease as you go from your pan whenever deemed necessary.)

Step 11/ 11

Final step! Dress toasted burger bun with mayonnaise, Dijon mustard, ketchup, a little bolds eye bbq and  Sriracha hot sauce. Top with lettuce, tomato, avocado, red onion. Add burger patty topped with bacon, cheese, red pepper mix, and crispy fresh pickled jalapeno peppers. Delicious served with freshly pickled cucumbers and fresh fries! Summer favourite. Jalapeno Cola Popper Burger: Enjoy with Heineken or Coca-Cola!

Enjoy your meal!
More delicious ideas for you