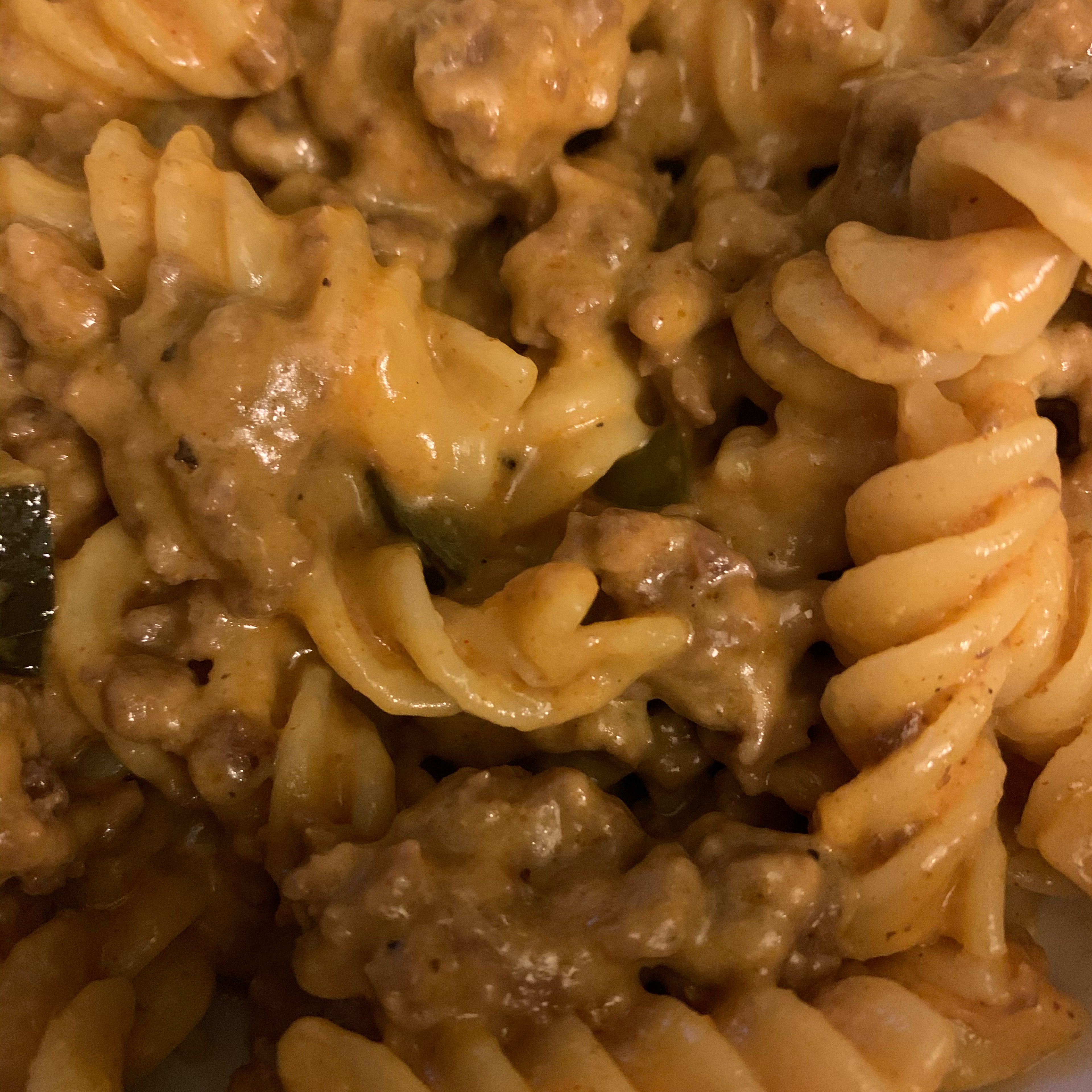 Homemade Cheeseburger Hamburger Helper
"Perfect for kids and a quick dinner."
Ingredients
shredded mozzarella cheese
Step 1/ 6

⅜ lb

ground beef

⅜ tbsp

garlic powder

⅜ tbsp

granulated onion

⅝ tbsp

Worcestershire sauce

⅜ tbsp

paprika

⅜ tsp

pepper

¼ tsp

salt

⅛ cup

onion (optional)

Add ground beef to your skillet, along with the onion if desired. Add worcestershire sauce and all spices.

Step 2/ 6

While ground beef is browning, start boiling water for pasta. When boiling add the pasta with NO SALT.

Step 3/ 6

¾ slices

zesty dill pickles

¾ tbsp

ketchup

⅜ tbsp

mustard

⅝ tbsp

pickle juice

When ground beef is almost done browning, add ketchup, mustard, pickle juice and chopped pickles. You can use 1-2 or as many as you'd like.

Step 4/ 6

¼ cup

milk

¼ cup

heavy cream

When pasta is done boiling, drain and add to the now browned ground beef. Add milk and heavy cream.

Step 5/ 6

⅛ cup

shredded sharp cheddar

⅛ cup

shredded mozzarella cheese

⅛ cup

shredded white cheddar

When the milk and heavy cream are simmering, add in all the cheese. You can add as much cheese to your liking, just remember to add more milk and cream.

Step 6/ 6

Serve!

Enjoy your meal!
More delicious ideas for you