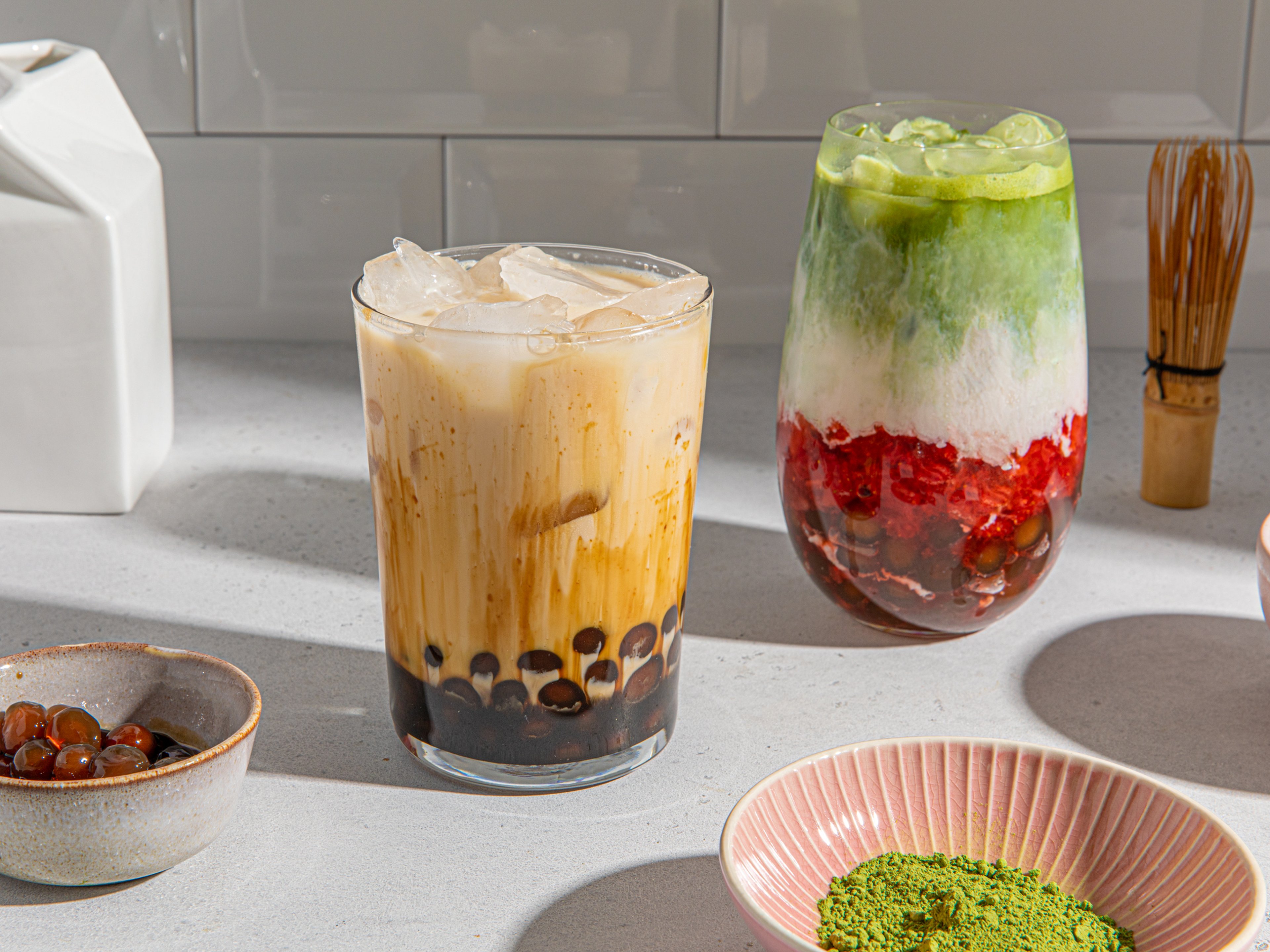 Homemade bubble tea, 2 ways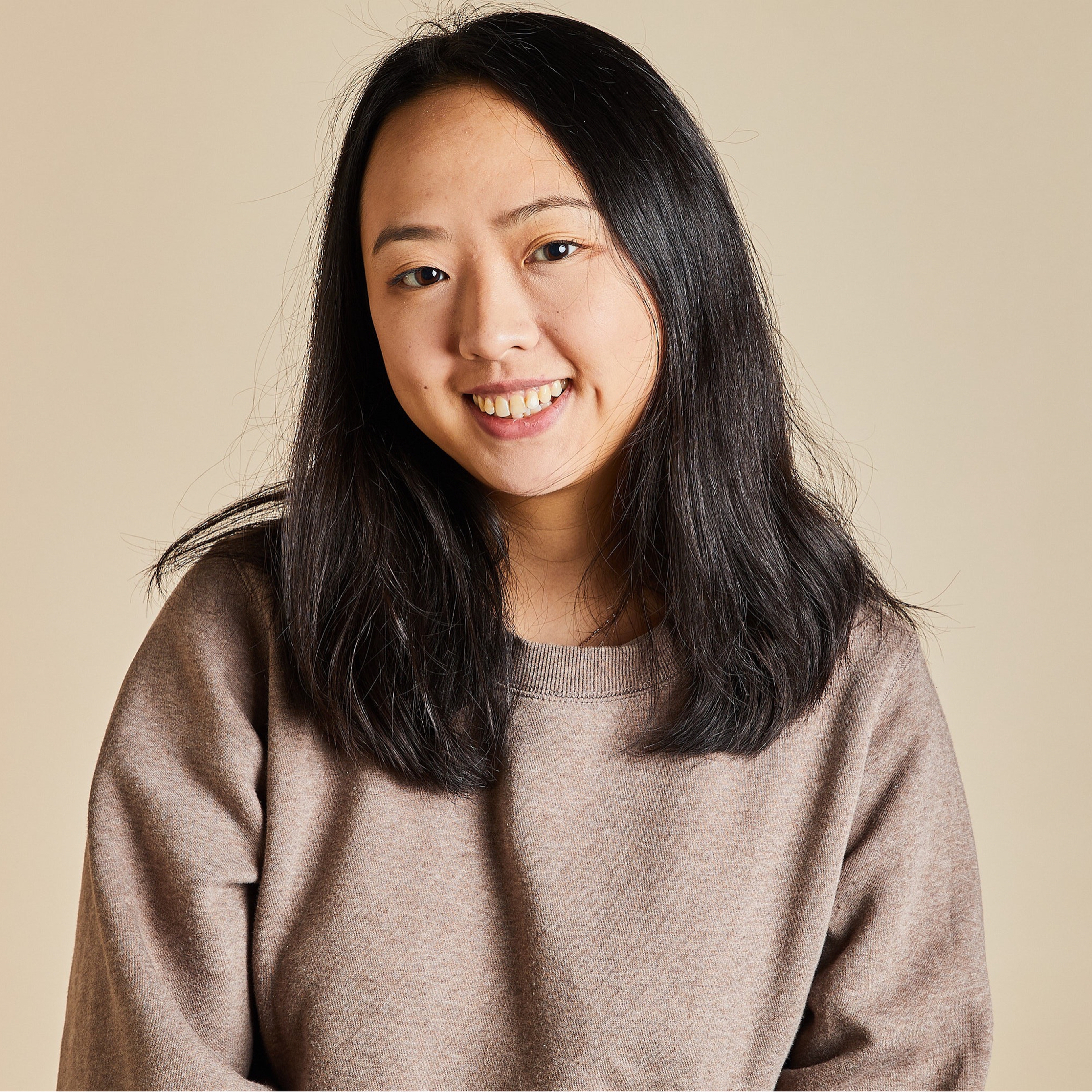 "This recipe shows how to make the classic brown sugar tapioca pearls and gives you the option to turn them into classic black milk tea or strawberry and matcha tea. If you want to make the pearls as dark as the store-bought ones, add some black food coloring. Alternatively, you can use normal sugar and some frozen or fresh fruit to make the pearls colorful. To get a really milky flavor, I like to use evaporated milk but you can use normal whole milk or nut milk, and add a bit of whipped cream for extra creaminess or condensed milk (or directly brew the tea in whole milk and let simmer for more than 10 minutes). There're many variations you can create from this basic formula: use different teas, fruit puree or even iced coffee. Our food photographer Eric has contributed to this recipe as well."
Ingredients
tapioca starch (for dusting)
Utensils
2 saucepans, 2 whisks, pot (with lid), 2 fine sieves, frying pan, pot, bowl (small), fork
How to prepare berries
3 ways to prepare matcha
Pretty ice cubes
2 ways to hull strawberries
Step 1/ 5

50 g

dark brown sugar

50 ml

water

100 g

tapioca starch

To make the boba pearls, heat dark brown sugar and water in a saucepan over medium heat. Once the mixture starts to simmer and the sugar is fully dissolved, reduce heat to low. Add a few tablespoons of the tapioca starch and whisk vigorously, until the starch is completely dissolved. Add the rest of the tapioca starch and stir until it forms a dough. Let cool slightly.

Step 2/ 5

tapioca starch (for dusting)

Once the dough is cool enough to handle, turn onto a clean work surface and knead until the dough is smooth and well combined. Divide the dough and roll each piece into a thin strip. Cut the strips into smaller pieces and roll them into small, pea-sized balls. Coat them in more tapioca starch to prevent sticking. If the dough gets hard or dry, you can microwave it for a few seconds to make it soft again.

Step 3/ 5

To cook the tapioca pearls, bring a pot of water to a boil. Add the pearls and let them simmer over medium heat for approx. 10 min. Turn off the heat and cover with a lid. Let the pearls rest for approx. 10 min., or until they are cooked through and transparent. Strain the pearls through a sieve, rinse them with cold water and add them to a bowl. To prevent sticking, you can add a few tablespoons of cold water or more brown sugar.

Step 4/ 5

200 ml

water

3 g

black tea (loose)

125 ml

evaporated milk

125 ml

whole milk

30 g

dark brown sugar

saucepan
fine sieve
frying pan

To make the brown sugar bubble tea: In a saucepan, bring water to a boil. Add black tea and let simmer for approx. 5 min. Remove the tea bag or leaves. Let the tea cool. Combine evaporated milk, whole milk and the tea. In a frying pan, add remaining dark brown sugar and half of the tapioca pearls. Heat the pan until the sugar caramelizes. If needed, add water by the spoonful. Add the pearls to a glass, turning it so the syrup sticks to the walls of the glass. Add ice cubes and cooled milk tea.

Step 5/ 5

50 ml

water

2 tsp

matcha powder

150 g

strawberries

250 ml

whole milk

ice cubes (for serving)

strawberry (for garnish)

To make the matcha bubble tea: Heat the water in a pot. Whisk matcha in the hot water until fully dissolved. Roughly mash the strawberries with a fork, leaving some chunks. Add the remaining pearls to a glass. Add the mashed strawberries, ice cubes and milk. Add matcha tea at the end. Garnish with half a strawberry. Enjoy!

Cheers!
More delicious ideas for you