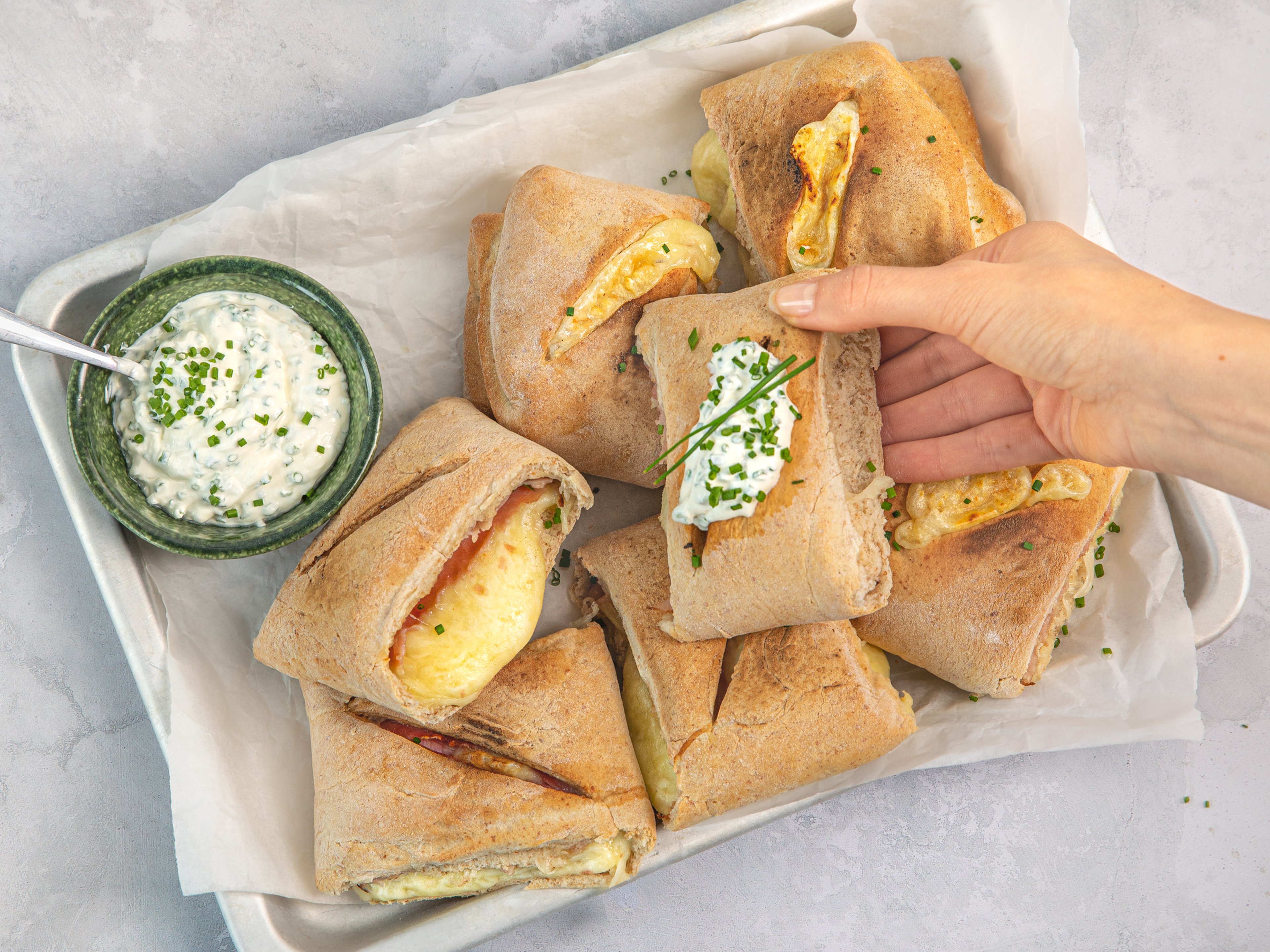 Handbrot (German stuffed bread with ham and cheese)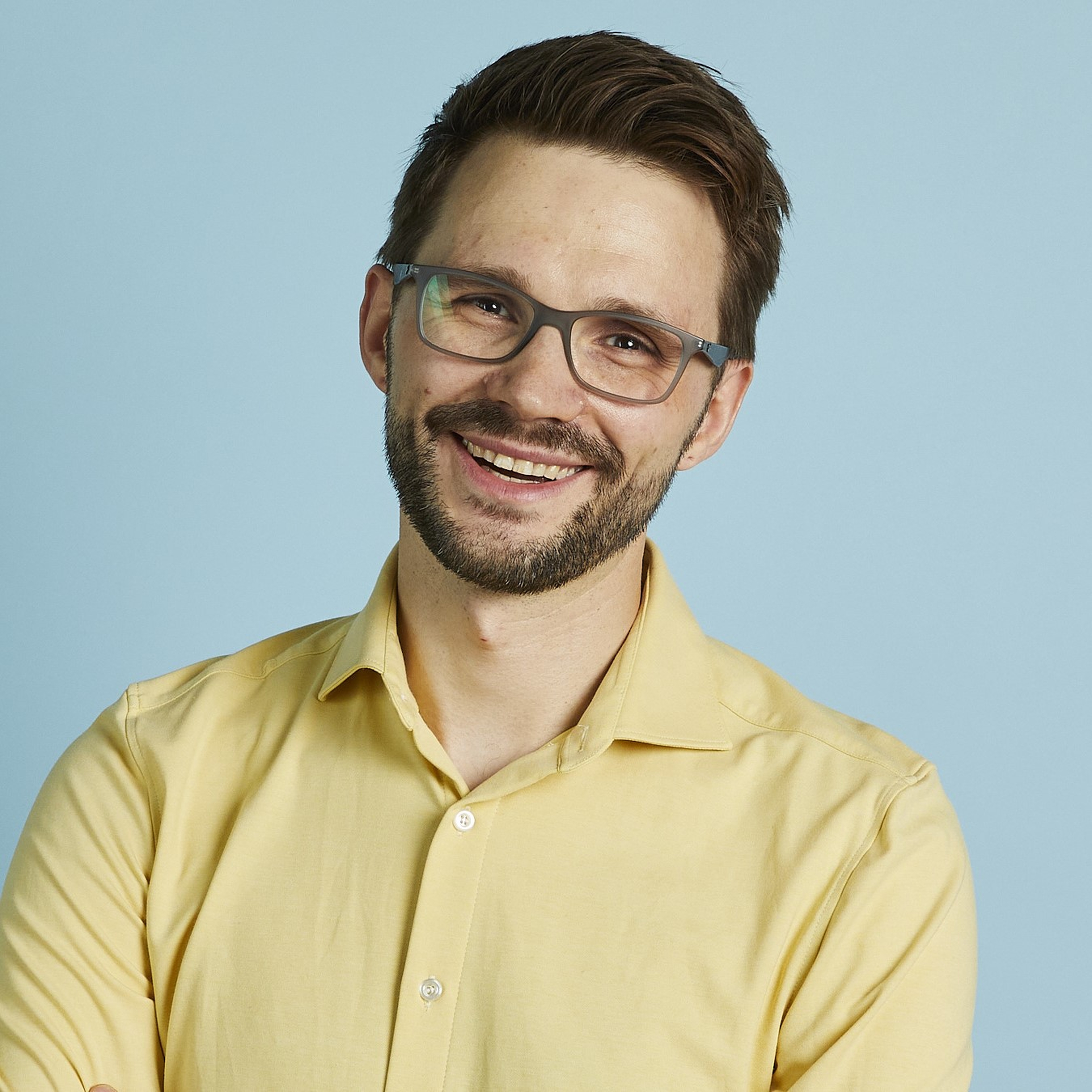 "Hearty, cheesy and handy to eat – It's no wonder that the so-called "Handbrot" from Dresden is a real classic at many German Christmas markets, fairs and festivals. Filled with melted cheese and juicy ham, topped with a dollop of tangy chive cream, it's the perfect hot snack for hungry stomachs. With our easy step-by-step Handbrot recipe, you can bring the party bread home! The preparation is so simple, you'll see, that it fits into any spontaneous evening plan and gathering. For a vegetarian version, a mushroom filling works great instead of the ham. Simply cut some button mushrooms or other mushrooms into thin slices, fry them in a pan with oil and season with thyme, salt and pepper."
Ingredients
vegetable oil (for greasing)
Utensils
bowl (large), 2 knives, cutting board, bowl (small), oven, bench scraper, rolling pin, wooden spoon, baking sheet, parchment paper
How to make yeast dough rise faster
How to chop green herbs
How to knead dough
Step 1/ 4

10½ g

fresh yeast

¼ tbsp

sugar

75 ml

water (lukewarm)

5 g

chives

25 g

light crème fraîche

salt

pepper

bowl (large)
knife
cutting board
bowl (small)

Mix yeast, sugar and lukewarm water in a large bowl (or directly in the bowl of a stand mixer) until dissolved. Set aside for approx. 5 min., or until some bubbles form on the surface. Meanwhile, finely chop chives. In a small bowl, add sour cream, 2/3 of the chives and season with salt and pepper.

Step 2/ 4

100 g

flour

25 g

whole-wheat flour

2½ g

salt

flour (for dusting)

vegetable oil (for greasing)

Add both types of flour and salt to the yeast mixture and roughly mix everything together. Then knead until a smooth, soft dough is formed. Remove the dough from the bowl, flour the work surface and knead the dough again with your hands for approx. 5 min. Grease a bowl with a little oil, place the dough in it and cover the bowl. Leave the dough to rise in a warm place for approx. 30–60 min., or until it has doubled in volume.

Step 3/ 4

25 g

ham

62½ g

shredded Gouda cheese

flour (for dusting)

oven
bench scraper
rolling pin

Preheat the oven to 200°C/390°F. Once the dough is ready, remove it from the bowl and place it on a flour-dusted work surface. Divide the dough in half. Roll out each piece into a long rectangle. Add ham and cheese to the center of the rectangle, leaving an approx. 5 cm/2 in. edge. Start by folding the two short sides inwards over the filling, then carefully fold the two long sides over to seal it. Turn the filled pastry roll, so that the seam side is facing down.

Step 4/ 4

wooden spoon
knife
baking sheet
parchment paper

Use the handle of a wooden spoon to press down the dough while not cutting all the way through it, to create four lines on the bread roll. This will divide the bread into four equal pieces and make it easier to portion after baking. Make a shallow diagonal slice on each piece with a small knife. Place the bread rolls on a baking sheet lined with parchment paper. Bake in the preheated oven for approx. 15 min., or until lightly browned on top. Remove the bread from the oven and divide it into portions. Top with a dollop of sour cream and sprinkle with remaining chopped chives. Serve while still warm!

Enjoy your meal!
More delicious ideas for you