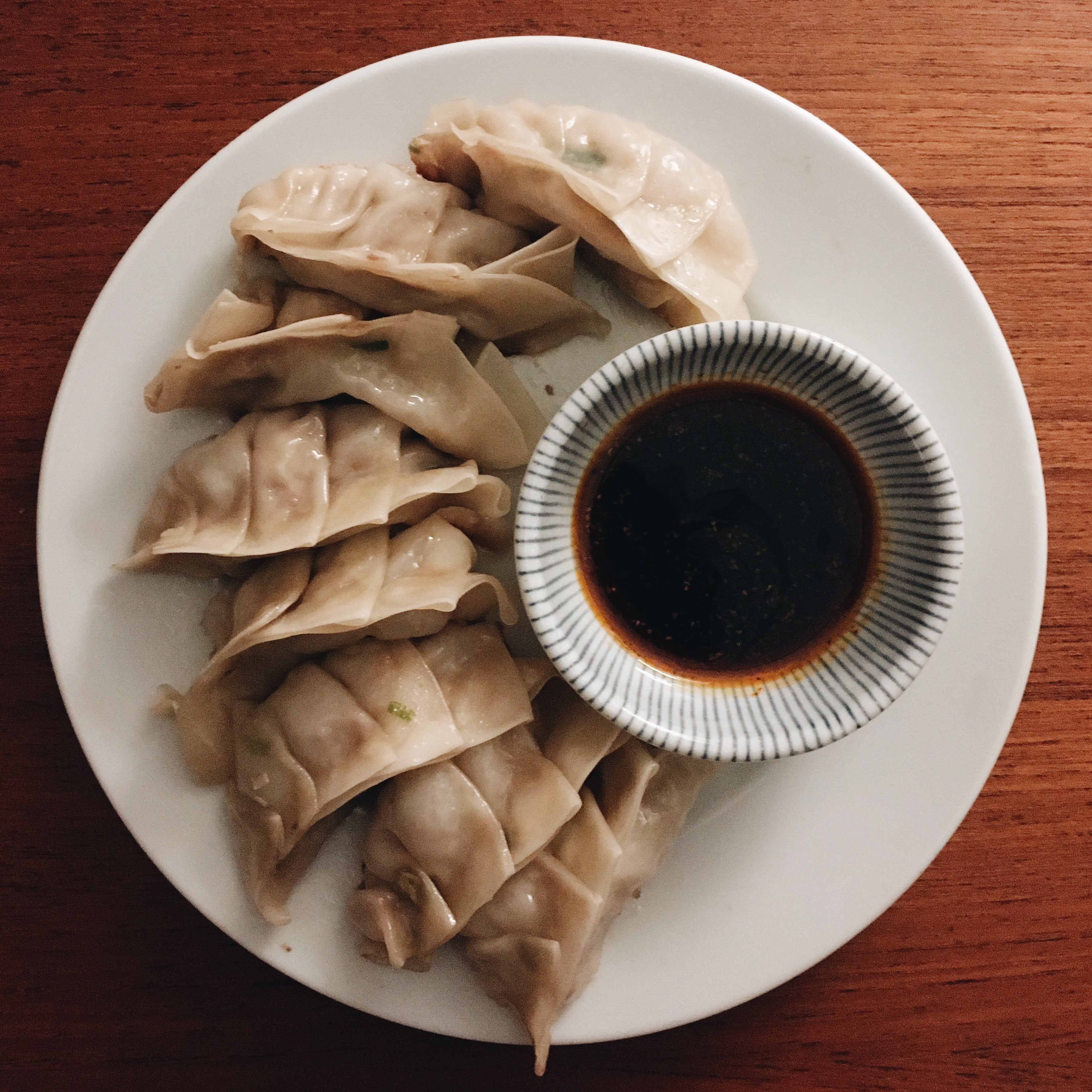 Gyoza
"This is one of my favourite recipes my family has been making for years. It takes me back to many evenings spent gathered around the kitchen table to help wrap the gyoza. It's certainly a dish that brings people together. You can easily make this recipe vegetarian by replacing the ground pork with more cabbage or adding mushroom instead. For any uncooked gyoza, you can keep them in the freezer for a later use!"
Utensils
cutting board, knife, bowl (large), bowl (small), Spoon, Tray, frying pan (large, with lid)
Step 1/ 10

200 g

Napa cabbages

125 g

white cabbages

cutting board
knife
bowl (large)

Finely cut both cabbages into small pieces and place in a large bowl.

Step 2/ 10

5 g

chives

2½ g

ginger

2 cloves

garlic

1 stalks

scallions

Finely cut chives, scallions, garlic, ginger and set aside in the large bowl with the cabbages.

Step 3/ 10

Add ground pork to the vegetable mixture.

Step 4/ 10

½ tbsp

soy sauce

½ tbsp

sesame oil

½ tbsp

oyster sauce

½ pinch

salt

½ pinch

pepper

Add soy sauce, sesame oil, oyster sauce, salt and pepper to the mixture. Mix well and knead with your hands until well combined.

Step 5/ 10

1 packages

Gyoza wrappers

25 ml

water

Have a small bowl ready, filled with water, for dipping your fingers. Take a gyoza wrapper and place it in the palm of your hand. Dip your finger in the bowl of water, and wet the edge of the gyoza wrapper. Use a spoon and take a small amount of filling and place it in the middle of the wrapper.

Step 6/ 10

Fold the wrapper in half. Then starting from the left side, use your thumb and index finger to pinch the pleat along one side, forming roughly 4 or 5 pleats. Make sure to seal the wrapper and prevent any filling from spilling as you fold along.

Step 7/ 10

Place finished gyoza on a tray, or plate, as you continue filling the rest of the wrappers.

Step 8/ 10

frying pan (large, with lid)

Heat oil in a large frying pan. Once heated, place the gyoza in a single layer, in two rows. Cook until the bottom of the gyoza is lightly golden, roughly 3 min.

Step 9/ 10

Pour water into the pan around the gyoza and place a lid. Steam the gyoza until the water is evaporated, roughly 5 min.

Step 10/ 10

½ tbsp

soy sauce (for serving)

½ tbsp

vinegar (for serving)

½ drop

chili oil (for serving)

Transfer to a plate and serve with a mixture of soy sauce, vinegar and chili oil (optional) as dipping sauce. Enjoy!

Enjoy your meal!
More delicious ideas for you